Arlene Foster said there is great unease within the Unionist and loyalist communities around the Northern Ireland Protocol. 
She said people do not feel listened too and "that's dangerous when people think they're being sidelined and not listened too and that's something Dublin Government need to recognise and the government in London as well". 
Yesterday, the 50-year-old DUP leader received her first shot of the AstraZeneca vaccine in her native Co Fermanagh.
It was given by Dr John Porteous at the Castle Park Leisure Centre in Lisnaskea.
She said she believes the British government should share vaccines stocks with Ireland once its programme is complete.
She said she recommended to British Prime Minister Boris Johnson that he do so when he came to Enniskillen earlier this month.
According to her, she will make the point to him again and she believes the proposal is a runner.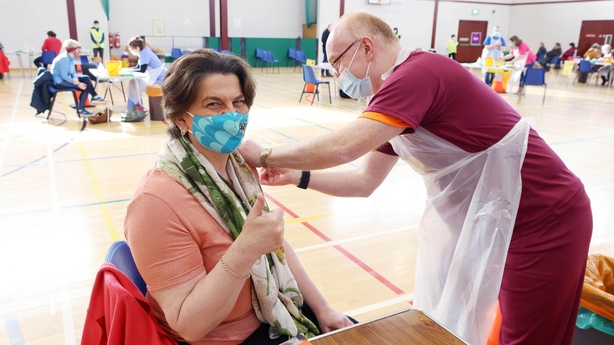 She gives two reasons for his stance.
There is the practical reality of a more advanced vaccination programme and lower infection rates on the northern side of what is a porous land border.
In her view, Northern Ireland's tussle with the pandemic could be undermined by that imbalance. 
The other motivating factor she cites for sharing excess stocks is it would be in keeping with good neighbourly behaviour.
When asked if she had discussed the idea with Taoiseach Micheál Martin she said she had not spoken with him "for quite some time now".
"Rationally and objectively there is no argument for a united Ireland" – Northern Ireland First Minister Arlene Foster speaks about the possibility of a united Ireland with Tommie Gorman in an in-depth interview. pic.twitter.com/pM2Cegj80a

— RTÉ News (@rtenews) March 28, 2021
Ms Foster was interviewed for today's The Week in Politics programme. 
The venue was the drawing room of Ashbrooke House on what is the estate of Northern Ireland's first prime minister, Lord Brookborough.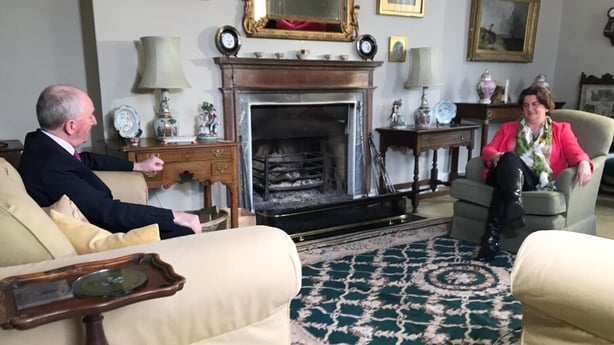 Northern Ireland's Deputy First Minister and Sinn Féin deputy leader Michelle O'Neill also features on the same programme. She was interviewed at her party's offices in Cookstown.
The work is my final marking as RTÉ's Northern Editor.
It gives a sense of the strains and challenges facing the unique power-sharing model against a backdrop of Brexit and the Northern Ireland Protocol. 
"The new generations do not re-fight the battles of the past" - Deputy First Minister of Northern Ireland Michelle O'Neill speaks to Tommie Gorman in a wide-ranging interview. pic.twitter.com/88aU8Umpb0

— RTÉ News (@rtenews) March 28, 2021
Ms O'Neill explains: "It is difficult, this is a really challenging Executive and Arlene and I come from two completely different walks of life, two different perspectives. However, there are things that we share in common. We are both female political leaders. We are mothers. We are west of the Bann, all these things where we do have common ground and you always build on the common ground and you work on the difference."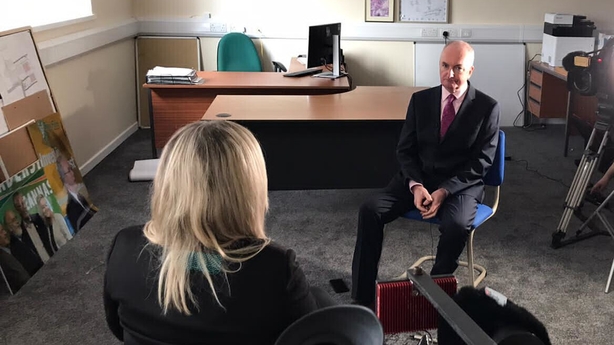 One of the issues that divides them is the Northern Ireland Protocol that flowed from the UK's Brexit Agreement. 
Arlene Foster says the Protocol has damaged commerce and there is great unease in the loyalist and unionist community that she hears every day. 
She says it is dangerous and this is something the "Dublin Government" and the government in London need to recognise.
Michelle O'Neill argues that the protocol is part of an international agreement, signed up to by the British government and it must be honoured in its totality.
They both say they are committed to making power-sharing work but neither was prepared to predict that the current Assembly will run its full term until May of next year.
The pair have polar opposite views about the case for a border poll and the possibility of a united Ireland.
Michelle O'Neill believes everything is changing and she hopes there will come a time when Sinn Féin's Mary Lou McDonald will be elected the first female Taoiseach.
---
Read more:  Good Friday Agreement struggles to co-exist with Brexit
---
She believes not just nationalists and republicans but unionists too have been a victim of partition and "there is a chance to try to do something better".
She says she hopes Arlene Foster would rethink her position about leaving if a united Ireland took place.
She believes the new Ireland would have to be a place that is "better for us all, where people with a British identity and an Irish identity could live side-by-side".
Arlene Foster believes that rationally and objectively there is no argument for a united Ireland. She says voting in favour of unity would be an "act of self harm".
She says as someone who considers herself British she wants to remain in the United Kingdom and does not want to go into a united Ireland.
She says there is a misunderstanding that somehow she is a misguided Irish person and that "actually what she needs to do is realise that she is Irish and actually not British at all".
She describes that as a fundamental misunderstanding that nationalists and republicans have.
The Week In Politics, hosted by Áine Lawlor is on RTÉ One and RTÉ News at 12pm, and again at 10pm on RTÉ News and 11.15pm on RTÉ One.