I remembered the Oval Office being smaller.
The last time I had been in there, was one year ago for the St Patrick's Day meeting between the then Taoiseach Leo Varadkar and the then President Donald Trump.
It was bedlam. The night before, Mr Trump had announced a ban on travel into the US. That morning, Mr Varadkar had announced the first of Ireland's coronavirus restrictions.
The Oval Office was packed with journalists from the US and Ireland shouting questions at the two leaders.
This year was different. There was only a handful of reporters allowed into the room and only a small number of officials sitting around the US President. It made his office seem a lot bigger.
Despite the fact that the two leaders were 3,000 miles apart there was a closeness and a connection.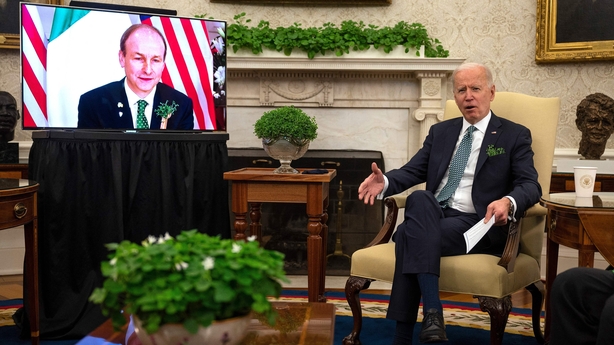 The TV screen on which Micheál Martin appeared was tilted at an angle in the direction of the shamrock bowl. Joe Biden leaned in towards the television monitor as he addressed the Taoiseach almost as if he was there alongside him.
Mr Biden spoke with fondness about his Irish roots and previous trips to Ireland.
Perhaps with another president there might have been a danger that a virtual meeting would have led to a downgrading of the event or a lessening of its diplomatic impact but that certainly wasn't the case with a US leader who is so proud of his Irish ancestry.
The meeting itself was longer than usual, running for an hour and 20 minutes.
It was described as incredibly positive, with Joe Biden telling Micheál Martin he was only a phone call away.
The politicians may not have been able to travel from Dublin to come to Washington, but the city felt very Irish.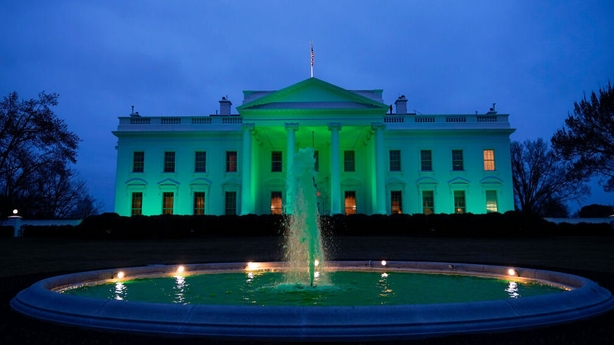 The fountains outside the White House were dyed green in the morning and as night fell, the building itself was illuminated in green light.
It was a glow that had also been felt inside the building earlier that day as the two leaders met, separated by an ocean but connected by shared values and traditions.
---
Read more:
Biden voices support for GFA in meeting with Taoiseach
Biden's Irish affections beneficial for 'old country'
Shamrock bowl inspired by 'hope and history'
---