Bray Head has become an even more popular spot for walkers since lockdown. Like many spots along the east coast, if walkers took in the view out to sea over the past several months they would have seen ships conducting survey work.
That's because Ireland's east coast is quietly preparing to become the backbone of Ireland's renewable energy.
There are five proposed offshore windfarms along the east coast already at an advanced stage of planning.
They stretch from 25 turbines planned by Parkwind and the ESB off Dundalk, to an area north east of Lambay Island where Norwegian company Statkraft plan to site 30 turbines.
Off the south coast of Dublin, a joint venture between German group RWE and Irish company Saorgus Energy IS developing the Dublin Array project. This could see between 46 and 61 turbines on the Kish and Bray banks.
Further south on the Codling Bank, a joint Norwegian/French consortium is planning what could become Ireland's biggest offshore windfarm with up to 140 turbines.
And SSE is planning to add to the country's only existing offshore windfarm, off the coast of Arklow, with an additional 76 turbines.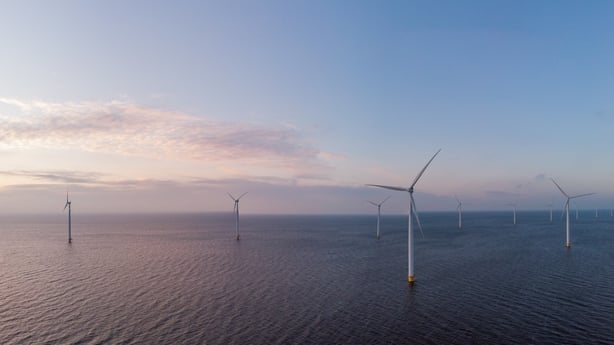 The Kish Bank lighthouse, visible from many points on the Dublin coastline is roughly the same distance from shore - 11km - as the proposed windfarm in the area. The lighthouse is 31 metres high. The proposed turbines along the east coast range from 200-300m in height from sea level to tip.
Peter Lefroy, the project manager for the Dublin Array windfarm, says the company is aware of the concerns expressed by some about the visual impact of the planned turbines.  
"We recognise that people will have concerns about the visual impact they will have," Mr Lefroy said. "But this project will be located over 10km from shore, and to put that into a terrestrial context, the minimum distance from an onshore turbine to a house is 500m. This project will be over twenty times that distance to shore." 
The cliffs off Bray Head are a haven for sea birds.
According to Oonagh Duggan, Head of Advocacy with BirdWatch Ireland, the east coast is home to 15 species of seabirds. But 14 of them are either amber or red listed. Their populations have come under pressure in recent years for many reasons.
BirdWatch Ireland is concerned that the cumulative effect of so many windfarms along the east coast will be one more pressure to bear for seabirds already under threat.
We need your consent to load this rte-player contentWe use rte-player to manage extra content that can set cookies on your device and collect data about your activity. Please review their details and accept them to load the content.Manage Preferences
The concern is that birds may seek to avoid turbines, pushing them away from feeding grounds.
"If its habitat for foraging is displaced by windfarms," says Ms Duggan, "this impacts on the breeding success and the population itself".
Further down the coast in Wicklow harbour, Tim Greenwood of Alpha Marine sees the prospect of a new offshore industry as a great opportunity for the region.
Alpha Marine already runs transport and survey vessels to service the only existing seven turbine windfarm off Arklow.  
"We've coastal communities along the east coast and they really could do with a lift," says Mr Greenwood. "Towns such as Wicklow and Arklow ... I think a young person standing on the quay...they can go, I'd love a piece of that, maybe that's a career for me ... maybe there's a good job in this new industry, in offshore wind, in seafaring."
Legislation to govern the planning of offshore windfarms is currently working its way through the Dáil.  
The Government's Climate Action Plan calls for five gigawatts of offshore wind to be installed by the end of this decade. That's about 25% more than all of the wind energy capacity already installed onshore in Ireland to date.
The granting of a survey licence for work on the Arklow project is being challenged in the courts.
An indication, perhaps, of choppy waters ahead for offshore wind.