A test of Government cohesion has been triggered by the resignation of Fine Gael Senator Michael D'Arcy. The test has two parts.
The first centres on whether the three coalition leaders can agree on a strategy to replace him. The second part is whether or not their parliamentary parties will back that plan.
First things first. It's understood Martin, Varadkar and Ryan are due to discuss the issue today.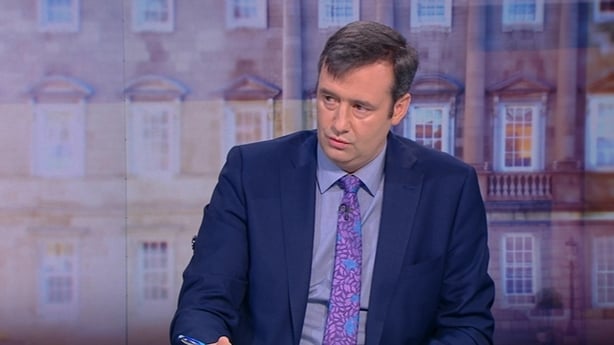 The Tánaiste will no doubt argue that as D'Arcy was a Fine Gael Senator, Fine Gael should choose his replacement.
Two obvious candidates, both of whom stood on the Seanad Agriculture panel like D'Arcy, would be former Senator Maria Byrne and former TD Pat Deering.
So the question is whether Fianna Fáil leader Micheál Martin and Green leader Eamon Ryan agree to back a Fine Gael candidate. A complicating factor is that the former Independent Senator Ian Marshall declared he would stand in the by-election.
Mr Marshall, a Co Armagh farmer of unionist background, said he hoped he would be considered an asset given the island of Ireland faces unique challenges from Brexit, Covid-19 and CAP reform.
Earlier this year, Micheál Martin chose not to make Mr Marshall one of his Taoiseach nominees to the Seanad.
Is he prepared to ignore his candidacy a second time? Mr Marshall would appear to be well positioned, from a cross-party support perspective, if the Coalition leaders don't agree on a strategy.
But Mr Marshall isn't out of the picture even if Mr Martin and Mr Ryan back a Fine Gael candidate.
A very recent example proves that point. Fine Gael's longtime Louth TD Fergus O'Dowd was the party's candidate for the position of Leas-Ceann Comhairle.
While there was a free vote in the Dáil, he had hoped his coalition partners would secure him the position.
The result of the secret ballot, however, was a victory for independent TD Catherine Connolly.
She became the first woman to secure the position in the Dáil's 100-year history by 77 votes to 74.
So the second test for the Coalition is whether TDs and Senators from Fianna Fáil and the Greens would back a Fine Gael candidate in a secret ballot.
The issue is being discussed privately within Fianna Fáil circles already.
One Fianna Fáil Parliamentary Party member suggested to me there was an "openness" to Mr Marshall's candidacy.That could spell big trouble for coalition cohesiveness.