Credit where credit's due. This coalition government has been regularly slated for failing to communicate its message clearly. Today, the Taoiseach Micheál Martin nailed it on a very important day for Dublin and its roughly 1.4 million inhabitants.
His statement was brief, direct and focused.
At the outset he explained the problem in stark terms: Dublin is in a dangerous place. There is a real threat that the capital could return to the worst days of the Covid-19 crisis.
He then explained what needed to be done: Decisive action is required and that's contained in the Level 3 plan. And he pointedly stated this action is based on recommendations from our public health experts.
Recognising that jaded public mood, the Taoiseach empathised with how people are feeling.
He said he knew the additional restrictions will make many people angry, if not infuriated.
Mr Martin said he accepted that the arts and culture sectors had been particularly badly affected by restrictions.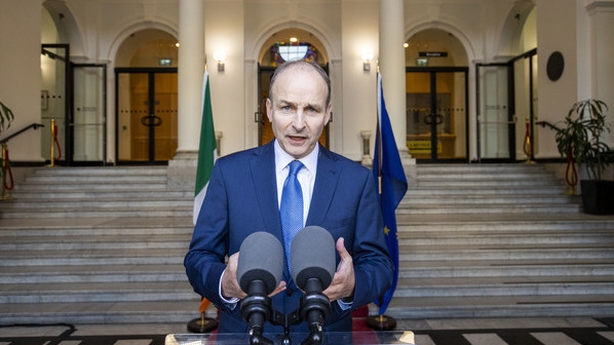 But he said the priority remains to reduce the spread of the virus and thereby protect the most vulnerable; keep children in school; and protect jobs.
He said the Government's main obligation is to protect the public and that is what it is endeavouring to do.
Notably, he took time to detail the rationale behind one of the more controversial aspects of this plan - shutting down indoor eating in pubs and restaurants.
In short, the speech worked. But it's only a first step - albeit an important one.
It provides a platform for the Government to build public support for its initiative - but there needs to be consistency of message and capacity to respond to the unexpected.
Opposition parties said tonight they will support the public health measures - but also put down several markers.
Sinn Féin leader Mary Lou McDonald said she is very conscious of tens of thousands of workers being laid off as a result today.
The Social Democrats co-leader Róisín Shortall said the Government needed to provide all of the information related to the crisis in a timely manner.
Labour wants more business supports, the restoration of the PUP as well as a renewed ban on evictions and rent increases.
The Taoiseach Micheál Martin may have performed well, but he needs to continue to do so.