Polling day in the United States is just over four months away.
Normally at this point in the election cycle we would have been bombarded with campaign rallies and public events, but in the era of Covid-19 such gatherings are few and far between.
Last week, US President Donald Trump held a comeback rally in Tulsa, Oklahoma.
The crowd size was smaller than expected and an address to an outside overflow area was cancelled due to the poor turnout.
Teenage activists said they had sabotaged the event by registering for tickets online and then not turning up.
The Trump campaign blamed protests and negative media coverage.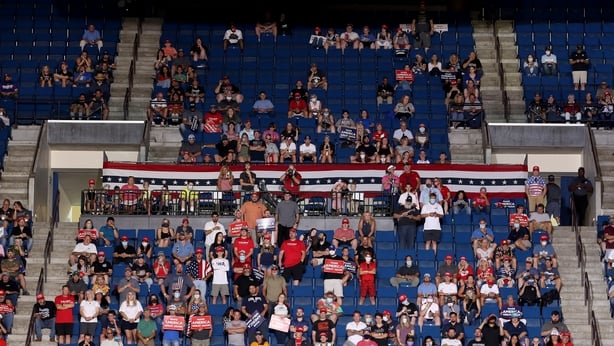 Another event followed a few days later with young Trump supporters gathering in a church in Phoenix, Arizona.
These were Donald Trump's first big campaign events since the coronavirus lockdown.
The US president is keen to project an image that things are returning to normal, welcoming the president of Poland to the White House on Wednesday - his first time hosting a foreign leader since Leo Varadkar in March.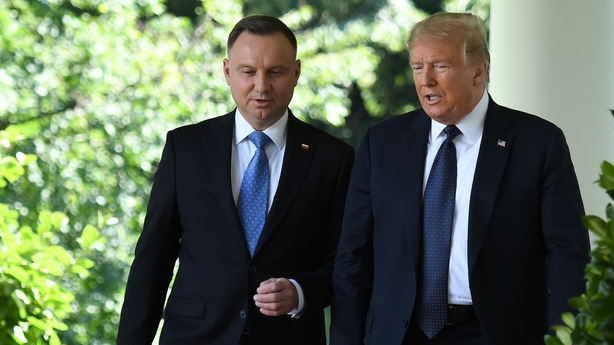 But while Donald Trump is trying to show America that he is getting back to business the pandemic is far from over.
The daily totals of cases in states such as Texas, Florida and California have hit record highs and America's top infectious disease expert Dr Anthony Fauci has warned of "disturbing surges" of infection in some parts of the country.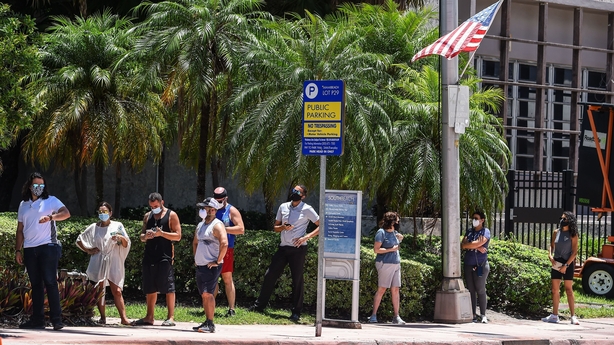 New York, the one-time epicentre of the US outbreak, joined with New Jersey and Connecticut in recent days to impose a 14-day quarantine on people travelling from other US states with high infection rates.
Travel restrictions also look to be on the cards for Americans hoping to enter the EU.
The US president has blamed increased testing for the rise in cases and claims that the mortality rate remains low, tweeting on Wednesday: "Coronavirus deaths are way down. Mortality rate is one of the lowest in the world."
Coronavirus deaths are way down. Mortality rate is one of the lowest in the World. Our Economy is roaring back and will NOT be shut down. "Embers" or flare ups will be put out, as necessary!

— Donald J. Trump (@realDonaldTrump) June 26, 2020
Donald Trump is back on the campaign trail, welcoming foreign leaders once again and dismissing coronavirus figures, but there is one set of numbers he can't ignore; the latest opinion polls.
His Democratic opponent Joe Biden has a double-digit lead, according to most projections.
Republicans are quick to point out that if the polls were to be believed Hillary Clinton would be in the White House now.
They are right, but what is different this time around is a bigger advantage nationally and worrying signs for Donald Trump in those all-important battleground swing states.
The latest New York Times poll has Joe Biden beating Donald Trump in Michigan, Wisconsin, Pennsylvania, North Carolina, Arizona and Florida.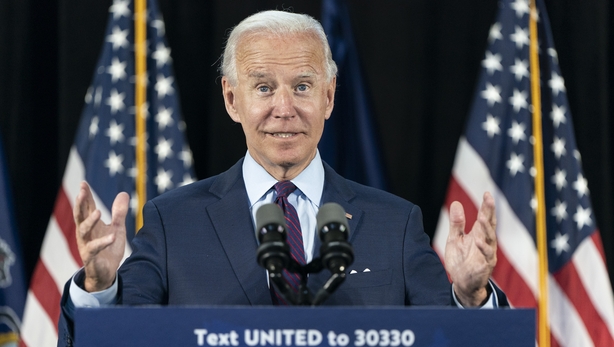 Donald Trump won all of those states in 2016 and even if just some of them switch from red to blue it could spell big trouble for the US president.
According to the poll, a majority of voters disapprove of Donald Trump's handling of the coronavirus crisis, believing that public health should be put before the economy.
There is also dissatisfaction with how the president is dealing with the current wave of racial unrest with most voters thinking addressing inequality and police violence is more important than ending protests and enforcing law and order.
The polls are giving Joe Biden a big lead but it largely seems to stem from a dislike of Donald Trump rather than any great affection for the Democratic candidate.
The former US vice president has achieved this frontrunner status while maintaining a very low profile and being almost invisible on the campaign stage because of the coronavirus.
Joe Biden is not the greatest debater and is prone to gaffes during media appearances. On Thursday, Mr Biden said that 120 million people had died from the coronavirus in the US before quickly correcting himself and clarifying that the number was in fact 120,000.
The Trump campaign has been pushing for additional debates and would no doubt welcome greater media focus on the Democratic candidate in the hope it would reduce his lead in the polls.
Joe Biden has spent much of the last four months self-isolating in his basement, what he does over the next four months could well decide the US presidency.