Davos is an intimidating place for the uninitiated.
Thousands of people, many household names across the world or at least in their own territory or region, running/slipping around a ski resort at high speed in an attempt to do deals, avert crises, win friends and influence.
It's essentially speed-dating for the elite, often with a lot at stake - or so they would have you believe.
Making sense of this surreal experience isn't simple.
Nor is keeping track of what is happening, who is meeting who and what they said before, during and after.
But after a week of witnessing this complete madness, a few themes stand out.
Business is finally "woke" to climate change
In so many ways an Alpine resort is the perfect backdrop for serious talking about climate change.
And so it proved, as our warming Earth became the dominant theme of the week, on the official programme at least.
Donald Trump may have flown in on Tuesday and immediately put his feet in it, with an ill-judged speech that mocked the "perennial prophets of doom" who he claimed were predicting an "apocalypse" caused by climate changes.
Clearly his advance party hadn't done their homework in taking the temperature of the room, as business leaders there wanted to address the issue positively, and his speech went down like a lead balloon.
But Greta Thunberg, on the other hand did grab participants attention, in a positive way.
Her warnings that our house "is still on fire" and her admonishing of the inaction since her appearance last year resonated.
"Pretty much nothing has been done since, the global emissions of CO2 has not reduced," she claimed.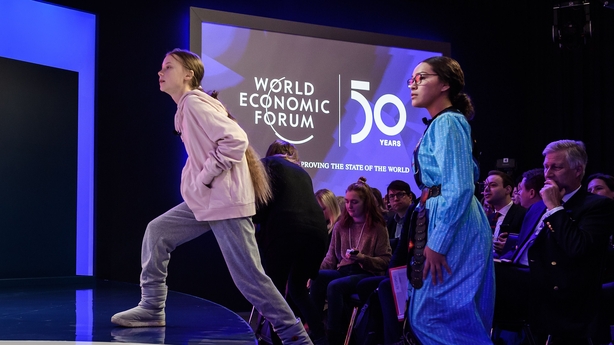 The sense though from talking to and listening to business leaders at the event is that things are changing - perhaps not as quickly as the Swedish activist and many others would like, or that we need.
But there were many announcements at the event of initiatives being undertaken by companies in the name of sustainability.
It was clear that business leaders now accept their firms activities are in large part the problem, and therefore they are part of the solution.
Whether that translates into actual meaningful action is, well, a judgement that only time will rule on.
Certainly though any companies that haven't already woken up and smelled the coffee at this stage are in for a rude awakening in the time ahead, as customers, shareholders and stakeholders start to increasingly demand action on sustainability.
We are going to hear a lot about trade deals this year
In a way the global trade architecture at the moment is a lot like a teenage disco of my youth.
At different sides and corners of the room, sit and stand groups of nervous teens, all eyeing each other, with a view to asking for a dance when the one slow set comes around.
But they are all also trying to play it cool, not wanting to show their interest too explicitly, or too early, in case they are rejected.
Such behaviour was clearly on display in Davos, except instead of teens, there were countries or blocs of countries, vying to do enormous trade deals with each other.
The US was courting the EU. US President Donald Trump met Commission President Ursula von der Leyen for the first time and they appeared to hit it off reasonably well.
Ireland's Phil Hogan, who is the EU's Trade Commissioner, was also in the room and he told RTÉ News in Davos that it had been a constructive meeting.
But Mr Trump was the one playing hard to get. His parting shot as he left Davos was to threaten further tariffs on EU car imports if a deal isn't struck.
It wasn't just the EU that he was courting though. Mr Trump also was eyeing up the UK too, talking of the "tremendous" trade deal he hopes he can do with Britain's "wonderful" Prime Minister, Boris Johnson.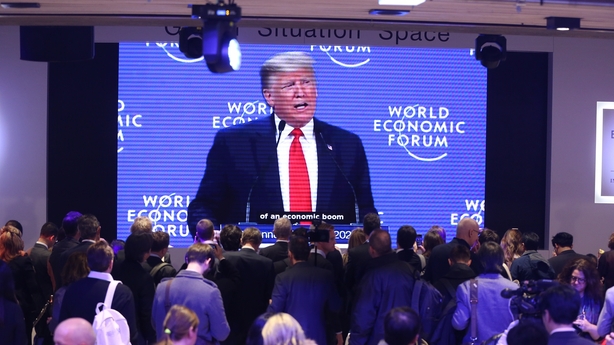 The UK has its eyes on more than one suitor though. Sajid Javid, the UK Chancellor stuck to the British line that it wants a new post-Brexit trade deal concluded with the EU before the end of the year.
And what's more, it plans to prioritise that one over the US one. Stand in line Mr Trump, this dance is mine.
"Our first priority is getting an agreement with the EU," he said.
"The timetable is the end of the year, but it can absolutely be done."
Phil Hogan seemed to think that what could be achieved would be dependent on how much the UK wishes to diverge from the single market.
"The more deadlines of a short term that you put in place it is not going to be possible to do the comprehensive agreement that we would like to have to give certainty and predictability to our businesses as well," he said.
"So we have to prioritise and we have to discuss this with the United Kingdom in the coming weeks."
And all this of course ignores the fact that the US has already secured a phase one trade deal with China, and is now moving on to phase two.
It is going to be busy year ahead on the trade talks front. Keep up if you can.
Digital tax is fast becoming a hot potato
France's plan to levy 3% on the turnover of large tech multinationals already had the US up in arms well before Davos.
The US sees it as damaging to American companies interests, and hates the idea of states going it alone.
Instead, it agrees the issue of digital tax needs to be worked out in the context of the OECD.
So although there was some progress at Davos, with France agreeing to defer collection of the tax until the end of the year and the US lifting its threat to impose tariffs on French goods in retaliation in the meantime, this issue remains a contentious one.
Everything is on the table," French Finance Minister, Bruno Le Maire said.
"We just have to decide if we want to avoid a loophole in the international taxation system or have many national solutions that would be detrimental to all of us.
"We just can't go on any longer with a taxation system in which the richest companies, those that are making the biggest profits, are paying the least tax," Le Maire said, while also having a cut at Ireland (without naming it) over its multinational tax record.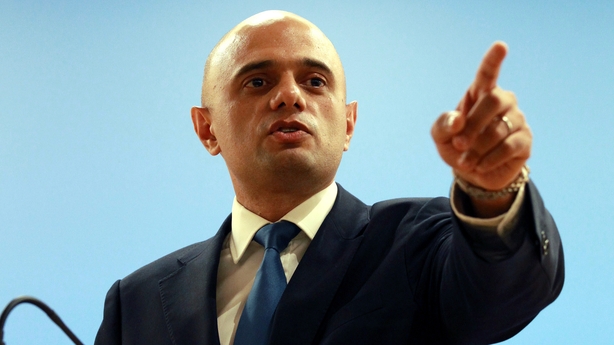 But it isn't just the French who are looking at going it solo on this issue.
Again at Davos, Sajid Javid confirmed the UK would impose its own tax in April, drawing thinly veiled ire and a threat from Steve Mnuchin, the US Treasury Secretary.
"We're going to have some private conversations about that and I'm sure the president and Boris [Johnson] will be speaking on it as well. This is an important issue that we'll deal with," he said.
"If people want to just arbitrarily put taxes on our digital companies we will consider arbitrarily putting taxes on car companies."
So pressure continues to come down on the OECD to get a deal done and soon, before more countries break ranks and the threats turn into action.
Like in the case of the Czechs, who already have a 7% digital tax in place and aren't for turning on it.
People are a bit gloomy about the economy
Business leaders are great at talking positively. It is, after all, probably what made them leaders in the first place.
But for all the guff talked in Davos this week by CEOs about how extraordinarily well their companies are doing, there was a pall of negativity hanging over the Swiss resort.
Not a majorly thick one. Just a recognition that the global economy is still struggling.
While many attendees will leave Switzerland this weekend with a pep in their step... they shouldn't it seems get too ahead of themselves.
It was probably best encapsulated by the IMF, which on Monday published its latest World Economic Outlook.
The organisation marginally cut its forecast for growth for the coming years, warning that the outlook remains sluggish and there are no clear signs of a turning point.
"We already see tentative signs of stabilization, with recent data suggesting that trade and industrial output are bottoming out," said Managing Director Kristalina Georgieva at a press conference in Davos.
"But we have not yet reached a turning point."
India is struggling economically, the IMF said, and that coupled with tensions in the Middle East, remaining trade tensions and climate shocks such as the fires in Australia are weighing on business sentiment and activity in some places.
So while many attendees will leave Switzerland this weekend with a pep in their step, and new deals on the table, they shouldn't it seems get too ahead of themselves.
Most bizarre story of Davos 2020
Without a doubt, the most bizarre story to emerge from Davos this week was the one about the Russian plumber spies.
According to reports, five months before the World Economic Forum annual meeting kicked off, Swiss police picked up two Russian men in Davos who purported to be plumbers.
The men were suspected to be Russian intelligence agents, posing as tradesmen in order to install surveillance equipment at key facilities around the town.
These would presumably have been used to monitor private conversations of key attendees at Davos this week.
The plumbers, claimed diplomatic immunity apparently, although they were not registered as diplomats.
Thankfully, we didn't hear of any "leaks" during our time there.
Comments welcome via Twitter to @willgoodbody