It's a time-honoured tradition that the EU's anthem, Ode to Joy, is played at the opening of a new Parliament's term in Strasbourg. And so it was on Tuesday morning when the members elected from 28 member states in May's elections, assembled for the start of a five-year term.
The mood this time around, however, was anything but harmonious.
Beethoven's symphony – seen as a symbol of humanitarianism, love and unity - played out as a stubborn adherence to custom in a Parliament that is undergoing change.
For a start, there was something odd in the make-up of the Parliament, given that it included 73 UK MEPs who took their seats for a mandate that is not intended to last beyond 31 October.
A stunt by the 29 members of the Brexit Party – ironically the joint largest single party represented here - who put their backs to the anthem as it was played, got the attention it was aiming for. Meanwhile a group of pro-Remain MEPs pulled a stunt of their own, wearing eye-catching Yellow t-shirts with the words "Bollocks to Brexit."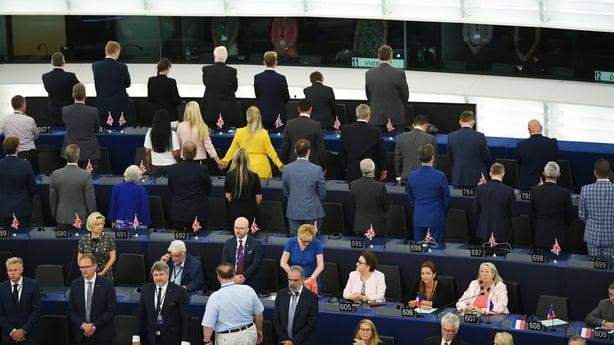 It was no surprise that the unsolved Brexit process was going to overshadow the opening proceedings. But there were statements all around pointing to a Parliament that will face new challenges in the years ahead.
As the musical quartet played, behind them were signs held up by some MEPs reading "fortress Europe". A first-time UK Green MEP, Magid Magid, wore a t-shirt saying "f**k Facism" – a protest against what he believes is rising nationalism and racism across member states. (He later claimed he was asked to leave because of his race and tweeted: "I don't intend to try fit in. Get used to it!")
Your face when you've just had someone ask if you're lost & then you're told to leave, on your first day at work. 🤦🏾‍♂️

I know I'm visibily different. I don't have the privilege to hide my identity. I'm BLACK & my name is Magid. I don't intend to try fit in. Get used to it!
👊🏾💚 pic.twitter.com/HhWG63kE9U

— 🚀MΛG!D (@MagicMagid) July 2, 2019
New Irish MEPs Clare Daly and Mick Wallace made their presence known by wearing bright t-shirts with the face of Julian Assange. Luke 'Ming' Flanagan held up a sign denouncing EU migration policy.
First day in big school #EuropeanParliament - #Assange is in prison because he exposed the ugliness of #US Foreign Policy. Anyone who cares about a free independent media should challenge the treatment of #Julian Assange.... pic.twitter.com/qziDcD6VMG

— Mick Wallace (@wallacemick) July 2, 2019
Sinn Féin's Matt Carthy – sitting in front of them – took the honour of delivering the first speech of this Parliament. Under the guise of a "point of order" he raised the case of three pro-Catalan independence MEPs who have not been able to take up their seats. "This House needs to stand up for democracy," he shouted to huge applause from some parts of the chamber.
My intervention on behalf of over 2million EU voters who are denied their voice in European Parliament. 3 Catalan MEPs have been refused access to EP - this undermines the democratic process & cannot be tolerated by those who value human rights in the EU.#Catalonia #Strasbourg pic.twitter.com/gufM8rRzmy

— Matt Carthy MEP (@mattcarthy) July 2, 2019
This is another factor that made the make-up of this Parliament so unusual. Instead of 751 MEPS, there are 748.
Although they were elected, the Spanish Government has not included them on its official list of MEPs because they refused to sign a pledge to the Constitution demanded by Madrid.
Outsides the Parliament thousands gathered – having travelled in their droves from the North of Spain, in many cases via a 15-hour car drive – to demonstrate against the decision. Rumours abounded that one of the three, Carles Puigdemont, who is living in Brussels to escape a Spanish arrest warrant, was across the border in Germany and some expected him to make his way to the Parliament.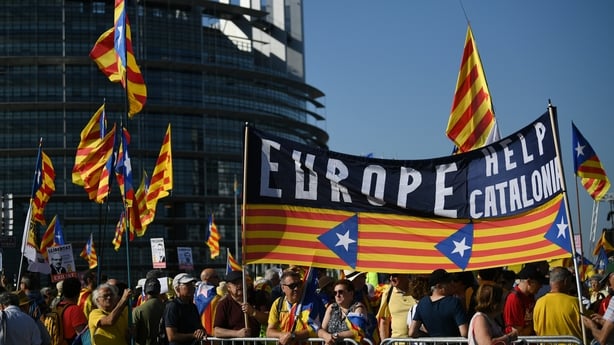 Protests inside and outside the parliament may be a sign of things to come for a House that is, to some, more representative to others more fractured than ever before.
The Parliament is no longer dominated by the two large centre right and centre left groups.While previously they were able to form a grand coalition to get policies implemented, they no longer command that majority. And so they will have to depend on alliances with smaller groups to get anything done. Renew – which includes the Fianna Fáil MEP Billy Kelleher and the Green group which includes two Irish MEPs will, in many cases, be relied upon by the two larger groups.
Wednesday brought with it divisions of another kind. Not between MEPs themselves, but between the Parliament and the European Council – the group of the leaders of the 28 member states which together make two of the leading institutions of the EU.
The outgoing President of the European Parliament, Antonio Tajani, opened Wednesday morning's session by telling members that it was an "independent and autonomous" body. This was a dig at the EU heads of state who, just the night before, had agreed to nominate Ursula Von der Leyen as President of the EU Commission – the most high profile of the EU's top jobs.
By doing so they had ignored the so-called Spitzencandidate process, whereby each of the largest groups of the Parliament would put forward a candidate for the commission role.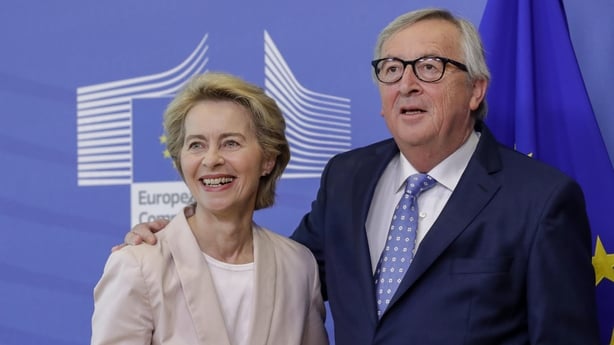 On Wednesday afternoon, Ms Von der Leyen herself arrived in Strasbourg to begin her charm offensive.
In a private meeting of the EPP Party she was asked by Ireland South Fine Gael MEP Sean Kelly her views on the Irish backstop. She told MEPs that the EU should "stick with it", and this was interpreted by MEPs in the room as meaning that a change in the top job won't mean a change in support for Ireland's position on the backstop.
There were questions too about her support for the Eastern member states who ended up empty handed in the big jobs carve up. The visegrad Group – Hungary, Poland, The Czech Republic and Slovakia - had used up their political capital in blocking Dutch Socialist Frans Timmermans from becoming president of the Commission.
It did not go unnoticed that, despite all the talk of regional balance, the top jobs are going to "old Europe" - Germany, France, Belgium, Italy and Spain.
As they emerged from that meeting, many EPP MEPs seemed impressed with Von der Leyen.
For her part, she walked passed a large gathering of media, entirely cool and unblinking in the face of questions fired in her direction. She got in to the lift without giving any sign that she even noticed that the journalists were there - choosing instead to address the public without having to answer questions, through her new Instagram account later that day.
The EPP group is expected to fall in loyally behind her. She can also expect the support of the liberal-centrist Renew Europe group which is backed by French President, Emmanuel Macron. But that will not be enough votes to secure her position.She also needs the support of the Social and Democrats Group and the Greens - neither of which have yet decided on their positions.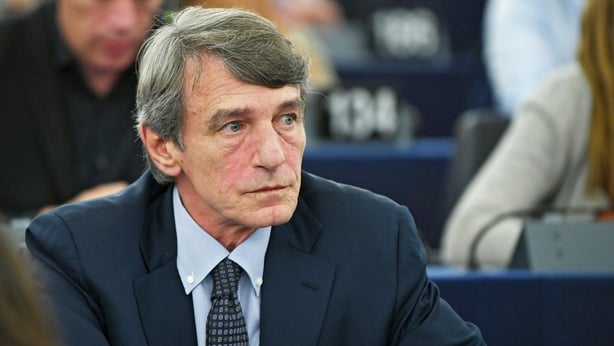 The S&D have secured a top job of their own. The former Italian TV Presenter David Maria Sassoli was elected to President of the Parliament on Wednesday.
His election was an indication that MEPs had acquiesced to the deal agreed between EU leaders, whereby the EPP would get the Commission Presidency and the S&D would get the presidency of the Parliament. His vote was, however, about one hundred short of the parties that had agreed the package at the European Council showing not all MEPs will fall in to line.
The German Green MEP, Ska Keller – who had thrown her hat in the ring – criticised what she said was the presidency of the Parliament being treated as a "negotiating chip" between EU member state leaders as part of an "old school, back-room council negotiation."
When he arrived in Parliament on Thursday morning, European Council President Donald Tusk – who got a lashing from MEPs over the top jobs carve up - acknowledged that support from the Green Party would be crucial in getting Von der Leyen over the line.
"I am fully confident that cooperation with the Greens and their presence in the EU decision making bodies will benefit not only the governing coalition, but Europe as a whole," he said.
The Parliament is expected to vote on her appointment on 15 July, and although it has lost out in the battle of wills between it and the Council, it is unlikely to go down without a fight. The time will between now and then will be used by the main groups to demand policy concessions in return for their votes.
This will also be a big test for how the Greens will use their increased mandate. Despite their unprecedented success, they were overlooked for the top jobs.
They now have a chance to focus on a prize bigger than just jobs, that is to use their leverage to influence EU policies. How they do so in the weeks ahead will give an indication of things to come.
For all the change, there was one blast from the past in Strasbourg last week. The former Italian Prime Minister, Silvio Berlusconi, is now an MEP.
Anyone expecting he might add some lively colour to proceedings might be disappointing.
In fact, the 82-year-old was spotted having a nap in the chamber. It was all too much for some.