Moderating a debate with only four of the six candidates was always going to be a tough task, however Claire Byrne handled it very well.
One smart move was to deal with the absence of Michael D Higgins and Seán Gallagher very quickly at the beginning of the programme, and then move on to discuss the views on those before her.
That said, the criticism of the two missing candidates was stinging.
It was called a "sign of contempt"; showed an "air of entitlement"; "they should have been here." That seemed to count with the audience, given their negative reaction when Michael D Higgins campaign team sought to correct a claim of expenses for his dogs.
Gavin Duffy said Claire Byrne should not "be a spokesperson for someone who didn't turn-up."
The presenter responded that her role, for the viewers, was to ensure there was accuracy.
---
Candidates questioned on priorities, expenses, poppy wearing
Presidential debate: As it happened
Watch the debate here
---
Despite being on a live TV debate, and having an audience of around 200 people ranged before them, the candidates looked comfortable under the studio lights as they outlined why they felt they were best suited for the ceremonial role of President, as opposed to being an active politician.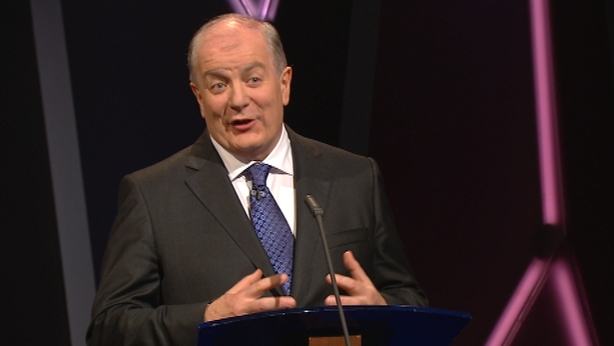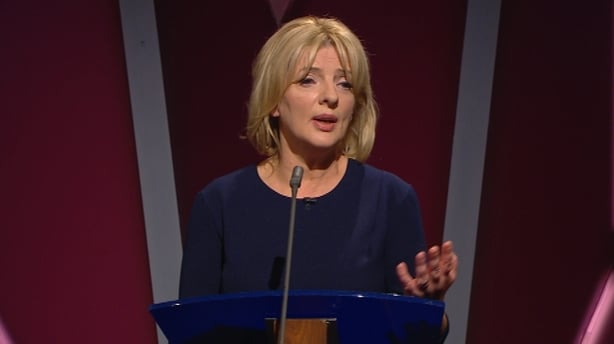 Claire Byrne continually peppered the four candidates with follow-up questions, pressing them to go beyond their prepared statements.
Sometimes they appeared to go far beyond what would be expected of the Office of President.
A stand-out question was whether or not the candidates would wear a poppy, if inaugurated President on the 100th anniversary of the end of World War One.
Liadh Ní Riada said she would wear the poppy as a modern and progressive move to "reach out" to Unionism - even though some in her party, Sinn Féin, would find it abhorrent.
Peter Casey, who is from Derry, said he would as well.
However Gavin Duffy said he did not believe that the President should wear "any symbol".
Instead he said he would lay a wreath at the appropriate ceremony.
Joan Freeman was strong when she spoke about the difficulties facing candidates who do not have a political party or individual wealth to fund a push for the Office of the President.
There was a mis-step by Ms Ní Riada, in the view of the audience, in the way she raised questions about the businessman who has loaned Ms Freeman campaign funds.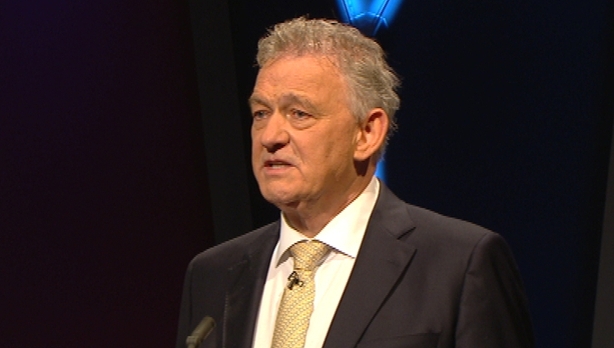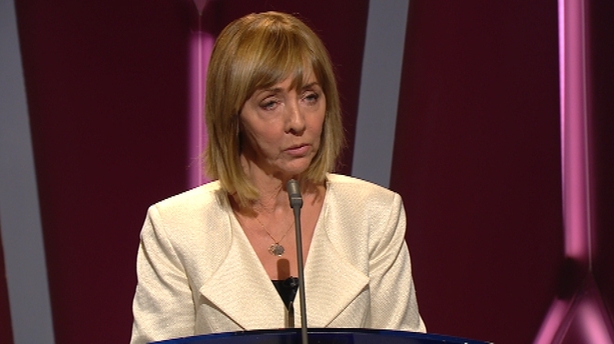 Claire Byrne could be very direct - including asking Gavin Duffy: "Are you a millionaire?"
There was also consensus at times.
All candidates agreed that, if elected President, they would be obliged to meet whatever head of state visited Ireland, irrespective of their personal views.
Peter Casey was the first to field the question and he said the President does not have "the luxury" of being able to refuse to meet someone.
Gavin Duffy, maybe due to his media training expertise, made a point of mentioning the questioner's name when he said he would also be obliged to meet any leader.
There was also some cut-and-thrust between the candidates.
When Joan Freeman spoke about her admiration for the voluntary sector, Liadh Ní Riada interjected that if the State was not failing the people, there would not be a need for so many groups.
Peter Casey was at his most fluid when he spoke about his plans to better connect the Irish diaspora with Ireland. He was also the most direct in his criticism of Michael D Higgins, once again questioning the transparency of finances at the Áras.
Gavin Duffy put the boot into both Mr Higgins and Mr Gallagher in his final statement for not attending.
Claire Byrne was calm and confident throughout - even when an audience member tried to upset proceedings.
The debate did help the electorate find out a bit more about the four candidates, even if it was undoubtedly hobbled by the fact that Michael D Higgins and Seán Gallagher were not in attendance.