In Knock today, holy water bottles are "flying out the door". Hundreds of pilgrims have been taking advantage of the good weather to visit the village and pray at the Marian Shrine. 
For many, a bottle of holy water from the specially fitted water stations along the main perimeter wall is the must have memento from their trip here. 
Each and every one of the souvenir shops along the Main Street has a range of containers for sale to cater for all demands. 
In the months ahead, these and other keepsakes will be big sellers. The last papal visit in 1979 prompted commemorative cups, plates, tea towels, records and books. 
Flag makers are already stocking up on Vatican emblems to sell to the faithful.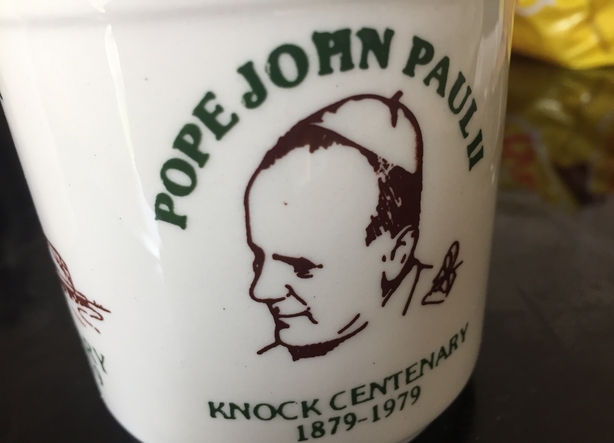 In filling stations around the west, Galway and Mayo flags on sale during the GAA Championship are being joined by the yellow and white livery of the Holy See. 
The Rector of Knock Shrine, Fr Richard Gibbons, says there is an air of expectancy, joy and happiness as people prepare to express their faith during the visit of Pope Francis. 
Organisers of the Mayo leg of the Papal visit to Ireland are confident that each of the 45,000 who have secured tickets will get to see the Pope in Knock. 
Plans for the 55-minute visit to the Marian Shrine are at an advanced stage, with detailed mapping of the grounds completed. 
Tickets will be sent to the homes of successful applicants at the end of July. They will outline where pilgrims should go and which approach roads to the village they should take.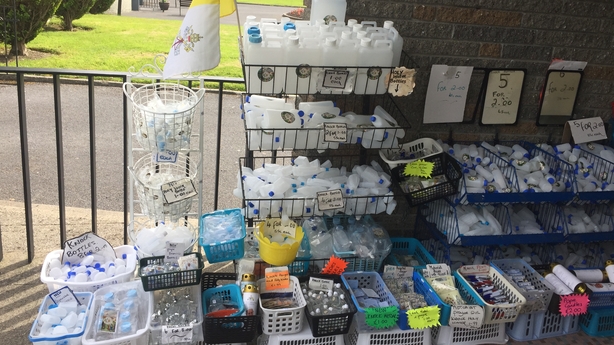 Three separate areas will be set up around the grounds of the Shrine in Knock. These will be colour-coded and sub-divided, with each smaller 'corral' holding around 1,000 people. 
Food and refreshments will be available on site and extensive coach and car parking will be provided as close to the village as possible.
Those with mobility issues or special needs will be facilitated at a car park adjacent to the grounds. 
It is envisaged that the shrine will open to the public at 6am on the morning of 26 August.
Pope Francis is due to touch down at Ireland West Airport at 9.20am and will arrive in Knock at 9.50am.
He will spend a total of 55 minutes here, during which he will have some time for private prayer, recite the Angelus and tour the grounds in a 'Popemobile'.