Residents of Knightsbridge are steeling themselves for the arrival of the world's media again this afternoon as judgment is handed down in the latest, and potentially crucial, legal case involving Wikileaks founder Julian Assange.
The Australian-Ecuadorean (he was granted Ecuadorean citizenship in recent weeks) has been a resident of the embassy beside Harrods department store for the last five and half years.
In an area where ostentation generally relates to displays of wealth, many residents are annoyed by the intermittent arrival of hundreds of camera crews and reporters every time a new twist in this lengthy legal saga unfolds.
The small street outside the embassy becomes clogged with international media, all eyes trained on a balcony on the corner of the building from where Julian Assange has spoken in the past.
This is in fact not the window of the room in which he lives. 
That is to the side of the Embassy, where the activity generally relates to delivery trucks loading or unloading goods for Harrods.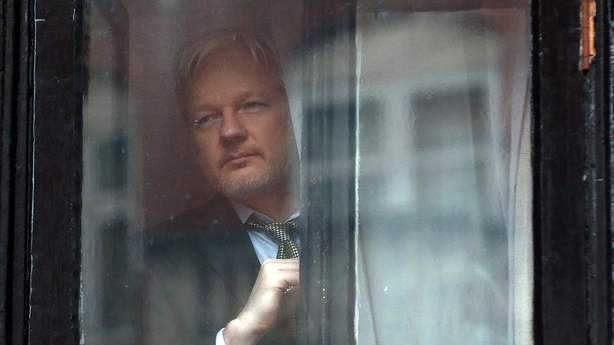 To some he is a cyber warrior - to others a shameless criminal. Julian Assange first came to international prominence in 2010 when Wikileaks, the organisation which he founded, released tens of thousands of classified military and diplomatic documents in what was the biggest leak in US military history.
It sent shockwaves throughout the political and military worlds. US soldier Chelsea Manning would go on to be convicted in relation to the case, imprisoned and subsequently pardoned. 
As the leak was being investigated, Swedish authorities launched an inquiry relating to allegations of sexual assault against Julian Assange.
He denied the allegations and said he feared the changes were a ruse to get him extradited to Sweden to the US in relation to the Wikileaks material.
As a result, he sought refuge in the Ecuadorean Embassy, breaking bail conditions which had been imposed in the UK.
Last year Swedish authorities dropped their investigation into Julian Assange saying that all possibilities to conduct an investigation had been exhausted. But a British arrest warrant in relation to him breaching his bail conditions by taking refuge in the Embassy still stood.
It is that warrant which concerns the current legal case. Mr Assange's legal team want the warrant abandoned saying it no longer has any purpose or function. 
But the British Crown Prosecution Service argues that it would be "absurd" for that to happen since it would effectively amount to a reward for having managed to evade arrest for long enough to see the court proceedings expire.
His time in the embassy, from where he has on occasion hosted a programme for the Russian broadcaster Russia Today, has cost tens of millions of pounds in policing costs to the Metropolitan Police.
It has also involved friction with his hosts.  In 2016 embassy officials cut off his internet access for a time over concerns he was using it to interfere in the US Presidential election. 
Wikileaks had published emails from the Democratic National Convention and close advisers to the Democratic nominee Hilary Clinton. 
Mr Assange threatened that there were a lot more yet to be released.In theory, success today could see the last legal block to Mr Assange leaving the embassy lifted, but if it does, will he walk out?  That decision is one only Julian Assange can take.