Paul O'Flynn reports on the right wing stance of Hungarian Prime Minister Viktor Orban and how it is causing concern in the EU.
We need your consent to load this rte-player contentWe use rte-player to manage extra content that can set cookies on your device and collect data about your activity. Please review their details and accept them to load the content.Manage Preferences

There's an icy chill blowing from the Danube at this time of year. Morning sunshine glistening on the murky expanse of one of the great rivers of Europe, which cuts right through Budapest and splits central Europe between north and south.  The same geography that puts Hungary at the heart of Europe's migration routes.
Two years ago, Budapest made international headlines. Refugees camped at its central station in their thousands hoping to catch a train to a better life in Austria, Germany and beyond. It was a flashpoint that turned public opinion and fired a crackdown from the right-wing populist Prime Minister Viktor Orban, sparking a much criticised migrant policy.
Now the migrants mass at the borders instead. They are held back by fences and armed guards, living a life in limbo. They are mostly from Syria, Iraq and Afghanistan and continue to come in their hundreds and thousands.
The regional representative for the UN High Commissioner for Refugees in Central Europe, Montserrat Feixas, says the situation is getting worse: "The problem they have is the government of Hungary has restricted access to the territory.
"They allow only up to ten people a day to come into Hungary but this bears no relation to the actual number of people who would like to come to Hungary. So for us it's a very difficult situation, a very sad situation."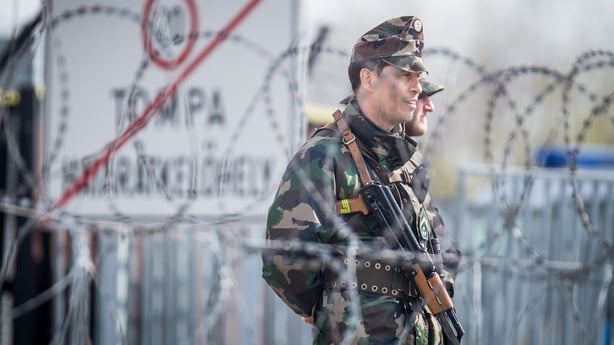 The migrant policy is just one part of a growing shift to the right in Hungary. It is a concern across the EU as it turns its back on the democratic norms of member states, such as the rule of law, human rights protection and academic and press freedom.
Marta Pardavi is co-chair of the Helsinki Committee, a human rights group offering free legal aid to refugees that has fallen foul of the Orban government. She says she never believed she would see what is happening in Hungary.
"In the past eight years, the two terms of Mr Orban's government, there's been an overall weakening of the rule of law. The government interferes with human rights protection," she said.
She says other countries are following this example, including Poland. But in Hungary standing up for human rights, the rule of law, minorities and refugee protection leads to a situation where individuals and organisations are targeted and ostracised.
Taoiseach Leo Varadkar received opposition criticism at home over his trip to Budapest to meet Prime Minister Orban.
Labour party leader, Brendan Howlin, saying the Hungarian government is anti-democratic and against EU values.
Some NGO groups in Budapest expressed surprise at the Taoiseach's visit and say Ireland can do more to help the situation along with other EU countries.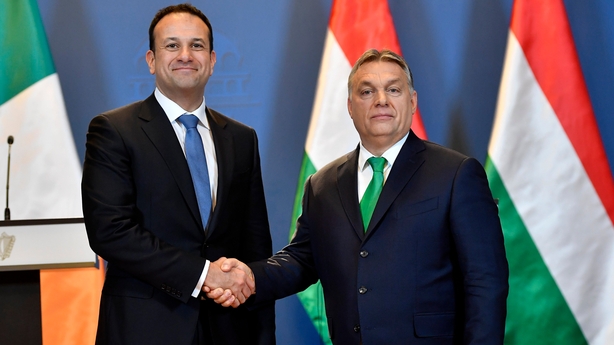 The Taoiseach brushed aside critics saying Hungary is a full member of the EU and the UN and Mr Orban is a democratically elected leader. He said although he differs with his policies on many issues, he believes engaging with other governments is the best way forward.
But although he did raise the issue of refugees, he was less than forthright in his criticism of the Orban government, preferring to concentrate on gaining support for Ireland's concerns during phase two of the Brexit talks and finding agreement with Hungary on corporate tax and the future of the EU's Common Agricultural Policy.
Across the EU the concern now is where Hungary goes others may follow. With Poland, Slovakia and the Czech Republic - known as the Visregad four - banding together, shifting towards the right and insisting their voice be heard at the EU table.
"There is a lot of mention of this divide and Mr Orban mentions it in his speeches too," says Marta Pardavi.
"I think this is absolutely detrimental. There can be a lot of differences between member states but when it comes to democracy, rule of law and human rights issues there needs to be a common understanding. And if that discussion is now taking place where it's us against them, east against west, then it's certainly going to erode these common values."
An election in the spring is expected to see Mr Orban returned to power for another four years. He's an admirer of Donald Trump and Vladimir Putin and his policies are proving popular with his base.
Hungary is at a crossroads, to the west the EU of Merkel and Macron and to the east Putin's Russia. The path it takes, along with Poland, Slovakia and the Czech Republic, will have lasting consequences for the EU as a whole.