Tonight Leo Varadkar will deliver his first speech as Fine Gael Leader at the party's conference in Cavan.
Just five months after taking over from Enda Kenny, RTÉ's Micheál Lehane looks at five of the defining features of his leadership to date.
Dáil Rows
Within the octagonal Dáil chamber, the new shape and tone that Leo Varadkar would bring to exchanges here was evident immediately after he became Taoiseach.
The first controversy over the appointment of the former attorney general Máire Whelan to the Court of Appeal resulted in a bitter clash with Fianna Fáil leader Micheál Martin.
Weeks later, in the aftermath of the Jobstown trial, there was an explosive row with Solidarity-PBP TD Paul Murphy, with the Taoiseach uttering the line: "You're not a victim here."
Both incidents served to highlight the more attack-minded approach the new Fine Gael leader would embrace.
This new way of dealing with Dáil debates continued unabated after the summer break when Mr Varadkar compared Sinn Féin's Mary Lou McDonald to the French right-wing leader Marine Le Pen.
The Taoiseach went on to lambaste her for using what every other TD uses in the Dáil, a script.
The Fine Gael side revel in these spats. Opponents though believe they are excessively aggressive and they calculate it could ultimately become a turn-off for the voters.
Communications
Mr Varadkar replaced Mr Kenny's weekly newsletter updates with a video message.
The early versions were at times wooden and overly long but these missives it seems are here to stay.
The Taoiseach and those around him believe they connect with voters who follow social media.
Unquestionably however, they sometimes leave the Taoiseach open to ridicule; one recorded on a plane drew particular ire.
It was wryly summed up by a commentator on twitter as a dispatch that simply said "my life is better than yours".
There has also been scathing criticism of the Taoiseach's decision to establish a Strategic Communications Unit in Government Buildings.
Mr Varadkar says this will, among other things, help target messages to people about their entitlements.
The opposition says the unit, which was allocated €5m in the Budget last month, is nothing but a Government spin machine.
Visionary Talk
The Taoiseach's leadership rhetoric has been built around some key phrases including: 'Republic of Opportunity', 'Making work pay' and 'Rewarding those who get up early in the morning'.
To his critics these are words that are both shallow and, at times, divisive.
The notion of being rewarded for getting up early in the morning has been linked consistently to the homelessness crisis.
That is because many of the more than 8,000 people in emergency accommodation, including 3,124 children, often have no choice but to get up early and leave their temporary rooms for the day.
For all the criticism though, these words are expected to be repeated in the Taoiseach's speech tonight.
They are likely to be fused with a focus on things such as: strong communities, balanced regional development and creating a sustainable economy.
Unlike previous more informal addresses to his party colleagues, this speech will not pick fights with political foes and will instead point the way to the Ireland Fine Gael wants to create by 2025.
Style
It was Oscar Wilde who concluded that in matters of great importance style, and not substance, was the most important thing.
The Taoiseach's opponents certainly accused him of subscribing to this maxim from the moment he took office.
One day that seemed to embody everything about this approach was the visit to Dublin of Canadian Prime Minister Justin Trudeau.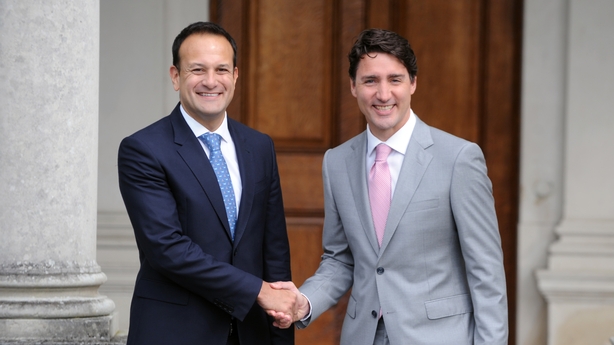 When Mr Trudeau met Mr Varadkar in Farmleigh, much commentary centred on the Taoiseach's considered choice of socks - they were red with Mounties and Maple Leaves.
It was a well-honed nod to the Canadian's penchant for the colourful variety of socks.
Later a picture of the two men jogging in the Phoenix Park seemed to sum-up a very different style of political messaging far removed from kissing babies and shaking hands with hundreds of people in shopping centres up and down the country.
In the words of one minister: "Leo would not have the stamina for that and he would not be very comfortable doing it, but he is a statesman and he can connect with a younger generation this way."
Management
Ministers will tell you that Mr Varadkar often calls them aside to ask detailed questions about their jobs and how they are handling certain issues.
"He'll put you through your paces and he'll keep you there until he has everything figured out," said one.
Sometimes too he will accompany ministers to meet representative groups where he is described as playing the role of "listener".
It is a contrast to the more relaxed management methods of his predecessor.
There is also an emphasis on lists and narrowing things down to achievable priorities.
This can result in finely tuned answers in the Dáil and elsewhere when the Taoiseach concisely details what he sees as his Government's achievements, such as a continued fall in the unemployment figures, cuts in taxes for workers and greater investment in public services.
For all that though, there is no denying that he still has not had to manage a huge political crisis yet, and this will surely reveal whether or not his management skills are built on solid foundations.
As the Brexit talks may be about to enter a crucial phase, that test may not be too far away.