The Bon Secours Hospital in Dublin has begun a pilot study with 50 patients of the latest version of the pill camera.
The vitamin-sized capsule has more wireless cameras built into it, to detect small bowel and colon diseases.
RTÉ Health Correspondent Fergal Bowers underwent the pill camera test this week, as an experiment, for a news report - here is his experience.
Before the test, there were a series of medical questions to ensure I was suitable for the pill camera test.
I had to fast from any food from lunchtime on Tuesday and could only have my first light food yesterday just after 3pm.
That was a challenge…
I could only have clear fluids from 1pm until 10pm on Tuesday and then stop all fluid intake until a few hours after I swallowed the pill camera yesterday at about 11am.
In preparation for the test, it was necessary to take a very strong prescription laxative on Tuesday evening, to clear the intestines for the next day.
That involved drinking a litre of VideoPrep over an hour - the name of the product under-describes its impact!
It's a gloopy fluid that tastes like salty lemonade and it's the unpleasant part.
People who have to undergo a colonoscopy will be familiar with this preparatory 'drink'.
I also had to drink a litre of water over the following hour, after the preparatory drink, to keep my fluid levels strong for what comes next.
The advice was to stay close to the bathroom for obvious reasons.
My system was cleaned out after about ten visits.
At the hospital yesterday morning, a sensor belt and data recorder were attached to my waist.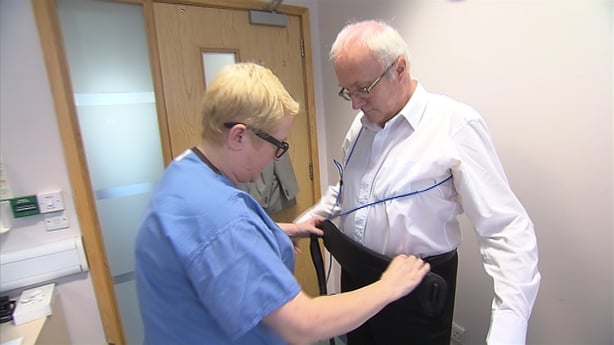 With some water, I swallowed the flashing pill camera, which was slightly uncomfortable for just about ten seconds, until it entered the stomach.
After a few checks to ensure the pill was under way, I was able to leave the hospital to go about my normal work, taking care of the equipment attached to me.
We need your consent to load this rte-player contentWe use rte-player to manage extra content that can set cookies on your device and collect data about your activity. Please review their details and accept them to load the content.Manage Preferences
The belt and data recorder were bulkier than I had expected.
Going around in public with the waist belt equipment, which included wires, was a challenge and there were a few looks of suspicion from members of the public as to what it was I was carrying.
The data recorder was returned to the hospital early this morning and the medical/nursing team downloaded the footage for examination.
It was a slightly uneasy wait; hoping it worked properly after everything that was involved and also hoping that nothing unexpected would be found.
I can appreciate just a little more what the waiting must be like for people who undergo any endoscopy check.
In my case, the results revealed nothing major to be concerned about.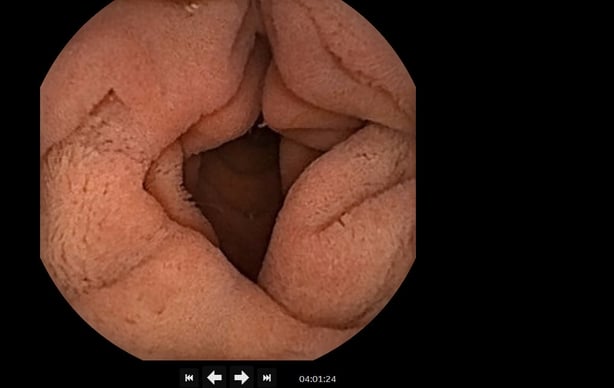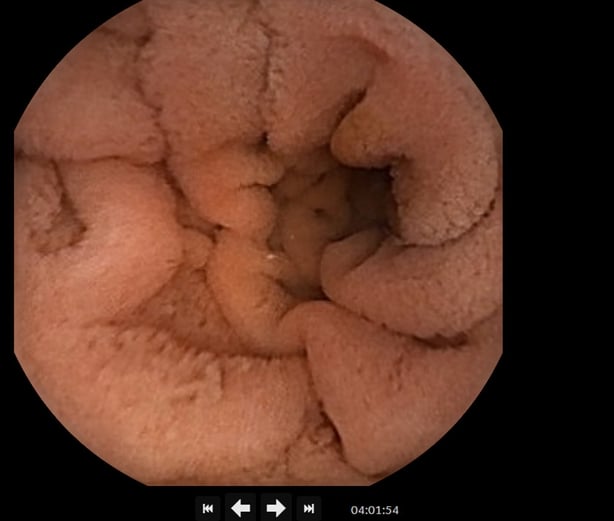 Viewing your insides is disconcerting - who gets to see that normally except the doctors?
But the technology is important and for certain patients, it may be preferable to a colonoscopy, as there is no sedation, intubation and no radiation.
The technology is also available in other hospitals, including publicly at Tallaght Hospital.
It could have a role in reducing waiting lists for endoscopy procedures.
The pill camera I took is expected to pass out of my system in a day or so.
They say I should not notice it leaving.
It is important to say that all procedures are not without risks.
A rare risk with the pill camera is that it becomes retained in the body.
The pill camera is not the answer to everything but it shows how technology is developing, hopefully to make things easier for patients.
Also remember that any procedure being considered should be discussed in full with your doctor.