Michel Barnier was one of the organisers of the 1992 Winter Olympics in Albertville, in the Savoie region (where he chaired the regional council).Roll on the gags about "slippery slopes" and "downhill all the way". Or focus on the fact that he delivered a major project.
Now he is in the early phases of trying to deliver another, much bigger project: a deal on Brexit.
Unlike a Winter Olympics, there is no template for this project; it has never been done before.
Organisers of Winter Olympics can promise "there will be a men's downhill, there will be ski jumping, there will be ice hockey", and be pretty sure there will indeed be. No such promises can be made for Brexit; just hopes and wishes for "no hard border", the "closest possible" relationship with the UK after it leaves, or a "bold and ambitious" trade deal between the UK and the EU.
And so Mr Barnier's speech to the Houses of the Oireachtas was light on promises. Because the outcomes are so uncertain only the most foolish or reckless politician would promise any outcome.
And so the only promise was to do his best, saying: "I will work with you to avoid a hard border."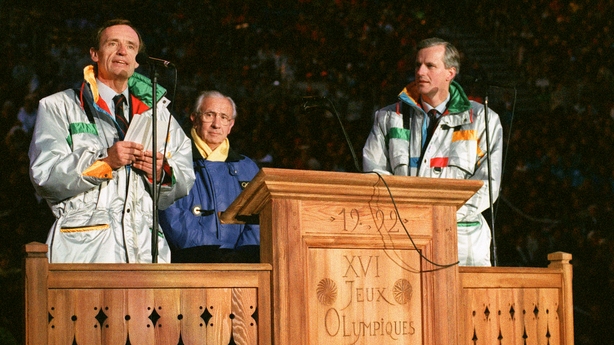 But having set out the advantages of EU membership, he said the UK's departure will have consequences for both sides, particularly when it comes to the single market and the consumer protections it affords.
"Customs controls are a part of EU border management. They protect the single market. They protect our food safety and our standards," he said.
Here he came to the heart of the Brexit problem: politicians may not want a return to any form of hard border on the island of Ireland, but the entire logic of the single market, the customs union and even the single currency area that lives within it relies on a strong external frontier that enforces customs regulations.
The political lines through the geographical facts of Britain and Ireland make that an incredibly difficult conundrum to solve. Those expecting a detailed set of instructions for doing so in Barnier's speech were always going to be disappointed.
More encouraging were his comments on the future relationship the EU needs to build with Britain after it leaves. And he was very clear about wanting the negotiations with Britain to succeed: "I want us to reach a deal", he told the Oireachtas.
He said that after 44 years of membership in the EU, the UK "should remain as a close partner". He said "we will need to negotiate a "bold and ambitious", but fair, free-trade agreement", echoing Theresa May's words in her letter to Donald Tusk to trigger the Article 50 process.
But he said the same ambition was needed for a close EU-UK relationship in combating climate change, in international co-operation and development, and in external security and the fight against terrorism, hybrid threats and cyber security.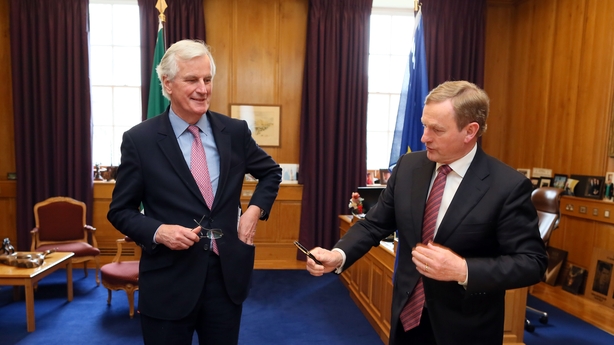 All of these are on the wish list of Downing street, and have their counterparts in Theresa May's Article 50 letter. That is also the case with what both sides have set down in their negotiating positions regarding Northern Ireland, the border and the peace process. So he used his big set-piece in Dublin to reach out to London.
There was no confrontation, no taunting, no hectoring – just an appeal for cool heads and quiet determination to get this thing done: "If we put things in the right order, if we negotiate with mutual respect and are open to finding solutions, there is no reason why our strong Europe cannot maintain a strong relationship with the UK", he said.
As co-president of the 1992 Winter Olympics (the other one was triple Olympic champion Jean Claude Killy), Mr Barnier brought in the project at a cost (in 2015 dollars) of €2bn, with a cost overrun of 137%. This doesn't sound great, until you see that the average cost of a winter Olympics is $3.1bn, with an average cost overrun of 142%. Mr Barnier admitted in the Oireachtas that there will be a cost to Brexit, and it will fall on the remaining 27 as well as the departing one. But unlike the Winter Olympics, we have no benchmark to asses that cost against.
It's a bit like standing at the top of what you have been told is an Olympic downhill ski run, skis on, ready to go – but with no map of what lies ahead, and no idea of how long it will be, how many turns, whether or not there are any safety nets, what the terrain and snow conditions are like.
And there is a blizzard, so you can't see more than a few metres ahead. And then someone says go, and shoves you through the start gate.
By the way, back at the 1992 winter games, the Germans won the most gold. Plus ca change....