The Irish Men's Sheds Association has called for new members to join up after suffering a decline in attendance in recent years.
The group has said weekly attendance at Men's Sheds across Ireland has dropped from 10,000 people before the Covid-19 pandemic to around 6,000 now.
Men's Sheds are community-based projects, each offering a range of activities like woodwork, gardening, carpentry and community work.
There are currently 435 sheds operating in Ireland.
Around 200 people attended the association's first national conference, 'Shedfest', in Virginia, Co Cavan today.
Irish Men's Sheds Association Chief Executive Enda Egan said it was an opportunity to demonstrate the value of sheds and encourage men all over Ireland to take part.
He said the organisation had been "hit very hard by the Covid pandemic", with weekly numbers dropping by 4,000.
We need your consent to load this comcast-player contentWe use comcast-player to manage extra content that can set cookies on your device and collect data about your activity. Please review their details and accept them to load the content.Manage Preferences
"The average age of a man in a shed is 69, so you're looking at 2-3 years later, men have maybe developed health issues that weren't there before, maybe they lost the appetite to be involved in sheds, unfortunately we have lost many members through Covid," he said.
Mr Egan said he hoped that 'Shedfest' would re-energise sheds and get the message out there that there was a role for every man in Men's Shed.
One shed that has bucked the trend and started operating in the last two years is the Mountjoy Prison shed.
Governor David Mulligan said it was used by inmates aged over 55 and into their 80s.
"We wanted to come up with activities that would be good for their mental health and Men's Shed fit perfectly into that," he said.
Prisoners have so far repaired bicycles that have been then donated to refugees and refurbished and painted benches for a project with the Irish Cancer Society.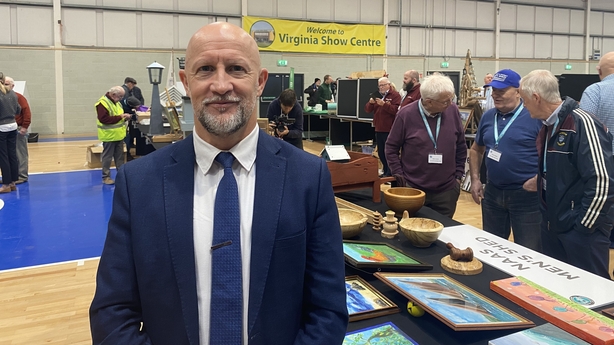 "Having some structure in a prison is great and having activities to do makes the day go quicker, but there's also the fact that you give something back to the communities. It gives them enormous satisfaction to see what they're making and then to see the end product going to needy causes. It's a win-win," said Mr Mulligan.
Gerry Hopkins is a local shedder in Virginia Men's Shed, which has been growing since it started seven years ago.
He said the group was "so well knit", but that it was a welcoming environment.
"A man could come in on a Wednesday night and he's a member and he's welcomed. When he comes back on Friday morning, we know his name, he knows everyone," he said.
With a workshop and a polytunnel for growing vegetables, there is plenty to do, but the focal point for the shed is a Wednesday night, when the group of around 25 gathers together to play bowls, pickleball, and host a weekly quiz.
The night rounds off with a cup of tea and a game of 25s.
"The craic at the 25s is second to none. Of course there's a lot of them that cheat, but you expect that when you're playing cards," said Mr Hopkins.
Sheds from around the country showed off some of their hand-crafted creations at the conference but were keen to say that no skills are needed to join.
Peadar Breathnach from the Joyce Country Shed in Connemara, Co Galway said being a member was about finding that connection with other people.
"All the bits you see there on the table are secondary to what it means to people. It's the concept of the shed that works. You can be there, you don't have to do anything if you don't want to do anything. You can have a cup of tea and a chat. If you have projects you want to do, we have the equipment there," he said.
"It makes a difference to people that otherwise would probably maybe be lonely, the only one they'd see is maybe the postman. We have great camaraderie, a great group of lads that come in."
Joe Potter from the Collinstown Fore Men's Shed in Co Westmeath said that the shed has had a huge influence on his life.
"I retired five or six years ago, and then unfortunately my wife passed away and this was a great outlet for me to get my life going again," he said.
Mr Potter said that men do not need to have any particular trades or skills to join.
"In the morning, we do a little bit of work, whatever we're doing that day, for about an hour, and then we sit down and have the tea, and then we usually forget to go back to work," he said.
The conference dealt with issues including climate action, biodiversity, and heath issues like prostate cancer.
Among those addressing the crowd was Kate Chandler from the National Biodiversity Centre, who encouraged sheds to put a focus on pollination in their future projects.
She said that sheds around the country were already playing a huge role in protecting biodiversity.
"Each community will be different, some of them are quite urban so they might have containers or pots that they could fill with pollinator-friendly plants or make upcycled containers. Some of them if they're a bit more rural might have areas that they can turn into meadows, and then they can sythe in September, or create community composting to deal with grass clippings," she said.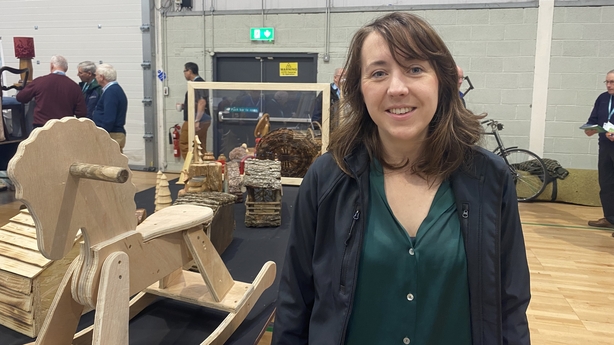 Opening the conference this morning, Minister for Rural and Community Development Heather Humphreys announced Government funding of €1 million to support sheds around the country.
Under the scheme, grants of up to €3,000 will be available to individual sheds and it is intended to help cover their running costs.
Ms Humphreys said that the setting up of sheds had been a "hugely positive development" for communities nationwide.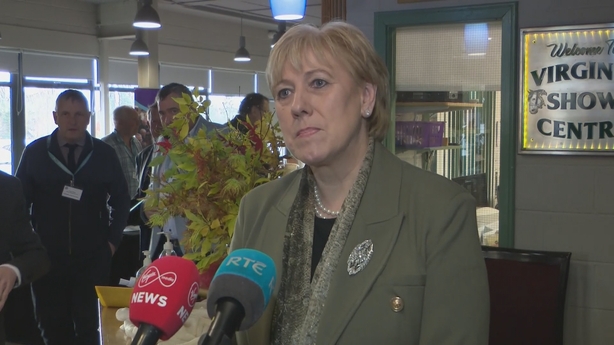 "They help tackle isolation and provide a safe, comfortable and welcoming environment where men of all ages can come together and socialise, share skills and work on meaningful projects," she said.
Mr Egan welcomed extra funding which he said can be utilised by sheds to pay for their bills through the winter and mitigate against the increased running costs.