When the message came through from Mohammad, a journalist contact of mine in Gaza, I was just so relieved.
We'd been in touch in the first weeks of the war and I wasn't sure if he was still alive.
Mohammad told me he'd now moved south but added: "The situation is difficult, with bombing everywhere."
Amid the carnage of war, unbelievably, Mohammad had felt the need to apologise for the delay in replying to my message.
Nowhere is safe in Gaza.
But journalists in the coastal enclave have paid a high price for trying to bear witness to the war.
According to the Committee to Protect Journalists, 42 media workers have been killed since 7 October, 37 of them Palestinians.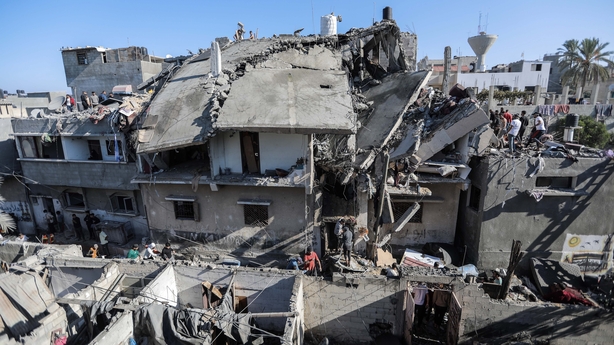 Mohammad has risked his life daily for the past seven weeks to bring images to the world of the destruction of Gaza and the impacts on its people.
The United Nations released more shocking statistics this week about how much of Gaza has been reduced to rubble by the Israeli air strikes and ground invasion.
The UN, quoting the Palestinian housing department, said 45% of Gaza's housing units had been damaged or destroyed, 51% of the educational facilities had been damaged and only nine of the enclave's 35 hospitals in Gaza were partially functioning. The rest have shut down.
The UN's Palestinian refugee agency said this week that 70% of the people in southern Gaza had no access to clean water, most of Gaza's 65 sewage pumps were out of service and in the north of Gaza, no bakeries had been active since 7 November.
It's impossible to independently verify these statistics but the UN's Office for the Coordination of Humanitarian Affairs summed up the situation in Gaza this week in a few words: "The situation is catastrophic."
Yet it appears that Israel is set to extend its ground war campaign to southern Gaza.
That's causing immense concern in places like Khan Younis.
It's estimated that 400,000 people live there, and the city has one of the last partially functioning hospitals in Gaza.
It's also a place which has been overwhelmed by people who fled from the north to escape the initial Israeli ground invasion.
There was despair this weekend as the IDF dropped leaflets from their war planes instructing the population to leave.
Atya Abu Jab summed up the feelings of many as he stood outside the makeshift tent where he and his family now live, after being forced out of Gaza City a few weeks ago.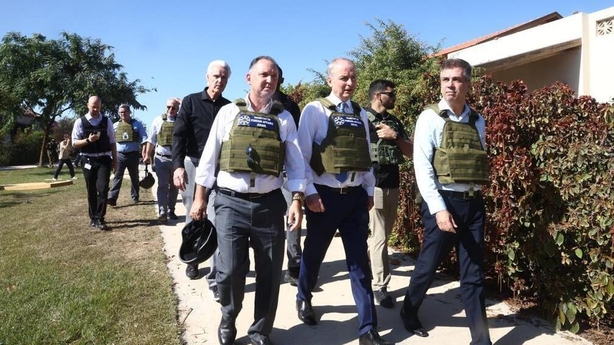 He said: "They asked us, the citizens of Gaza, to go to the south. We went to the south. Now they are asking us to leave. Where do we go?"
An aide to Israeli Prime Minister Benjamin Netanyahu Mark Regev had an answer on Friday night when being interviewed on MSNBC, "move west".
He suggested: "I'm pretty sure that they won't have to move again…We're asking them to move to an area where hopefully there will be tents and a field hospital."
There is a gulf between Israeli public opinion and how a substantial number Irish people view this conflict.
The general view here in Israel is that Hamas must be destroyed for its massacres on 7 October - no matter what.
A former head of Israel's National Security Council Giora Eiland put it this way when referencing Israeli's ground war moving south: "There will probably be more civilian casualties...it is not going to deter us or prevent us from moving forward."
Such a position causes consternation in Ireland when the UN is warning that there is an imminent risk of starvation in Gaza, that people could die of thirst from the absence of drinking water, and that epidemics could be triggered by the collapsing sewage system.
Tánaiste Micheál Martin came face to face with the general view in Israel when he visited the town of Sderot on Thursday, a place where 45 people were killed by Hamas on 7 October.
At a meeting in the town hall, mayor of Sderot Alon Davidi asked directly: "Are you here to support us?"
He went on to detail how his family had endured rocket attacks from Hamas for decades and his 25-year-old daughter was often paralysed by fear when the air raid sirens went off.
Mr Davidi spoke slowly, without raising his voice, but there was tension in the room as the differences between the two men were revealed.
Likening Hamas to so-called Islamic State, the mayor said: "We must finish the job, if you stop us, they will destroy us and you and everyone."
The Tánaiste reiterated that Ireland had been appalled by the events of 7 October and unreservedly condemned what took place.
But he said: "We called for a ceasefire [in Gaza] on humanitarian grounds because we believe the scale of death and destruction is too high. I have to say that."
Mr Davidi replied: "I will say to my prime minister to stop the war if Ireland can promise me that after five days, all the weapons that Hamas has in Gaza and all the armies of the Hamas go outside to Egypt or someplace, maybe to Ireland or maybe to Europe."
It's a hardline view which is shared by the right-wing Israeli government.
On Friday, Israel's war cabinet agreed to allow a limited amount of fuel into Gaza in order to keep the sewage system operable and prevent the spread of disease.
The fear of an epidemic racing through the civilian population was only part of the reasoning behind the decision.
The Israeli National Security Advisor Tzachi Hanegbi said: "If there is an epidemic, the fighting will be stopped."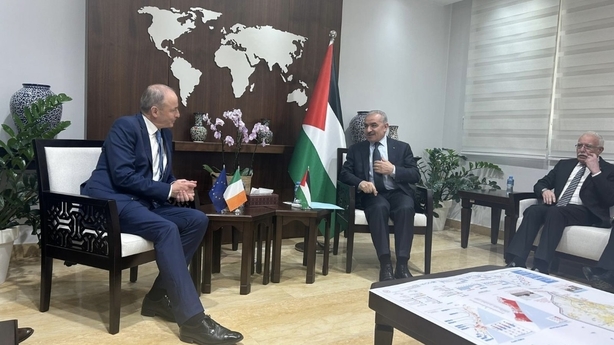 It was yet another example of how, for the Israeli government, destroying Hamas takes precedence over everything else.
If there was one tiny chink of light, it came from former Israeli prime minister Ehud Olmert who was interviewed this week by Euronews Correspondent, Shona Murray.
While unequivocally supporting the Israeli ground offensive, he said that immediately after it ends there had to be talks which would finally deliver a two-state solution for both Israel and Palestine.
He said: "When the military battle will be over, immediately Israel is required to embark on negotiations with the Palestinian Authority for a two-state solution. That will then include Gaza as part of the Palestinian state."
The Irish position, as represented by the Tánaiste when he met the Palestinian Prime Minister Mohammad Ibrahim Stayyeh in Ramallah this week, is that the people of Gaza can't wait a moment longer.
The ceasefire needs to happen now, as there can be no military solution.
While that meeting was ongoing, RTÉ cameraman Owen Corcoran and I went to a coffee house beside the Prime Minister's office.
We met Fadi Rabie who was sipping an espresso with his friend.
Fadi told me: "My mother's family is from Gaza which makes it very difficult for us.
"We have been in situations like this for 75 years. I think it's enough. There should be peace now."
Passing by was teenager Fadi Shaft, who stopped as he was intrigued by Owen's camera.
He said: "I am from Gaza. My family is in Gaza and God be with them."
My own thoughts this weekend are with my journalistic colleague and contact, Mohammad.
He messaged me late on Friday night: "We will talk in the morning and sorry again for the late reply."
At the time of publishing this article this morning, I haven't heard back from him.