A publican in Co Louth has praised local community spirit after his bar flooded with up to eight inches of water.
Frankie McRory, owner of Lumpers Bar near Ravensdale, said water was coming down the road like a river from the mountain and nearby houses were completely flooded.
Describing the outside of his pub, Mr McRory said it was "all silt and muck, dirt, debris and sewage" and even though it is not as bad inside, there are water marks and silt marks as he recorded eight inches of water inside the pub.
"It's very dirty, mucky...it's sludge," Mr McRory said.
"It's all over the place, the water just takes everything with it."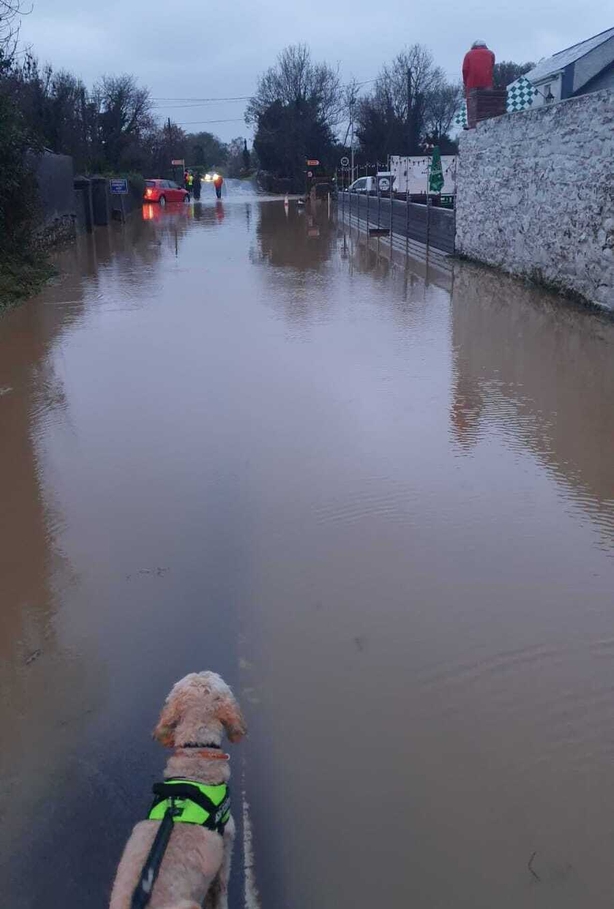 Mr McRory turned to social media to appeal for a water pump after he found local hire companies did not have any due to demand.
"We went on Facebook and within an hour we had about 15 pumps available to us," Mr McRory said.
"We couldn't believe the community spirit – friends, neighbours, all the lads who work at the bar and our base camp, the coffee dock, they were all calling."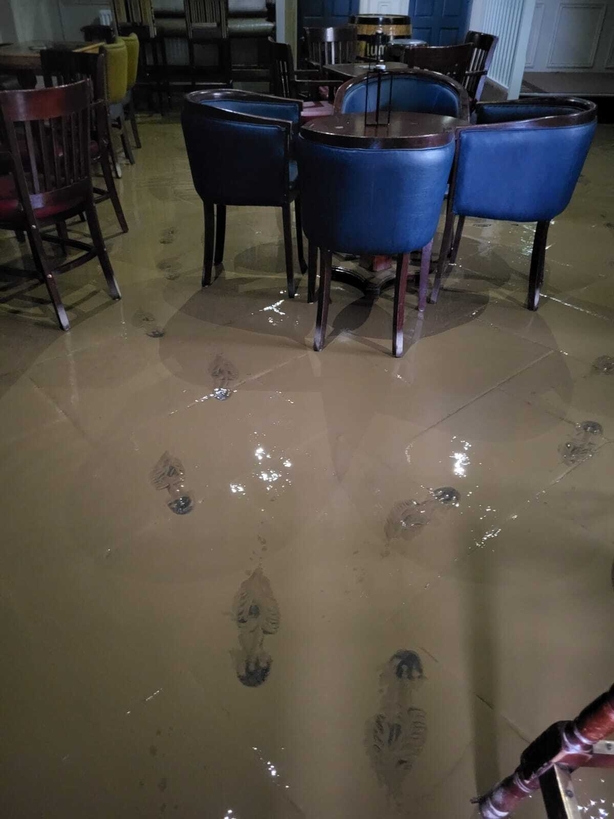 'We're running out of sandbags'
Sharon McGuigan is owner of the Carlingford Arms Bar and Restaurant, which has also flooded.
Speaking on RTÉ's News at One, she said she did not know when it would be safe to reopen her business as high tide was still due.
"If it rains, we are going to have the same situation tonight," Ms McGuigan said.
"The council just cannot cope. We are running out of sandbags. There was nothing we could do. The water just could not go anywhere.
"Inside 15 to 20 minutes the rain just gushed down from the mountain, we had a full tide in, the water had nowhere to go. It was sewage, it was muck, it was gravel.
"It just came in one door and out the other door."
Ms McGuigan said all the fridges in her kitchen are destroyed by the wet and they had to "knock off the electric".
"Well, I'm 30 years in the Carlingford Arms and about 27 years ago, we had something similar, but not as heavy, as it was last night," she said.
Ms McGuigan said insurers would not insure premises in Carlingford for flooding because of that previous incident.
"So, the Government will have to help us, somebody will have to help us," she said.
A bridge in north Louth has partially collapsed due to flooding in the Cooley Peninsula after heavy overnight rainfall.
The bridge over the Big River near Riverstown, in Co Louth, was damaged and local community groups on social media have warned people of severe flooding in the area with many roads impassable.
This includes flooding on the R173 from Omeath to Carlingford between McCanns Bridge and Ranch House, flooding at Flagstaff and at Bush on the Carlingford to Dundak road.
Louth County Council's Severe Weather Team has met and will continue to meet over the coming days to ensure services are in place to deal with the ongoing weather problems.
The local authority said its crews are currently dealing with many flooding instances throughout the county.
Sandbags are available for collection at the Machinery Yard beside the Town Hall in Dundalk and at the Area Office in Bush.
Gardaí have also said there is flooding on the N1 northbound between Junctions 19 and 20 and advised motorists to drive with caution and consider taking alternative routes.
Met Éireann has issued further rain and wind warnings ahead of Storm Ciarán, with the UK Met Office issuing similar alerts for Northern Ireland.