Four white-tailed-eagle chicks were released into the wild in Co Kerry today as part of ongoing efforts to restore this once extinct bird of prey to the Irish countryside.
Minister for Heritage and Electoral Reform Malcolm Noonan said the eagle release programme is part of the Government's effort to restore nature.
He said the birds are an iconic species, that we need apex predators in our skies and that the eagle chicks were a great symbol of the restoration of nature.
Today's release of the chicks in Killarney is part of the latest phase of a restoration project by the National Parks and Wildlife Service (NPWS) which stretches back as far as 2007.
A total of 100 eagle chicks, all collected from wild nests in Norway, were released into the Irish countryside between 2007 and 2011.
Those chicks had been satellite tagged so their dispersal and survival rates in Ireland could be monitored to see if the reintroduction programme was working.
On the basis of that monitoring however, it was deemed that a supplementary programme of eagle release would give this once extinct species the best chance of long-term success in Ireland.
As a result the NPWS decided to release an additional 24 birds this year. Todays release of four chicks on the lakes of Killarney is part of that programme.
The remaining 18 chicks this year are being let out in other locations around the country including over Lough Derg, Lough Conn, as well as other inland water bodies.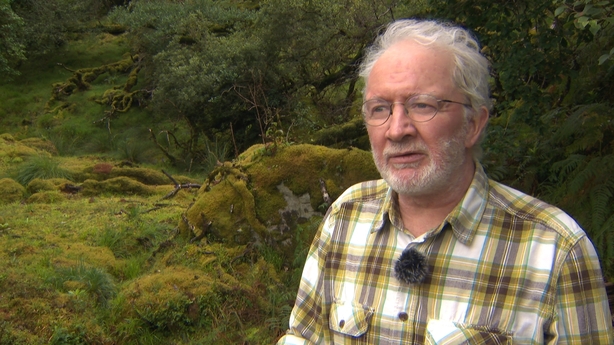 White-tailed eagles are very big birds. They have a wingspan of about two metres and are about hip-height when standing upright.
They are a top predator but feed mostly on fish.
They also eat other aquatic birds including ducks, geese and cormorants, as well as small mammals like rats and mice when needed.
In addition they are also attracted by carrion and the carcasses of already dead animals.
However they are not considered to be a threat to farm animals.
Dr Philip Meskill of the NPWS said that almost 170 white-tailed-eagle chicks have been released in Ireland since 2007 and during that time there have been no reports of eagles causing problems for farmers.
However, he said that it is very important for the ecosystem to have top predators and that the eagle conservation measures are all about restoring the natural balance.
Bente Lyngstad, deputy at the Norwegian Embassy in Dublin, said both Ireland and Norway are aware of how important biodiversity is and this is a great example of how we can fight the loss in biodiversity together.