Taoiseach Leo Varadkar has said the Government can provide about 10,000 bed places in refurbished accommodation for refugees.
Modular homes are now "a reality," the Taoiseach said today, with the first such homes "ready for occupation now in Cork" and this programme will be scaled up.
Meanwhile, there are now about 10,000 refugees living in people's homes or in empty homes which were pledged as part of the public response to the Ukraine crisis, he said.
"We're doing everything we can," Mr Varadkar said when asked what more the Government can do to house refugees.
"We've experienced a refugee crisis in Ireland, the likes of which we've never experienced before and never imagined.
"Nearly 100,000 people have come to Ireland within the past year, mostly from Ukraine but also from other parts of the world and it is actually a considerable achievement that we've managed to provide shelter and accommodation for almost all of them."
He said there was a "very good meeting" of the Cabinet sub-committee last night, "so we believe that we can provide about 10,000 bed places in refurbished accommodation".
Mr Varadkar also said, the 10,000 bed figure is for between now and the end of next year, although the first few hundred should come on stream in the coming weeks.
"The modulars are now a reality, the first ones are ready for occupation now in Cork and we're going to scale them up as well," Mr Varadkar said.
Speaking in Clonmel where he officially opened a new sports hub at the TUS campus, Mr Varadkar said: "But the real challenge that we face is that numbers keep coming in, still people arriving from Ukraine, fleeing war there and of course like all countries thousands of people from other parts of the world seeking international protection here, so it's going to be a real challenge to get ahead of that.
"Where we'd like to be is to get ahead of that and be able to start decanting people out of hotels and B&Bs and freeing up that accommodation again for tourism, but hard to see exactly when that is going to be."
Asked about an agreement between Ireland and the EU which involves this country paying €1.5 million rather than accepting 350 asylum-seekers under a relocation scheme, Mr Varadkar said: "Under European law and under international law people can come here and they can seek international protection and they will continue to do so, whether it's from Ukraine or whether it's from other parts of the world.
"Trump tried to build his wall and it didn't stop people coming, the British left the European Union and they've seen record amounts of migration.
"In the real world, because of international law, because of basic practicalities, people will continue to arrive. If people come here seeking international protection we have to assess that application."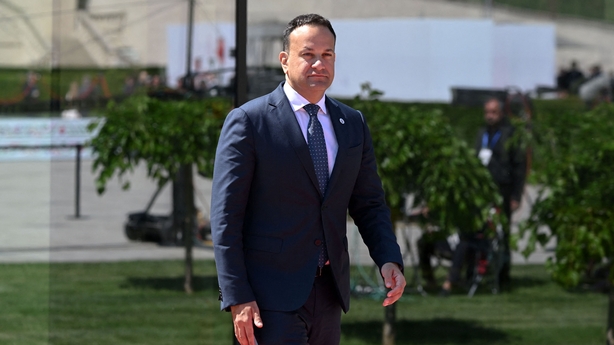 Mr Varadkar added: "We have to assess them more quickly because we want to give people, who are genuine refugees, status and we want to say to those who are not that we've a rules-based system and you will have a deportation order served on you if you're not a genuine refugee and 500 deportation orders have been signed this year alone, for example.
"In relation to what's happened around the voluntary mechanism, that was a particular thing.
"About a year and a half ago, really the Mediterranean countries were under a huge amount of pressure, a lot of people coming, people on boats from Africa. At that time we weren't under a lot of pressure."
Mr Varadkar added: "Countries had three choices - do nothing to help, a financial contribution or take some of the migrants. At the time we said we would take 350, but things have changed since then.
"We're not in a position to help other countries in the Mediterranean because we're under pressure too.
"Relocation is not something that we're doing, we're making a financial contribution instead. But whether we like it or not, people will still come to Ireland and seek protection. It's not something you can buy your way out of."
'Offer A Home' scheme
Meanwhile, almost 3,500 refugees from the war in Ukraine have been assigned accommodation through the State's Offer A Home scheme.
Under the project members of the public offer to take in refugees into their homes or offer them other properties.
Separately, work is underway to procure 1,500 bed places for refugees next month.
Ministers were informed last night that 6,415 have been procured so far in 2023.
It comes as work on modular homes nears completion in Mahon in Cork, which will initially accommodate 64 people fleeing the war in Ukraine.
That site is part of a pilot project which includes seven locations in Cavan, Thurles, Sligo and Claremorris, which are expected to house a total of 700 refugees.
Last night ministers were informed that the refurbishment programme by housing and local authorities could deliver accommodation for 6,000 places by the end of 2024.
It is also understood that 5,000 bed places will be provided from student accommodation to house refugees from the war over the summer.
With additional reporting by David Murphy