The first modular housing for Ukrainian refugees is to open in Mahon in Cork next month.
Carol Baxter, Assistant Secretary at the Department of Children, told the Oireachtas Committee on Children, Equality, Disability, Integration and Youth that a total of 316 units would open over the coming months.
Sinn Féin TD Johnny Brady said that 700 modular units were promised last year with some expected to open in November 2022 and he asked whether they would be delivered this year.
Ms Baxter said that on the first seven sites identified for modular housing, the 316 units have now either been installed or are being installed.
She described these as phase one of the project.
Ms Baxter said Ukrainian families in the Cork and Kerry area who had been staying in hotels would be moving into 64 modular units on the Mahon site in the coming weeks.
She said that as part of phase two an additional seven sites are under consideration.
The Department of Integration said it has recently paid €30m per week to provide accommodation to people from Ukraine and it is focused on paying accommodation providers facing financial difficulty.
The department said there have been understandable frustrations from accommodation providers over delays in payments.
It said older invoices are now being prioritised and it has outsourced some functions to clear the backlog.
More than 770 contractors providing accommodation are paid by the Department of Integration each month.
The Government has spent €976m on Ukraine accommodation and related costs since the Russian invasion in 2022.
Seven hundred rapid-build homes will soon be able to house up to 2,800 people in family units.
There have been 1,370 offers of commercial properties received by the department since the end of January.
The average number of people arriving in Ireland each day from Ukraine is 88 and the Government believes that as the conflict develops, people will continue to seek refuge in Ireland.
More than 61,000 people from Ukraine have been provided with accommodation by the Department of Integration over the last 14 months.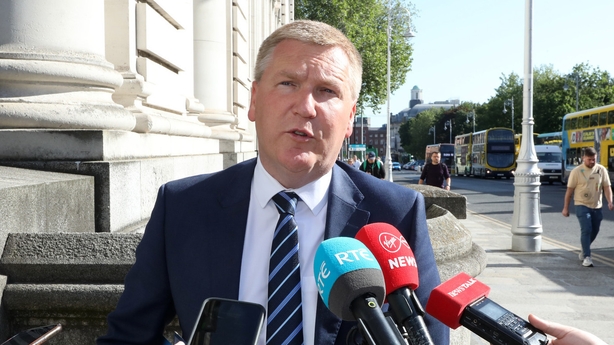 The Minister for Finance said the cost of accommodating refugees from Ukraine was expected and the Government "made provision in the Budget for 2023 of up to €2bn to meet the overall cost".
"It is what we call non-core expenditure," Michael McGrath said, as he arrived for today's Cabinet meeting.
Vacant building refurbishment provided up to 400 places
Recent refurbishment work on vacant properties has created 300-400 bed spaces to accommodate Ukrainian refugees, the Oireachtas committee was told.
Michael Walsh, chair of a technical working group set up in March to progress the work, said he expected around 2,500 bed spaces to be delivered by the end of the year and a similar number in the first half of next year.
He said the properties include local authority owned, State owned and privately owned premises.
However, Mr Walsh described the projects as "complex propositions".
"The reasons that these properties require refurbishment and are sitting there is because they are problem children, is the way I'd describe it, if they were easy to do they would have been done already."
In February, the Department of Housing told RTÉ News that 61 medium to long term refurbishment projects were "being progressed" and should deliver around 2,700 bed spaces under the Emergency Refurbishment (Ukraine) Project.
Mr Walsh did not confirm how many projects in total were under way but said the working group was targeting "quality accommodation" that would have a "long term use".
"We're staying a little bit away from the dormitory style accommodation, we'll be looking to get own door solutions generally," he said.
Mr Walsh also said that more than 2,300 unoccupied properties were offered as accommodation for Ukrainain refugees under the 'Offer a Home' initiative.
He said that "probably around half of those have been accepted for use" and the remainder were "not viable properties".
Some people withdrew their offer when they became aware of the terms and conditions, Mr Walsh added, while there were other properties where the group was not satisfied that the properties were unoccupied as was required, and some properties were not accepted as they were in housing pressure areas.
Mr Walsh said the scheme "would end up" accommodating around 4,000 Ukrainian refugees.
'It seems to be getting worse,' say unpaid hoteliers
"I haven't been paid for February, March or April and I'm supposed to be paid a month in advance for May," a hotelier accommodating Ukrainian refugees in Leinster told RTÉ News.
"It's kind of a mess to be honest with you," he said of the Department of Children, Equality, Disability Integration and Youth's payments system.
He is currently owed a six-figure sum, and he is not alone.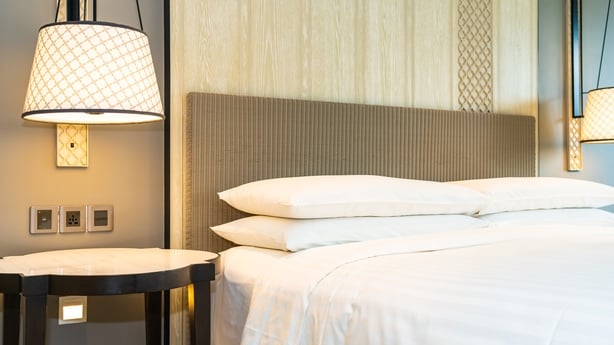 An accountant who spoke to RTÉ News has three clients providing accommodation to Ukrainian Beneficiaries of Temporary Protection.
He said that each is waiting an average of four to five months for payment and all three are currently owed six-figure sums.
"It has absolutely not improved one bit since the scheme started... not one iota. It takes just as long if not longer to get purchase orders and then to get the invoice passed, and when the invoice is passed it just seems to sit their forever and a day before you get payment, and you are constantly sending emails and reminders, getting clients to send emails ... and eventually you do get paid, but always it's way, way late," he said.
"You're basically looking at one invoice per month, how complicated can it be?" he asked. "12, 14 months down the road (since the introduction of the scheme) you would think they would be on top of the system by now."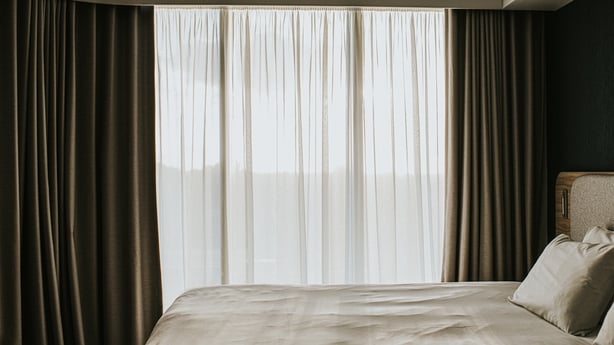 He said that he has clients who have done work for other Government agencies, such as the HSE who had "no issue getting paid" within 30 to 45 days.
A hotelier in Connacht told RTÉ News that he was paid outstanding invoices owed for a number of months "just a couple of days ago", but payments from two more months remain unpaid.
He said that while he understands that there may have been teething problems administering the scheme initially, "it seems to be getting worse".
"Nobody seems to know what's going on, it's like they don't seem to have the information in front of them, and then when you deal with somebody new, you start all over again," he said.
"I mean if it was the other way around... and you didn't pay the Government for six of seven months, there would be serious repercussions," he added.
"I know all of our (Ukrainian) residents by name, and their children, we have have a relationship with them and it feels like they [Department officials] are using that to their advantage, a little bit, well that's how I feel anyway," he said.
Additional reporting Fergal O'Brien, Laura Fletcher