The Government is to bring forward a bill that would introduce a ban on the sale of vaping products to those under the age of 18.
The move, which secured Cabinet approval today, will also prohibit the sale of tobacco products and nicotine inhaling products at events for children.
The self-service sale of such products will also be outlawed and a licensing system will be brought in to manage their sale in retail outlets.
Advertising of vaping products around schools and on public transport will be banned and there will be greater enforcement powers for the Environmental Health Service.
Minister for Health Stephen Donnelly said: "Tobacco smoking continues to kill 4,500 people in Ireland every year and remains the biggest single cause of disability and death combined in our country."
He said "our smoking rate continues to remain unacceptably high at 18%". He added: "Our research tells us that vaping among adolescents increases the likelihood that they will later smoke."
Minister Donnelly said the bill "is designed to intervene at each phase of the process through which these products are sold".
Minister for Public Health, Wellbeing and the National Drugs Strategy Hildegarde Naughton said the bill "marks a significant step on our journey to a tobacco free Ireland".
Earlier, Tánaiste Micheál Martin described vaping as "very dangerous, particularly for young people".
He said the Government will "work with opposition during the course of the legislation if it can be strengthened even further, particularly in terms of the marketing aspects towards young people".
Ireland has made "great strides in respect of tobacco use, reducing tobacco use among young people since the smoking ban." he added.
Mr Martin said the legislation is "important in making sure future generations of young people don't get attracted to vaping".
"In many ways I see vaping as the revenge of the tobacco industry in terms of getting people hooked on nicotine again."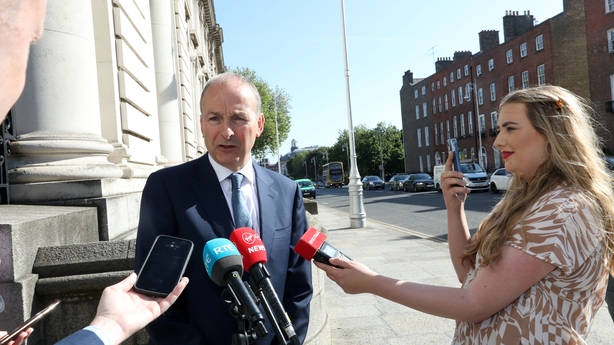 The sale of e-cigarettes to adolescents is already banned in a number of European countries.
Minister for Finance Michael McGrath said the use of vapes by under-18s is a loophole "that needs to be closed".
"If we're to be honest about it, e-cigarettes are too prevalent among young people," he said on his way into the Cabinet meeting.
Recently published surveys of Irish school-aged children show that 9% of 12-to-17-year-olds and 15.5% of 15 and 16-year-olds use electronic cigarettes.
An evidence review by the Health Research Board found that children who vaped were five times more likely to start smoking.
A respiratory consultant at Beaumont Hospital in Dublin has welcomed the ban, saying there is emerging evidence on the impact of vaping on the brain and the respiratory system.
We need your consent to load this rte-player contentWe use rte-player to manage extra content that can set cookies on your device and collect data about your activity. Please review their details and accept them to load the content.Manage Preferences
Speaking on RTÉ's Morning Ireland, Dr Emmet O'Brien said the concern is that people are not using vaping to help them stop smoking, but rather that children are using e-cigarettes and vapes.
He said he would like to see further legislation to ban the availability of flavours and vapes, "which are predominantly used by children", a ban on disposable vapes, "which have significant environmental impacts and are increasingly used by youth to smoke or to vape, and further restriction on the advertising of these devices, as well as plain packaging".
Additional reporting Mícheál Lehane