Supermarkets have been given six weeks to cut prices as the Government has been talking tough.
But will this result in price cuts or was it just a stunt for the cameras? And what happens if the retail industry does not play ball?
Grocery inflation has rocketed over the past year hitting 16% according to Kantar. Bread, milk and other staples have all seen sharp rises.
Now that the pace of general inflation has slowed, the opposition has been urging the Government to act to ensure that prices come down.
Labour's finance spokesperson Ged Nash has led the charge accusing supermarkets of price gouging.
He has also called for the watchdog, the Competition and Consumer Protection Commission (CCPC), to investigate.
But the outcome of the much-heralded meeting of the Retail Forum last week was grounded in an "expectation" of price cuts rather than a firm guarantee.
Minister of State Neale Richmond described it as an undertaking rather than a promise leading Mr Nash to dismiss the approach as "all mouth and no trousers".
He said: "What we got instead is more pleading and hoping from the Government and Minister Richmond that the supermarkets will see fit to cooperate and play fair."
One Government source described the strategy as all about carrot and stick.
"We're in the carrot space now. They have been called out publicly, they are a bit rattled and some are pushing back. Let's see what they do. At the extreme end, we would have to look at legislation."
So far, supermarkets have slightly cut the price of some own-brand milk, butter and bread.
But privately, one political source estimates this would only amount to a €40-50 cut in the annual family shop - something described as "not nearly enough" when that bill has gone up over €1,000.
And the question remains as to why retailers follow each other in replicating price cuts.
"The suspicion is everyone is holding back as long as possible on reducing prices, then they all act in concert. It's the same as the banks delaying in passing on interest rate hikes to savers."
Supermarkets reject this accusation with one retail source insisting that price matching is a very normal feature of the Irish market citing the example of Tesco advertising similar prices to Aldi.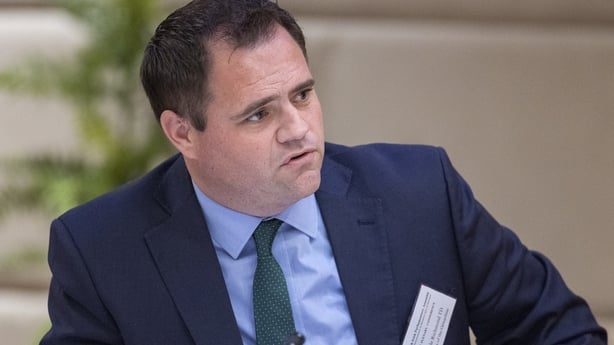 He says this happens because companies are determined not to give any advantage to competitors.
The Government has made it clear that it expects progress on price cutting by the next meeting of the Retail Forum scheduled for 21 June.
However, opposition members have levelled the accusation that there's no plan on how to ensure compliance.
Sinn Féin leader Mary Lou McDonald pressed Taoiseach Leo Varadkar in the Dáil on the question of how the Government would ensure compliance.
She asked: "What will the Government do if the industry ignores the cosy chat?"
So what's the stick? It is certainly not price caps as called for by Labour and People Before Profit.
---
Read more:
TD calls for windfall tax for 'profiteering' supermarket chains
Tesco Ireland, Aldi to reduce price of own brand bread
When are we going to see a drop in Irish food prices?
---
The CCPC has stated very clearly that introducing controls would pose a significant risk to consumers and the economy.
Unintended consequences include price rises for other goods, product shortages and risks to small retailers. Introducing price caps is seen as an absolute last resort – only to be used in an emergency.
And the CCPC has concluded that there is no market failure in the retail sector and competition has worked well in Ireland.
Instead, Enterprise Minister Simon Coveney has floated the idea of monitoring margins on goods by gathering a lot more data about what is going on in the market.
He told one newspaper that he is also considering plans to force retailers to disclose specific Irish profits.
On mark-ups, retailers are unlikely to simply volunteer the details of such commercially sensitive information.
The Government expects that it would require primary legislation to oblige them to disclose the numbers. This means that it does not pose any immediate threat.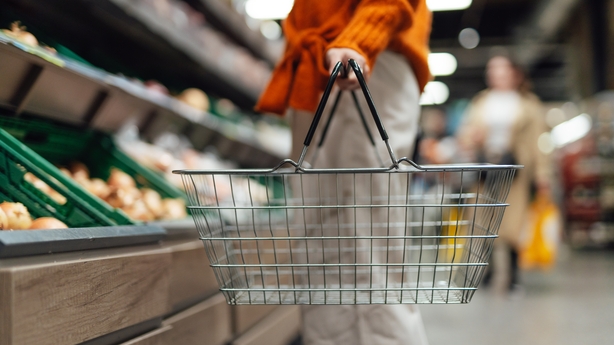 On profits, most of the multiples (other than Aldi) have closely guarded their Irish numbers and do not have to reveal how much they make in this country.
Again, it would not be a simple task to require them to unveil this information. And politically, the view is that any heavy-handed interference carries the risk of denting Ireland's image as a good place to do business.
One Government source said it's very easy to cite potential price gouging or "greedflation" but it's much more difficult to prove.
"We need the information." The CCPC has been asked to report back.
This could take a long time. It's understood a full market surveillance survey would take at least 18 months so again that route lacks the power of a quick impact.
By default, it seems the Government has settled on the less cumbersome and more politically expedient route of applying very public pressure on the retailers to act.
One coalition source said: "Let's look at the verdict in the court of public opinion. Bread, milk and butter would not have come down if this hadn't started."
On the politics of this, no votes were ever lost by taking on perceived bogeymen and giant supermarket chains certainly fit the bill for a convenient punching bag.
This is backed by the ECB which has accused corporations of making extra profits right now.
Some have been surprised at how confident Neale Richmond has been in stating ahead of the meeting that he expected price cuts.
That approach opens up the risk of looking foolish if reductions do not happen.
But one Government insider says that while the Junior Minister has been "more bullish" than the Taoiseach or the Enterprise Minister, they also feel he has smartly identified a very punter-friendly issue that has the ability to cut through to the public in a way that most Government business does not.
"This is the same as chasing the banks or the insurance industry."
The implication is that you can't really lose when carving out a public image of standing up for the hard-pressed consumer.
So the reality is much of this is about the optics of being seen to do something.
One retail source admitted that the industry completely understands what's at play and appreciates the concern in Government, the opposition and the wider public.
Another political source with knowledge of this week's meeting reported an industry player as saying: "We get the point. Let's play this out and let's all go home with our dignity."