King Charles III's youngest son Prince Harry cut something of a lonely figure at Westminster Abbey this weekend as he arrived for the coronation of his father.
His wife, the American actor Meghan Markle, remained at the couple's home in the United States.
It was emblematic of the division which has grown between the Duke of Sussex and his family in recent years following the decision of him and his wife Meghan Markle to "step back" from royal duties and move to the US.
The last time the Prince attended an event with the extended royal family and was following the death of Queen Elizabeth II last year and the strain was clear then.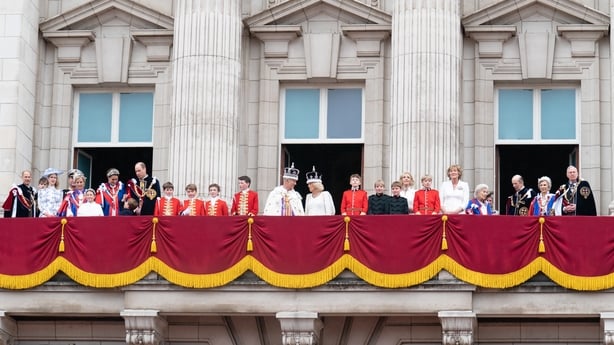 A walkabout outside Windsor Castle before the Queen's funeral to meet well-wishers by Princes Harry and William and their wives may have been warmly greeted by the assembled crowd, but there seemed to be little warmth between the two brothers who for so long were seen as symbolic of a new era of royal life.
In the time since that public appearance, there has been a Netflix documentary and if not a tell-all book, then certainly a tell-quite-a-lot bestselling autobiography.
Those public interventions by the Duke and Duchess of Sussex, Harry and Meghan, will have done little to pour oil on the troubled waters of the relationship between Harry and his wider family.
When there was no sign of Prince Harry on the balcony of Buckingham Palace for the finale of the coronation day, it was clear that no rapprochement between the two sides was under way.
And it raises the question of how many more official royal engagements Prince Harry will ever attend.
With no official role in his father's coronation and dwindling relationships with his family, it seems unlikely that the invitations to join in family events will increase in the years ahead.
Added to the already very public wounds inflicted on the relationship by such a public split is the fact that the Prince will in the coming weeks take to the witness box in London's High Court in a case he and others are taking against Reach PLC (formerly Mirror Group Newspapers) related to allegations of unlawful information gathering.
It will be unprecedented for a senior member of the royal family to give evidence and of course be cross-examined in court, though the case is one of several in which the Duke and Duchess of Sussex are currently involved.
As they have become more vocal in their criticism of British tabloid newspapers the couple have also become more willing to take part in litigation to take on what Prince Harry has variously described as a "ruthless" and "evil" press which peddles "relentless propaganda" which is "knowingly false and malicious".
Coming from a family which has long abided by the adage of "never complain, never explain" the Prince's willingness to be so forthright is undoubtedly problematic for his father and brother.
And while he and his wife were keen to move away from direct involvement in "the firm" a large element of Harry and Meghan's public life has since revolved around talking about the difficulties inherent in being a member of the royal family, whether to US talk show star Oprah Winfrey or in his recent book "Spare".
That book contained criticisms of his father, brother and stepmother which created headlines across the world and served to deepen the rift even further.
Prince Harry and his wife may want to escape what they view as the restrictions of being royal but with the inherent difficulty that much of the public interest in them comes from the fact that have been part of an institution which many people feel is shrouded in an element of mystery.
Their willingness to discuss issues, feelings and perspectives which have not been public before is what attracts many people to listen to them.
Interviewers know it, documentary makers know it, book publishers know it and it seems unlikely that Prince Harry and his wife are unaware of it.
The contradictory position in which the Prince now finds himself is unlikely to resolve itself anytime soon.
And until it does it seems unlikely that the level of trust needed to be a discrete member of the royal family can be restored, if indeed it ever can.