UN Secretary-General Antonio Guterres appealed to Sudan's warring factions to observe a ceasefire over the Muslim Eid al-Fitr holiday to allow civilians to reach safe areas as rival forces battled for a sixth day.
Thousands of civilians streamed out of the capital Khartoum to a background of gunfire and explosions.
Large numbers also crossed into Chad to flee fighting in the western region of Darfur.
The United States said it was sending more troops to the region in the event that it decided to evacuate its embassy in Khartoum.
More than 330 people have been killed so far in the violent power struggle which broke out last weekend between two previously allied leaders of Sudan's ruling military junta.
The fiercest battles between the army and the paramilitary Rapid Support Forces (RSF) have been around Khartoum - one of Africa's largest urban areas - and in Darfur, still scarred by a long conflict that ended three years ago.
Mr Guterres, speaking to reporters after meeting virtually with the heads of the African Union, the Arab League and other organisations, said: "There was a strong consensus on condemning ongoing fighting in Sudan and calling for cessation of hostilities as an immediate priority."
Civilians trapped in conflict zones should be allowed to escape and to seek medical treatment, food and other supplies, he said.
Sudanese army chief General Abdel Fattah al-Burhan told Al Jazeera he would support a truce on condition it allowed citizens to move freely - something he said the RSF had so far prevented.
He also said he currently saw no partner for negotiations, and "no other option but the military solution".
His rival, RSF leader General Mohamed Hamdan Dagalo, told Al Jazeera he was ready to implement a three-day truce over Eid, which marks the end of the Muslim holy month of Ramadan and will start tomorrow or Saturday.
We need your consent to load this rte-player contentWe use rte-player to manage extra content that can set cookies on your device and collect data about your activity. Please review their details and accept them to load the content.Manage Preferences
Mr Dagalo, widely known as Hemedti, has said several times he supports short ceasefires but each has quickly collapsed.
"We are talking about a humanitarian truce, we are talking about safe passages... we are not talking about sitting down with a criminal," he said, referring to Mr Burhan.
Mr Burhan accused Mr Dagalo, until last week his deputy on the council that has ruled since a coup two years ago, of "a power grab".
An alliance between the two men had mostly held since the overthrow four years ago of long-time strongman Omar al-Bashir, whose rule saw Sudan become an international pariah that was on the US terrorism list.
The latest violence was triggered by disagreement over an internationally backed plan to form a new civilian government. Both sides accuse the other of thwarting the transition.
Fighting and fleeing
Since hostilities erupted, much of the fighting has focused on the compound housing the army HQ and Burhan's residence. The embassy district and airport have also been the scene of clashes.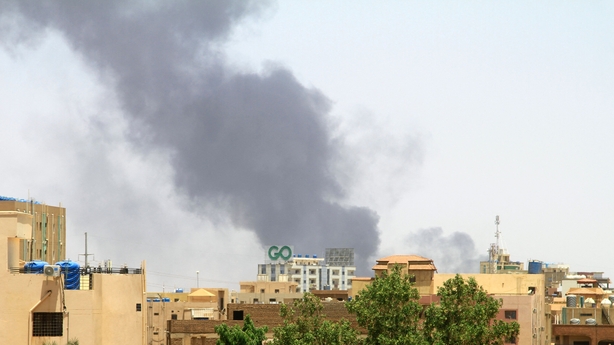 Witnesses in the city of El-Obeid, east of Darfur, described clashes between the army and RSF troops and widespread looting.
In Khartoum and sister cities Omdurman and Bahri, residents gathered at bus terminals with suitcases after more explosions and gunfire in the morning.
"There's no food, supermarkets are empty, the situation isn't safe, honestly, so people are leaving," said a resident.
Many other local people remain trapped, along with thousands of foreigners in a city that has become a war zone.
Burnt out vehicles litter the streets and shells have torn gaping holes in buildings including now closed hospitals, where bodies lie unburied.
In Geneva, the World Health Organisation urged the combatants to open a safe corridor for medics and to allow those trapped to flee.
Around 10,000 to 20,000 people escaping the fighting have taken refuge in villages along the border inside Chad, UN refugee agency UNHCR and the World Food Programme (WFP) said.
Even before the conflict, around a quarter of Sudan's population was facing acute hunger but the WFP halted one of its largest global operations in the country on Saturday after three workers were killed.
Sudan borders seven countries and sits strategically between Egypt, Saudi Arabia, Ethiopia and Africa's volatile Sahel region, so the hostilities risk fanning regional tensions.
Chad said it had stopped and disarmed a Sudanese contingent of 320 soldiers on Monday, while the RSF has returned Egyptian troops it captured at the northern Merowe base at the weekend.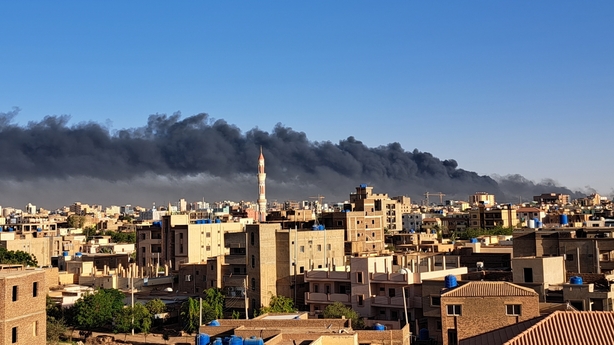 The RSF has up to 100,000 troops, according to analysts. The army has artillery and war planes, and controls access to Khartoum. It appeared to be trying to cut supply routes to RSF fighters, residents and witnesses said.
Washington has said it had preliminary indications the RSF was behind an attack on its diplomats, and witnesses say RSF gunmen have been involved in looting and attacks on aid workers.
The Pentagon said in a statement it was deploying additional forces to the region to evacuate US Embassy personnel from Sudan "if circumstances require it".
The United States said it was "not currently safe" to evacuate private citizens, while Japan's defence ministry placed military transport aircraft in Djibouti to prepare to evacuate 63 of its nationals.
Irish citizens in Sudan
Speaking on RTÉ's News at One, Independent TD and former army officer Cathal Berry called for Ireland to put plans in place to facilitate the evacuation of Irish citizens in Sudan and for the emergency civil assistance team (ECAT) - used successfully in Afghanistan two years ago and in Libya in 2011 - to be stood up.
Those in Sudan of Irish descent or citizenship should register with the Irish embassy there, the deputy suggested, while the Department of Foreign Affairs focuses on putting in air assets in pre-positions ahead of an evacuation.