Knock shrine was the first stop for Joe Biden's visit to Co Mayo today.
The US President visited the religious site where he touched the apparition wall following a tour of the basilica.He also had some moments of quiet reflection in the Apparition Chapel.
Mr Biden was met by cheering crowds waving Ireland, US and Mayo flags, upon his arrival at the site.
The shrine and neighbouring basilica were empty when Mr Biden arrived, as the site had been closed to the public since yesterday.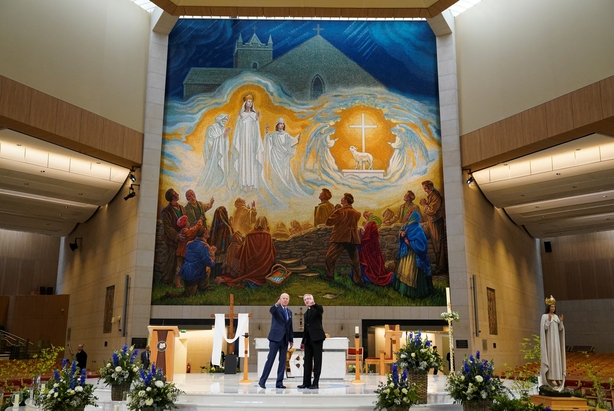 Knock shrine is where locals claimed to have seen an apparition of the Virgin Mary, St Joseph and St John the Evangelist at the gable wall of the parish church in 1879.
In the years that followed, pilgrims took stones from the wall as souvenirs leaving the structure damaged.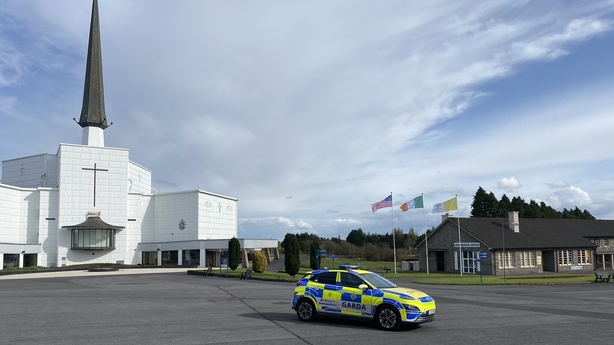 It has since been reinforced but some of the original stones have been kept in storage and one of them will be gifted to the US president.
"We were trying to think of what to present to the president that would be meaningful and we thought that something with a physical connection with Knock would be of particular significance to him," Knock parish priest Fr Richard Gibbons explained.
"We have mounted the stone in a presentation case and have no doubt that he will appreciate the significance of it," he added.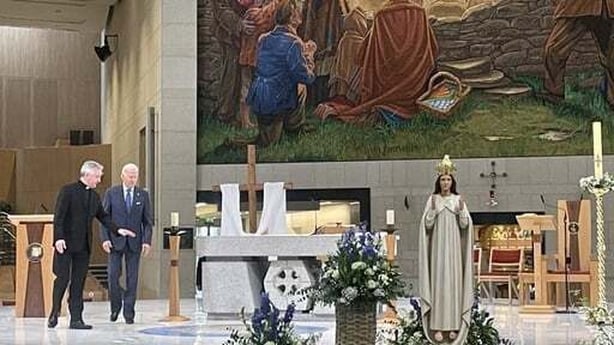 Fr Gibbons, who escorted the president on his tour, said: "He spoke about his, his family and his connection with his faith, and also about his son Beau who died.
"And it just so happened, and this was kind of spontaneous, it just so happened that we have, working at the shrine here, the chaplain who gives the last rites of the last anointing to his son in the United States.
"Just extraordinary, and I didn't even know that, I didn't know that until the president arrived.
"I told the president that because I would have lined up the priests to meet him, so he wanted to meet him straight away."
Fr Gibbons said it was an emotional moment for Joe Biden. He said: "He laughed, he cried, it just kind of hit the man, you could just see how deeply it all felt and meant to him.
"It was an extraordinary afternoon. I won't forget it, I can tell you that it was quite something else."
Knock was one of the more private elements of Mr Biden's Irish visit with no public engagements planned, but locals still managed to catch a glimpse of him.
After his visit to Knock, Mr Biden visited the North Mayo Heritage and Genealogical Centre's family history research unit.
He will later will give a public address at a cathedral in Ballina - the town where some of his ancestors came from.
Upon his arrival in the county earlier this afternoon, one local TD said the US president was "really buzzed up" about being in Mayo.
Fianna Fáil's Dara Calleary said the US president was someone who was "invested" in his trip to the county.
"He's really buzzed up about coming to Ballina, looking forward to speaking outside the cathedral and very much invested in his trip to Mayo today.
"We were chatting about that and it was a very relaxed chat. He's thrilled to be here, and thrilled to be at Knock airport."