As the 25th anniversary of the Good Friday Agreement approaches, members of a cross-community football team in north Belfast have spoken about how sport continues to bring young people together.
Limestone United was founded in 2011 by Brian Caskey, who had been working as a police officer in the interface area for 23 years.
It was his dream to bring people from two communities together to create one team under a shared name.
A football team is transforming young people's lives in an interface area of Belfast. Players from Limestone United told us what it means for two communities to have been brought together as one team.#GFA #GFA25 pic.twitter.com/6QIyUu3Caq

— RTÉ News (@rtenews) April 6, 2023
"There were legacy problems on the Limestone Road with public order. Young people were at risk of anti-social behaviour. Young people were getting involved in recreational rioting," Mr Caskey said.
"I witnessed the worst of humanity at times. For me, there was no chance of any proper relationship with people on both sides. So, we set out to try and use sport to change that cycle."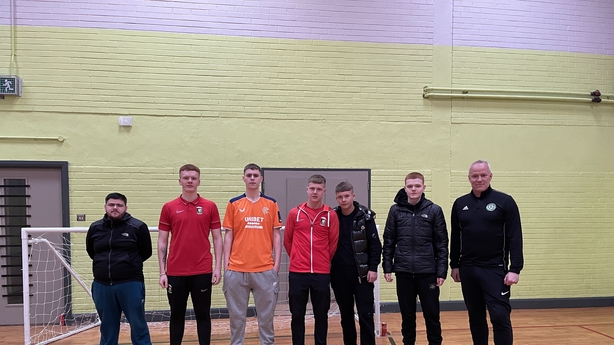 The Limestone project encourages young people to reach their full potential, creating "community champions" who bring about positive change in their area.
On the Wednesday evening that RTÉ News visits the club, a small group of young people have gathered in a sports hall for a kickabout.
Father-of-two Patrick O'Donnell has been a player at the club since the beginning.
He said: "I've seen the benefits. I was once that wee kid on the street thinking the Troubles were everything, until I started getting into this youth club.
"There's still a lot in the background that needs to be changed in Northern Ireland, but from where we were ten years ago, it's a better Northern Ireland. I have seen a big difference from what I grew up into, to where my kids are now."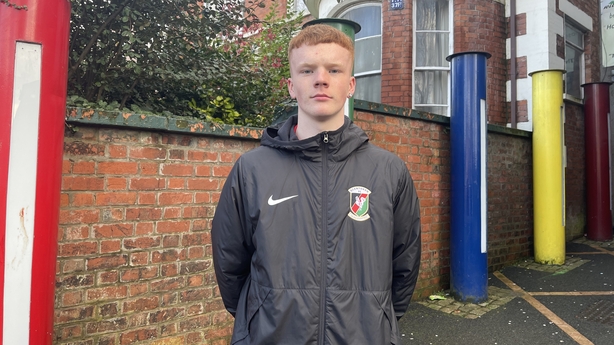 Dale Hoy is another young player whose perspectives have changed since joining the club.
He said: "It's just something good on our road. There's not much good where we're from. Along some of the roads, it's just young people getting introduced to violence in the interfaces because there's nowhere to go. You would be bored, and then the next minute you're up the alleys, fighting."
Mr Hoy says he has made friends through football with people he would never have met.
"I think there's always going to be a tension, no matter what happens. At the end of the day, it's fighting for a united Ireland or a non-united Ireland. I think it's time we come to terms with the fact that not all of us are going to be happy either way, so it's time to learn to live with it.
"I love being from the United Kingdom, I'm proud of it and I wouldn't change it for anything else. But on the other hand, I can see why a Catholic would want to be Irish and a Republican. It's just two sides of the same coin."
Another Limestone player, Sé Gormley, believes the bonds formed in the club have improved wider community relations.
"It's really showing you can have people from different backgrounds in the one building, in the one space, playing for the one team."
Nevertheless, Mr Gormley admits he would still 'have my wits about me' if walking through some parts of the city.
"You'd still have some people saying 'he's Catholic, jump him'," he explained.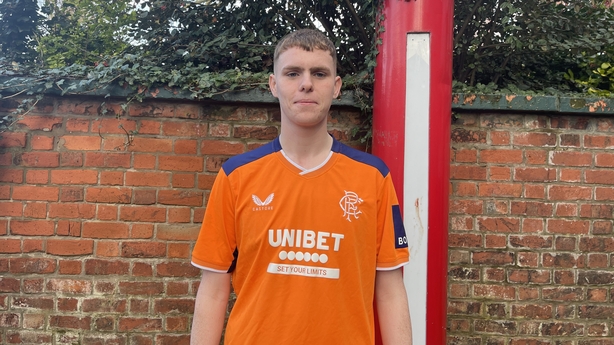 This sentiment was echoed by another player, Rhys Montgomery.
"Everyone knows what it's like to live in Belfast – you keep yourself to yourself. For a lot of years, it was scary because you didn't know what to expect in a different area, so you'd always have to be conscious of it.
"I was always not wanting to be mates with people from the Catholic side, but when you're in a group playing football, you just have to wise up and get on with your lives."
As this evening's kickabout draws to a close, Brian Caskey reflected on the difference the Good Friday Agreement has made to the city.
"It's a different Belfast. But I wish it was further down the road because where we work, we still see poverty, deprivation, and lack of opportunity. This area suffered greatly during the conflict and investment needs to come. I'd love to see my kids grow up in a different Belfast, compared to what I witnessed. Hopefully that's the future for them.
"I just want these young people to work together. No matter where you come from, what your traditions are, or what you have witnessed. I just want us all to work together to build a better Belfast. These young people are the leaders who will see that through."