It is supposed to be but a short step from reality TV to reality - and yesterday things suddenly got very real for Donald J Trump.
Arrested, fingerprinted – though not handcuffed – he was led into the court of Judge Juan Merchan on the 15th floor of the Manhattan courthouse and formally charged with financial crimes.
Led out of the building by police after the arraignment, the officers did not hold the door open for the former president: it swung back, and he had to open it for himself.
Status changed. Defendant in a criminal action. Equality before the law. Very real.
Despite the vast media throng on the streets outside the courtroom (media workers far outnumbered protestors, both pro and anti Trump: the protests were quite small, by any standards – for a city the size of New York they were microscopic).
The most important thing that happened in this case was that the arraignment took place.
That a former holder of the highest political office in the land could be charged with a criminal offence was always a theoretical possibility: now it is no longer so – now it is real. Very real.
The second thing of note was how much time and effort Donald Trump put into attacking the federal investigations into the documents he took from the White House for keeping at Mar-a-Lago, his Florida home (and country club).
Attacks not so much against the investigations and the substance of the cases being made, but rather attacks against the investigators themselves (and in some cases their families as well).
The photographs of Donald Trump sitting with his layers in the courtroom were real too.
Particularly the one with a police officer standing behind Mr Trump, a pair of handcuffs dangling from her belt, her hands gloved and ready for manhandling defendants in court. Just like any other defendant.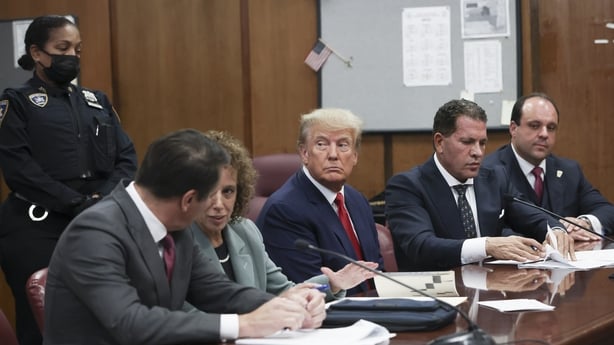 The next scheduled court appearance in this case by Donald Trump has been set for 4 December.
If the case does get to court, it may well be running when Mr Trump is fighting in the Republican primaries and caucuses to get the Republican nomination for next year's presidential election.
Opinion seems split on whether that will be a positive or a negative for the former president: some think it will galvanize the base of the Republican party, particularly its anti-establishment followers, who may rally to the Trump campaign.
Snap opinion polls seem to support that view.
But opinion polls show a plurality of Americans (some 47%) support the indictment of the former president.
That could indicate problems ahead with independent voters – those not tied to either the Republicans or the Democrats, but who are a key swing vote, especially in battlefield constituencies and states.
Donald Trump is now outside his comfort zone. That zone is one in which he is comfortable with fighting lots of civil legal cases, where delay, obfuscation and resistance to settlement meant he could keep cases going for so long everyone forgot about them.
Donald Trump has appeared in court in New York charged in connection with paying money to silence an adult film actress before the 2016 election. He has pleaded not guilty to more than 30 criminal charges. @seanwhelanRTE reports from New York | https://t.co/z3k4W6IvSf pic.twitter.com/nPrQMKb4ER

— RTÉ News (@rtenews) April 4, 2023
His mentor, Roy Cohn – who taught Trump about the dark arts of wining in New York – told him to never make compromises, always attack, and go after individuals.
But he also told Mr Trump to avoid getting arrested.
He knew what former New Jersey Governor Chris Christie said openly on ABC TV at the weekend – that in a civil case the clock is your friend, you can stretch things out for years.
But in a criminal case the prosecutor controls the clock, the defendant has no control.
Felony charges
Mr Trump now has no control over the case being brought by District Attorney Alvin Bragg.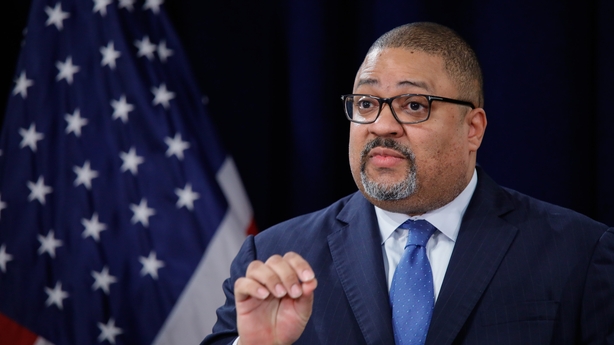 After yesterday's hearing Mr Bragg set out that case for reporters: "Earlier this afternoon, Donald Trump was arraigned on a New York Supreme Court indictment returned by a Manhattan grand jury on 34 felony counts of falsifying business records in the first degree.
"Under New York state law, it is a felony to falsify business records with intent to defraud and intent to conceal another crime.
"These are felony crimes in New York State. No matter who you are, we cannot and will not normalize serious criminal conduct.
"The defendant repeatedly made false statements on New York business records. He also caused others to make false statements.
"The defendant claimed that he was paying Michael Cohen for legal services performed in 2017.
"This simply was not true. And it was a false statement that the defendant made month after month in 2017, April, May, June and so on through the rest of the year.
"For nine straight months, the defendant held documents in his hand containing this key lie that he was paying Michael Cohen for legal services performed in 2017, and he personally signed checks for payments to Michael Cohen for each of these nine months.
"In total, the grand jury found there were 34 documents with this critical false statement.
"Why did Donald Trump repeatedly make these false statements?
"The evidence will show that he did so to cover up crimes relating to the 2016 election."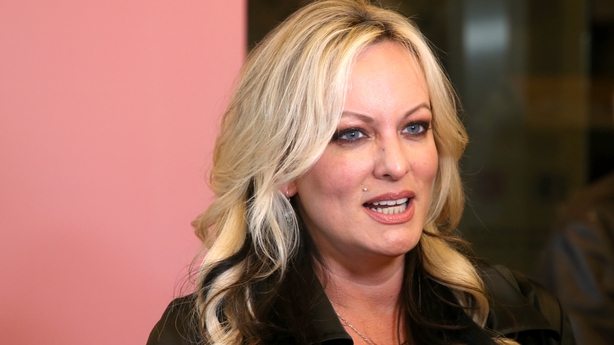 'Catch and kill'
Mr Bragg added: "Mr Trump, executives at the publishing company American Media Inc (publishers of the tabloid "The National Enquirer"), Cohen and others agreed in 2015 to a catch and kill scheme.
"That is, a scheme to buy and suppress negative information to help Mr Trump's chance of winning the election.
"As part of this scheme, Mr Trump and others made three payments to people who claim to have negative information about Mr Trump.
"To make these payments, they set up shell companies and they made yet more false statements, including, for example, an AMI American Media Inc, business records.
"One of the three people that they paid to keep quiet was a woman named Stormy Daniels.
"Less than two weeks before the presidential election, Michael Cohen wired $130,000 to Stormy Daniels' lawyer.
"That payment was to hide damaging information from the voting public."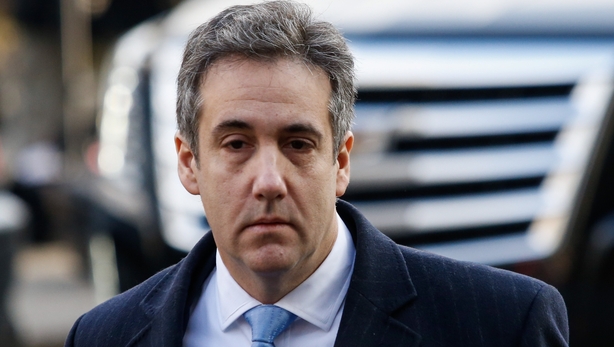 Michael Cohen will be a witness in the case against Donald Trump.
He has supplied the DA with documents and recordings to corroborate his long standing claims against Mr Trump.
He was again emphasising the documentary support for his claims in media interviews just hours after the court adjourned in the Trump arraignment.
Another witness prosecutors told the judge they want to call is Stormy Daniels herself.
She too has not been shy about media engagements (even appearing on Michael Cohen's podcast – the man who paid her the hush money in the first place).
David Pecker, the publisher of the National Inquirer may also be called to testify, along with the woman he paid off, Karen McDougal, a former Playboy playmate of the year who claimed she had a brief affair with Mr Trump.
She was paid $150,000 by Mr Pecker for her story, but apparently Mr Pecker received legal advice not to proceed with his original plan to sell her exclusive story rights to Michael Cohen, then Trump's fixer-lawyer.
This legal advice, and the subsequent failure of the "catch and kill" scheme will be interesting to watch out for.
As will the identity of a doorman who was paid $30,000 to keep quiet about something, according to court records unsealed yesterday.
---
Read more: Trump claims election interference is behind criminal charges
What felony charges does Trump face following historic arraignment?
---
'Rhinos'
Mr Trump made a much anticipated speech to followers at Mar a Lago, his Florida home, just after midnight Irish time.
Of course he rejected the charges brought by the DA as political, not based on law.
But anyone hoping for a detailed rebuttal of the DA's case was sorely disappointed. His only real comment on the substance of the case was to say
"As it turns out, virtually everybody that has looked at this case, including rhinos (Republicans in Name Only), and even hardcore Democrats say there is no crime and that it should never have been brought," Mr Trump said.
"Never happened, everybody. Even people that aren't big fans have said this is not the right thing to do. It's an insult to our country - and the world is already laughing at us."
He spent a lot of time attacking the investigators – Alvin Bragg was "a radical left lunatic", special counsel Jack Smith merely a "lunatic", and New York Attorney General Letitia James derided as a "racist in reverse".
She is investigating a civil case against Mr Trump around the financial management of the Trump Organization, focusing on alleged over-valuation of property assets to help secure favorable lending terms from banks.
And the Fulton County (Atlanta) DA in Georgia, Fani Willis, who is reportedly close to bringing her own indictment against Mr Trump for attempting to interfere in the result of the 2020 Presidential election in the state was attacked as "a local racist Democrat District Attorney".
And he reserved particular venom for the Judge in his case, Juan Merchan, whom he accused of being "a Trump hating judge with the Trump hating wife and family whose daughter worked for Kamala Harris, and now receives money from the Biden Harris campaign and a lot of it".
"We recently had another trial and the same judge told the fine man who worked for me for many, many years 'that if you admit your guilt, you will be in jail for 90 days'.
"'But if you don't, if we go through a trial and you're found guilty, you're going away for 10 years and maybe longer', which for 75 year old man with a great family really means life.
"What the prosecutors and judge did to that man I will never forget. Because it's right out of the old Soviet Union."
The "fine man" is Alan Weisselberg, the former finance director of the Trump Organization, now coming to the end of his sentence in Rikers Island prison in New York harbour, whom the DA is putting under pressure to turn against Mr Trump in the current trial.
Judge Merchan sent Weisselberg to jail over a tax fraud case involving the Trump company (but not the former President).
In the arraignment hearing yesterday he warned Mr Trump to damp down the rhetoric he has used around the case - clearly he was not minded to follow the judges suggestion.
Which may have been fun for the pro-Trump Republican Party base, but was probably not going to do much to persuade the swing voters who will likely decide the outcome of the next Presidential election.
One thing that may comfort Mr Trump as a result of yesterday's events – he was back dominating the news cycle in America and much of the world.
After months of (by his standards) near obscurity, with little media interest (and outright hostility from the Murdoch press and TV empire), Mr Trump was back.
But will the interest wane or sustain? Will months of legal wrangling boost his candidacy, or just wear down the interest of the voters.