The Arts Council has said it hopes a new artist campus on the site of the old Odlums factory at Dublin Port will be open by the start of 2025.
As part of the plan, much of the space will be turned into around 50 artist studios.
The factory was first opened in the 1920s and at one point, one-third of all the flour in the country was milled at the site.
It employed thousands of people and has been vacant since 2014.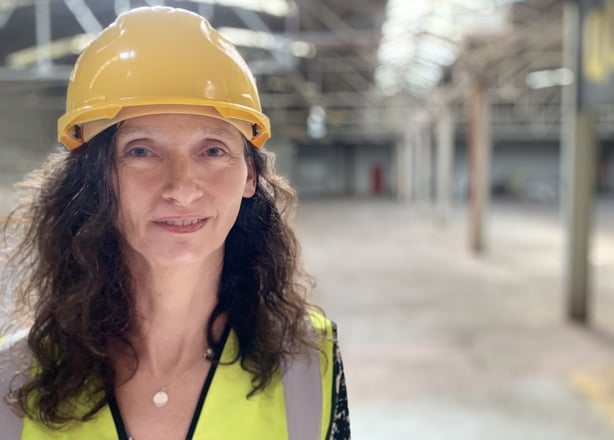 "We want to create a campus for artists, a mini city for artists here in the heart of the city," says Maureen Kennelly, director of the Arts Council.
She says: "There's going to be rehearsal spaces, large-scale fabrication spaces, hot desking communal areas. It's really going to be a groundbreaking initiative."
"It's never been a more exciting time to be an artist in Ireland, but the big gap is actually the availability of workspaces. Artists have been edged out of spaces that they've used before."
Ms Kennelly added: "They have very insecure tenure in various spaces. So our research shows that this is the big, big need for artists in Ireland today. So this groundbreaking visionary plan here is designed to remedy that."
The enabling work is now complete, which included sweeping up six tonnes of bird droppings. The steel silos though will remain as they help hold the building up.
There are also plans to set up a port museum and a viewing tower. Both will be open to the public.
"For almost 100 years, this building was really the bread basket of Ireland for a long time ... what we're creating here is a cultural quarter that allows people to come into the port," says Lar Joye, the heritage director with Dublin Port Company.
He says: "People see ports in the distance. They have very kind of little chance of actually interacting with them. So what we're doing here is providing that opportunity for people to come in and utilise and reutilise these buildings."
The cost of the project has yet to be worked out.
It is hoped that funding will be secured through the Department of Arts and that the studios will be opened at the end of 2024.
We need your consent to load this rte-player contentWe use rte-player to manage extra content that can set cookies on your device and collect data about your activity. Please review their details and accept them to load the content.Manage Preferences