Forestry growers whose plantations have been hit by ash dieback disease in recent years have called for more Government support to help them clear their land and re-plant.
Ash dieback is a fungal infection first witnessed in Eastern Europe over 20 years ago and detected in Ireland in 2012.
It has wiped out much of the country's plantations of ash trees.
Over 6,000 farm and forestry families have been affected by the problem, a conference heard today, with thousands of hectares of woodland rendered useless because of dead and infected ash trees.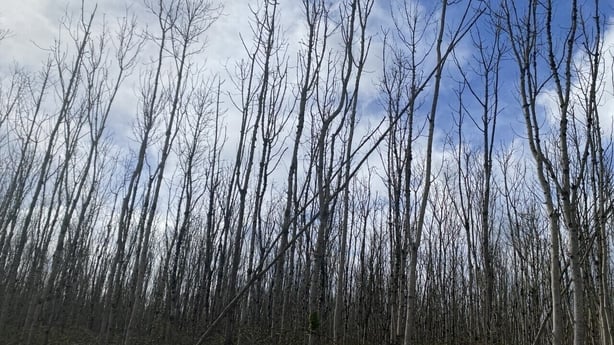 The conference was held in Thurles and organised by the Limerick and Tipperary Woodland Owners organisation, with support from other like-minded associations such as Irish Forest Owners and the IFA.
The Government says that grant aid is available to forest owners to clear their land of affected ash trees and replant with an alternative species, under an interim scheme until the country's next Forestry Programme is established.
Other schemes have been in place since ash dieback was first identified in this country, such as the Ash Dieback Reconstitution Scheme and the Reconstitution and Underplanting Scheme.
However, growers said today that former and existing schemes are not adequate and that more support is needed.
Among the measures they have called for include compensation for lost income over the years since ash dieback became a problem and ruined ash crops; and an emergency permission scheme to allow growers clear their land.
Main obstacles
At the moment, they say, one of the main obstacles in the way of land-clearing is that licences to fell trees are needed to proceed with this step.
Olive Leavy of Irish Forest Owners said there is too much red tape: "By law, you cannot fell a tree without a felling licence… which is a long and arduous process to apply for your felling licence.
"There can be what's called appropriate assessment, looking at environmental implications, if you have archaeology, you have archaeological assessment, but ultimately, as has been pointed out here today, these are dead trees.
"All the ash trees in this country are dead or dying, so why we have to go through the same legislation for felling trees is just beyond, that there isn't a system in place that it can be done quickly and efficiently that would allow us to go in and take down the trees and re-plant.
"We have an obligation to re-plant, we want to just move on from this. We need compensation of course, but on the ground it's about moving on from this, getting in and re-planting but we're just not able to do this at the moment."
Chairman of the Limerick and Tipperary Woodland Owners organisation, Simon White, said the situation is "horrendous" for growers.
"There's an obvious need to do something right now. In the immediate, they need to take the trees out, the dead and dying trees. We need to get moving."
He said there should be "no need for a licence" to remove such trees. "There must be permission granted to get working, to get the machines in clean out these and get this land productive again and get it re-planted."
Because there isn't a forestry programme in this country at the moment, with associated schemes, growers need to be given such permission "without prejudice," Mr White said, so their rights to support under the next forestry programme are not affected.
"We want to get the work down now while there's a window of opportunity, when nothing else is happening in forestry - get these trees out. It's soul-destroying for people to walk through their forest, with these dead trees all around."
Ned Liston, who has a mixed broadleaf plantation in Newtownshandrum in Co Cork since 2003, said forestry suited his circumstances at the time.
He grew oak, alder and over 10 hectares acres of ash which have been "decimated" by ash dieback.
"There are lesions all over the stems and I reckon there's only about two years in it, before they'll be completely decimated," he said. "To me it's a disaster, because I was hoping to get hurley butts out of it."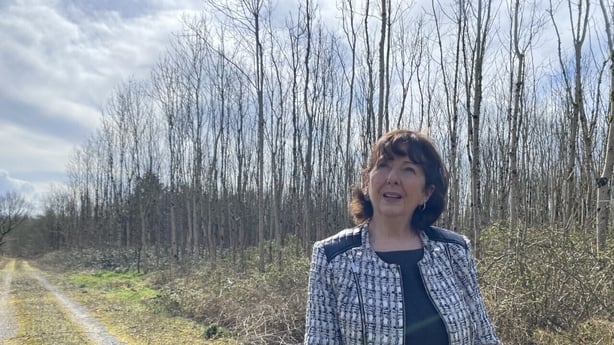 Mary McCormack, who planted 23 hectares of ash on her farm outside Killenaule in Co Tipperary over 26 years ago, said what's happened since is "an example of total devastation in a woodland," because of ash dieback.
"Biodiversity has been wiped out, there's no birds nesting up here, there's no canopy for birds to nest, you haven't squirrels and rabbits and all the creatures that would be around here, because of the briars.
"I can't get into it, I don't really know what's going on underneath the briars, I don't know what's going on in the soil, I don't know if there's honey-fungus in the soil or any form of fungus."