A 33-year-old man has gone on trial for the murder of another man in Co Mayo almost two and a half years ago.
Matusz Batiuk has admitted stabbing 24-year-old Michael McDonagh at a house in the Carrabeg Estate in Swinford on 16 November 2020.
But he told gardaí he was acting in self defence and has pleaded not guilty to murder.
Prosecuting counsel Denis Dockery said Mr Batiuk had come to Ireland from Poland with his mother and brother in around 2006 or 2007. At the time of the incident he said he was 31-years-old.

Mr McDonagh was 24 and the youngest of ten children. At the time, he had been living on and off with his foster parents, with his sister and with friends.
THe court heard that around 10pm on the evening of 16 November 2020, Mr McDonagh arrived in Swinford and met a friend.
The two men called to a Chinese takeaway and went to Mr Batiuk's house with alcohol. Mr McDonagh was intoxicated the court was told.

The men were invited in and all three were sitting in the kitchen area of the small house.
Mr Dockery said shortly before 11pm Mr Batiuk made two calls to emergency services.
In the first call he said a man was messing with him and trying to fight with him – he named this man as Mr McDonagh's friend.
In the second call he said he had stabbed Mr McDonagh in his house in his own defence and that the knife he had used was still in his hand.
When gardaí arrived they found Mr Batiuk standing behind a table.
He picked up a large knife and was told to put it down.
Mr McDonagh's friend was in a hysterical state and had cuts on both of his thumbs.
Mr McDonagh was lying on the floor of the kitchenette. He had a weak pulse but was bleeding heavily.
Efforts to resuscitate him failed, Mr Dockery said.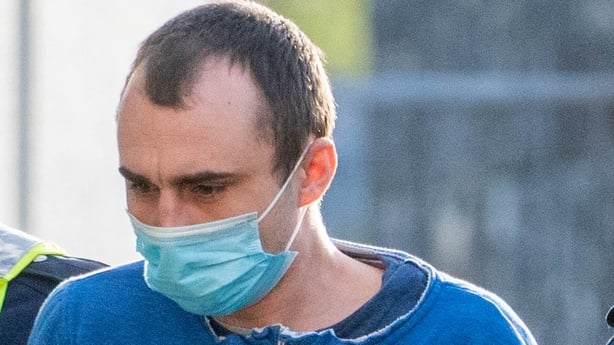 The court was told Mr Batiuk told gardaí there had been an argument and that Mr McDonagh began walking towards him putting his fist in his hand in a threatening way.
He said he retreated to the kitchen and grabbed a knife but Mr McDonagh kept coming towards him.
He claimed he believed his life was in danger and stabbed Mr McDonagh in the stomach.
Mr Dockery said Mr McDonagh's death was caused by a single stab wound.
He also told the court Mr Batiuk had been diagnosed with schizophrenia and they would hear evidence about whether this may have had a bearing on matters.
He told the jurors it was not in dispute that Mr Batiuk had stabbed Mr McDonagh.
But he said it was the prosecution case that it was not caused accidentally or in legitimate self defence but was a deliberate act done with the intent of murder.
The trial is expected to last two weeks.