The death toll after a 6.5 magnitude earthquake in Ecuador and Peru, has risen to 15, authorities have said.
Yesterday's quake, whose epicenter was in the Ecuadoran municipality of Balao, near the border with Peru, left 14 dead in the southwestern provinces of El Oro and Azuay.
On the Peruvian side of the border, a four-year-old girl died after being hit on the head by a brick.
Ecuador's President Guillermo Lasso, who traveled to the affected region, said that reconstruction work would begin immediately.
The government has made available "all urgent economic resources so that... work to repair damaged private and public buildings will begin," Lasso told local political leaders.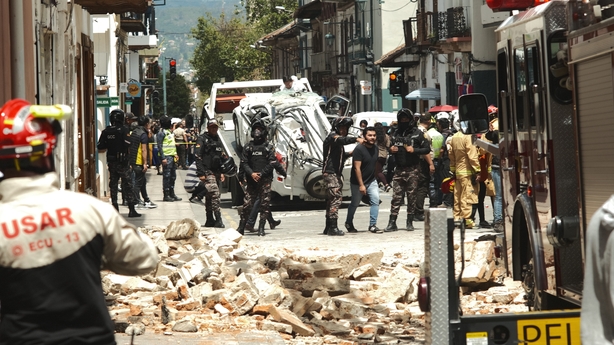 Authorities began work on roads in Azuay where transport had been blocked by 22 landslides.
Earlier today, Pope Francis asked the faithful to pray for earthquake victims and their families.
Brazil's ministry of foreign relations said the country was ready "to provide all possible cooperation to these countries to deal with the humanitarian emergency."
Yesterday, Chile likewise pledged to help.
Peruvian seismological authorities initially reported a magnitude of 7.0, but hours later downgraded the magnitude to 6.7, slightly higher than their Ecuadoran counterparts.
The United States Geological Survey (USGS) put the quake at a magnitude of 6.8 and a depth of nearly 66 kilometres.
In 2016, a quake with a magnitude of 7.8 hit Ecuador's western provinces of Manabi and Esmeraldas, killing 673 people and causing an estimated $3 billion in damage.