St Patrick's Day festivities in London kicked off with a parade and series of events in Trafalgar Square.
Organisers catered for 50,000 at the parade and celebrations today with the theme 'London Loves The Irish'.
The parade, with traditional floats and marching bands, started from Green Park at midday and went through Piccadilly Circus before ending at Trafalgar Square.
In the square, there were six hours of performance arranged, including traditional music, rap and spoken word.
There was also showcasing of dance, culture and food compered by Masterchef champion Riyadh Khalef.
Performers included Sharon Shannon, The Craicheads, Celtic Youth Orchestra and Biblecode Sundays.
There were also performances from the Maguire O'Shea School of Dance and spoken word artist Leon Dunne.
Irish organisations including the London Irish Centre, Irish in Britain and London Gaelic Athletic Association (GAA) also had stalls to showcase aspects of Irish culture.
Social Protection Minister Heather Humphreys was there representing the Government.
"Its great to see the turnout and support all the Irish people living here. They are proud of their connections, it's great to be here and great to be Irish," she said.
Fantastic to lead the St Patrick's Day Parade in London with Mayor @SadiqKhan. Great buzz in the city! #SPD2023 pic.twitter.com/AZhMTX9TAU

— Heather Humphreys (@HHumphreysFG) March 12, 2023
Mayor of London Sadiq Khan said: "London has the largest Irish community in the UK, and for centuries Irish Londoners have made an enormous contribution to the success of our capital city.
"From running successful businesses and supporting public services, to the huge influence on our arts and cultural scene, Irish Londoners are integral to the fabric of our city."
The festivities were first held in Trafalgar Square 20 years ago, with the event being organised by the London Mayor's office.
Chicago River dyed green in annual tradition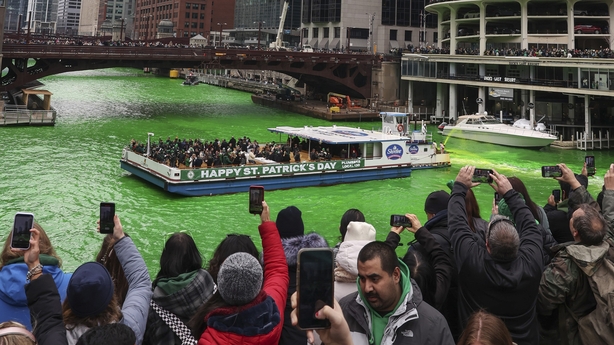 Meanwhile in the US, the Chicago River was dyed green yesterday as part of the city's annual tradition marking St Patrick's Day.
Small boats criss-crossed the river and poured gallons of dye into the icy-cold waters.
Spectators gathered along the banks of the river and watched from tour boats as the water gradually turned bright green.
The dyeing of the river, a process that began early in the morning, kicked off a day of festivities, including the city's annual St Patrick's Day parade.
Event organisers say the green hue lasts in the river for several days.
The midwest city has been dyeing its river green since 1962, according to nextcity.org.