Teenagers in Dublin are being encouraged to embrace cycling as a sustainable means of transport through a series of 'build your own bike' workshops.
The Bike Hub in Crumlin is teaching pupils from local secondary schools how to build and repair bikes which have been donated to the social enterprise for upcycling.
Participants will be provided with their own personalised bike at the end of the programme.
"They will take the bikes apart to become acquainted with the components of the bike and the tools required to work on them," The Bike Hub's Stephen McManus explained. "We try to stick to principles of the circular economy so ideally nothing is dumped and everything as possible is reused."
Transport is central to Ireland's target of halving its greenhouse gas emissions by 2030.
In 2020, road transport alone accounted for 94% of transport emissions, with private car use accounting for almost three quarters of all journeys.
Only 2% of journeys are by cycling.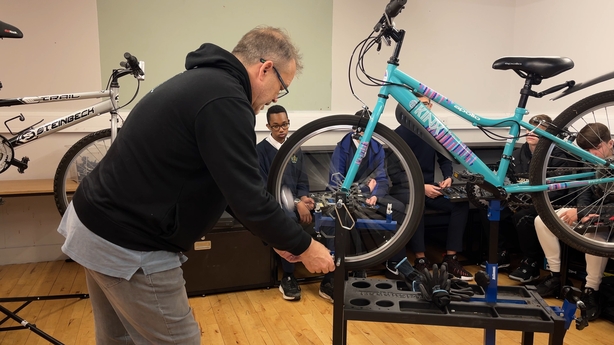 "Cycling must form part of the solution and the young generation is key to embracing cycling as a reliable and sustainable means of transport. A passion for cycling and a love of bikes must be encouraged and nurtured from a young age," Mr McManus said.
"A lot of people seem to associate cycling with a certain demographic and a certain type of clothing, but the truth is, where you have decent cycling infrastructure, it's a good mix of gender and age groups in cycling lanes.
"The investment we need is not for existing cyclists, but for the people who now can't... I think over time, hopefully, combined with government programmes in place, we will see improvement in people's willingness to try it out."
The workshops are sponsored by mobility company Bolt, which provides green alternatives to car journeys.
"For a lot of our transport needs, Ireland is behind the curve," Head of Public Policy for Bolt Ireland, Aisling Dunne said. "A European Commission survey showed that over 70% of people in Ireland take at least one car journey per day, which is one of the highest in Europe.
"I think a really big part of what will happen over the next ten years is around sharing resources and reusing resources, so what's wonderful is that The Bike Hub takes something no longer used or needed and turns it into something useful and valuable, it wins on so many levels."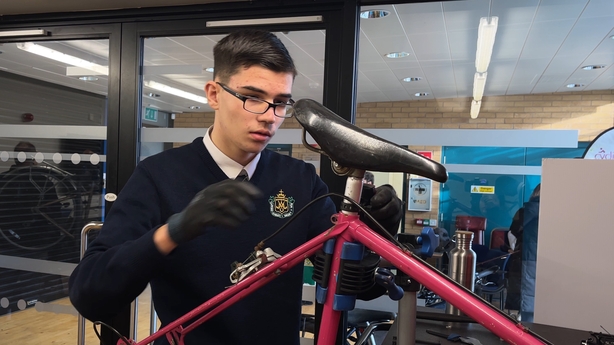 And among the students taking part in the workshops, there was a clear consensus that knowing how to repair a bike does make cycling more attractive.
"One time it happened to me that my chain broke in the Phoenix Park and I'd to walk five or six kilometres home, but now I'm going to learn how to fix it, it's a useful tip for myself," Simon Wiszczun (15) from Rosary College said. "I'll be able to use it to get to my part-time job when I'm 16 as well, and it's great to learn a new skill for myself."
During lockdown, 14-year-old Aaron Harrison-O'Gorman from Clogher Road Community College got really into cycling with his friends. "We'd always be watching biking YouTube channels so it's good to finally get to do it for real now."
Earlier this week, Minister for Transport Eamon Ryan said he does not think a congestion charge is going to be an immediate solution to reduce car use as part of the Government's Climate Action Plan.
The Green Party leader said he believes "the immediate solution is to reallocate space to make our buses get through quicker, to make it safer to walk and cycle."
"It's in everyone's interest for us to start providing sustainable alternatives so the traffic moves freely and so it's safer for our kids particularly to walk and cycle to school and to get a transport system that works," he said.
All over Ireland people are stepping up to tackle climate change and protect the environment. If you have a story to tell, we would love to hear it. Email: yournews@rte.ie