Deforestation in the Brazilian Amazon and fragile Cerrado savanna hit record highs in February, according to government figures released this morning, showing the challenges President Luiz Inacio Lula da Silva faces to reverse surging environmental destruction.
Satellite monitoring detected 322sq/km of forest cover destroyed in Brazil's share of the world's biggest rainforest last month, up 62% from February 2022, the previous record, according to the national space agency's DETER surveillance program.
In the Cerrado, a biodiverse tropical savanna to the south of the Amazon, satellites identified 558sq/km of destruction, up 99% from February 2022 and nearly double the previous record of 283sq/km, from February 2020.
The numbers did not come as a surprise: Amazon deforestation had already broken the record for February just 17 days into the month.
But they were not the figures veteran leftist Lula was hoping for after two months in office, having vowed to reverse rampant environmental destruction under his predecessor, far-right ex-president Jair Bolsonaro.
Mr Lula, 77, is facing international pressure to make good on his promise that "Brazil is back" as a partner in the fight against climate change, after four years in which average annual deforestation in the Brazilian Amazon surged by 75% compared to the previous decade.
The president's office and environment ministry did not immediately respond to requests for comment.
With its hundreds of billions of carbon-absorbing trees, the Amazon is a critical buffer against global warming.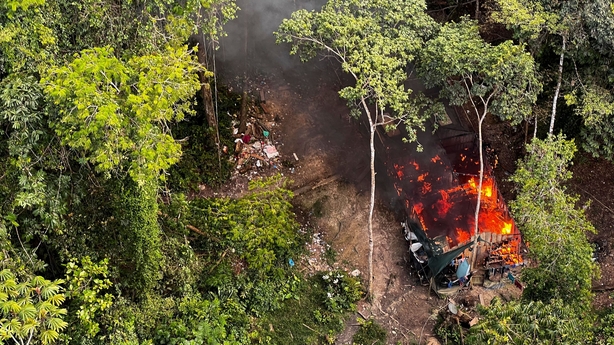 But studies show its carbon uptake is in decline amid rising deforestation, driven, in agricultural powerhouse Brazil, mainly by cattle ranching and farming.
Since taking office, Mr Lula and respected Environment Minister Marina Silva have moved to rebuild Brazil's environmental protection agencies, relaunched a defunct national action plan to protect the rainforest and gotten international donors to revive the so-called Amazon Fund, which includes more than $580m for anti-deforestation operations.
Deforestation in the Brazilian Amazon fell 61% in January, their first month in office.
Environmental groups appeared ready to give the new government a pass as they await figures from the dry-season months that are typically peak deforestation season, starting around July.
"It's difficult to reverse the damage of an anti-environmental policy in so little time," said Frederico Machado of the World Wildlife Fund (WWF) Brazil office.
"Reducing deforestation will only happen when there is a consistent strengthening of the institutions responsible for policing it," he said in a statement.
Greenpeace Brazil welcomed the new government's efforts, but warned Mr Lula would need to find new ideas to fight deforestation, not just rely on programs from his previous presidency, from 2003 to 2010.
"These are different times," spokesman Romulo Batista said in a statement.
"Much more work is still needed."