An airport cargo handling company has been fined €250,000 for breaches of health and safety legislation following the death of an experienced employee who fell from the door of a plane four years ago.
Richard Gracey, 64, from Balbriggan, Co Dublin, was seriously injured when he fell five metres from the doorway of a cargo plane on 24 November 2018. He later died in hospital.
The Health and Safety Authority (HSA) conducted an investigation which resulted in charges against Swissport Ireland under the Safety, Health and Welfare at Work Act 2005.
The firm pleaded guilty to two charges including failing to provide adequate fall prevention measures.
Swissport Ireland Limited is part of an international network providing airport ground and cargo handling services.
A HSA inspector told Dublin Circuit Criminal Court that Mr Gracey had been working at a Boeing 777 Air France cargo plane which had travelled from Chicago and was about to have cargo unloaded.
Mairead Wall told the court Mr Gracey and six others were working at the time and Mr Gracey was also training a colleague.
A pallet was at the cargo doorway waiting to be unloaded and Mr Gracey had been between the pallet and the edge of the doorway.
It was not known exactly what happened, but he fell head first from the doorway five metres to the ground.
The court was told the main deck loader was not close enough to the aircraft at the time and instead was 2.7 metres away.
If it had been in the correct position it would have prevented his fall to the ground, the court was told.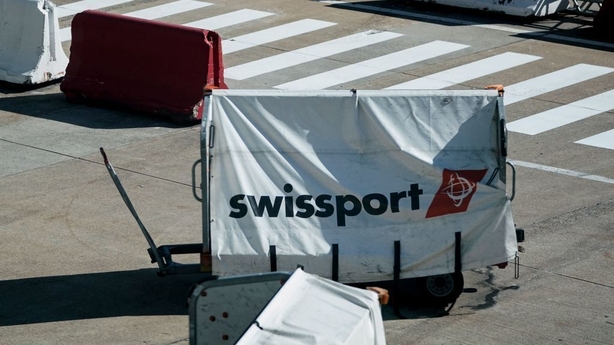 Ms Wall said while it is not standard practice in the industry, in her opinion consideration should be given to the use of harnesses in such circumstances.
The court also heard that a net or strap which was a visual warning only and not intended as a safety net was not fully fixed.
'Difficulties with machinery'
In a victim impact statement delivered by Mr Gracey's daughter Laura on behalf of her mother Therese, Mrs Gracey said: "He went to work and he didn't come home".
She said the day her husband died was a "day etched in detail but pushed so far down in pure disbelief, sadness, grief and anger".
She described receiving a call about her husband's fall on what had been "such an ordinary Saturday" and then frantic efforts to contact her children while the repeating the words "accident, fall from a height, prepare yourself" which was what she had been told.
She said she had to try to block out stories, hearing people's passed on versions of what might have happened and had to wait until today's sentence hearing to discover what actually happened to her husband.
She constantly questioned what had happened to her husband knowing how meticulous and safety conscious he was in every aspect of his work.
"The not knowing or understanding how four years can pass and only now being told in a courtroom of his total innocence of what happened in his workplace," she added.
The statement went on to say that her husband had often come home "disheartened" because of "difficulties with machinery" and describing it as "accidents waiting to happen".
Defence counsel Remy Farrell offered an apology and sincere condolences on behalf of Swissport Ltd and said no one could disagree with Mr Gracey's family when they said the company had a responsibility to its employees.
He said his submissions in mitigation were not to detract from what the family had said in number victim impact statements submitted to the court.
However he said this was not a case of a company who disregarded health and safety measures for profit or cost cutting.
Rather, Swissport had put huge resources into health and safety.
It was not a case of failing to put in place measures, instead it was a failure to police them sufficiently on the day.
Judge Martin Nolan said it was tragic and difficult case involving a loyal employee who went out to work and did not come home.
He said on the date of the incident there was break down in the system of work employed by the company and a loader was not close enough to the plane to prevent Mr Gracey's fall.
"I have no doubt there was a system of work in place but it did not operate on the day with devastating and tragic consequences," he said adding "the family is bereft and devastated by his loss and the victim impact statements portray a huge loss".
Judge Nolan added that the court had to "do justice as best it can and deal fairly with all parties".
Mitigating factors included the company's guilty pleas, full cooperation with the HSA investigation and its lack of previous convictions.
He accepted the company was "serious about safety" but there was a departure from the system which caused a fatality. He imposed a fine of €250,000.
In a statement afterwards the family's solicitor Dermot McNamara said Mr Gracey, who was a father-of-five children, went to work with Swissport at Dublin Airport on 24 November 2018 and his wife and family expected him to return safely to them.
"Richard never returned home and his family will never get over their loss," it said.
"It is not acceptable that employers fail in their legal duty to provide a safe place of work for their employees.
"My clients call upon all employers to appreciate the duty of car they owe to their employees and take all appropriate steps to ensure employees are adequately trained and not exposed to the risk of harm.
"My clients also request a change in policy so that families can receive more detailed information about the circumstances of the death of their loved one and do not have to wait until the conclusion of a prosecution.
"In this case four years have elapsed since Richard Gracey died and it is only today that his family have learned of the circumstances of his death."