The Government has been urged to introduce emergency legislation to preserve key documents relating to Magdalene Laundries.
Independent TD Marian Harkin wants a law to be enacted which includes a fine and possible prison term for anyone convicted of "destroying, damaging or altering relevant documents".
Her comments come after the chance discovery of hundreds of documents from the former Magdalene Laundry in Donnybrook in Dublin which offer an insight into the scale and size of the commercial operation being run by nuns in 1980s Dublin.
The former laundry site is now privately owned and is due to be redeveloped.
University College Dublin lecturer in law, Dr Mark Coen, received access to the building and discovered hundreds of documents relating to the operation of the laundry.
They have since been reclaimed by the University of Galway and are currently being archived.
The documents detail lucrative contracts with some of the city's biggest commercial operators, as well as the National Maternity Hospital, St Vincent's Hospital, the department store Switzers, the youth hostel operators An Óige, the restaurant at University College Dublin, Commissioners for Irish Lights and a host of other businesses including schools and convents.
In one contract for four wards at St Vincent's Hospital in Dublin, drawn up on the 15 April 1983, correspondence outlines a daily estimate of sheets, pyjamas, pillowcases and blankets which would amount to approximately 600 pieces of laundry per day.
Assistant Professor of Human Rights in the School of law at NUIG Dr Maeve O'Rourke says the documents show lists of daily lodgments which contradict the assertion in the McAleese Report into Magdalene Laundries that they were "not generally highly profitable".
While there is nothing in the published documents that directly addresses the conditions for workers in the laundry, one piece of correspondence from 20 July 1984 which asked for soiled laundry to be clearly marked in separate bags, gives an insight into the thinking of the time.
In a letter to St Vincent's Hospital, Sr Peter Ignatious of the Sisters of Charity points out that "foul laundry" is not clearly marked and this is leading to "an outcry."
She writes "our girls are by no means fastidious, but one man complained that union workers would refuse to handle this laundry, and I fear this spirit might spread".
---
Read more: Áras among users of Donnybrook Magdalene Laundry, book claims
---
Dr Coen, Dr Maeve O'Rourke and Professor Katherine O'Donnell have this week released a book based on the documents found at the Donnybrook site.
A Dublin Magdalene Laundry: Donnybrook and Church-State Power in Ireland is published by Bloomsbury.
They point out that when the Sisters of Charity sold the laundry in 1992, it was bringing in an average annual revenue equivalent in today's terms to €826,312.
In 1975 its 'surplus on trade' was the equivalent in today's terms to €541,334.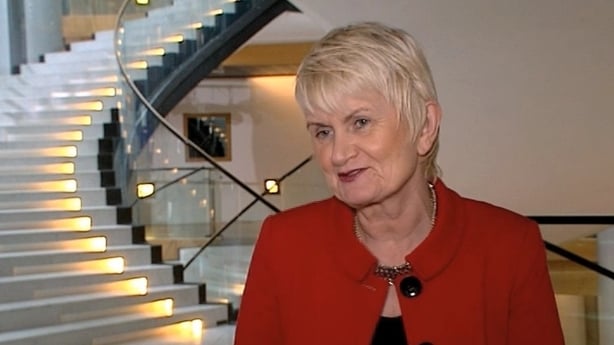 Raising the issue in the Dáil, Ms Harkin described the current situation in relation to documents from the Mother and Baby Homes and Magdalene Laundries as "chaotic and unsatisfactory" and she said the government needs to ensure documents are preserved and protected.
Taoiseach Leo Varadkar told her a major piece of work is underway to create "a national centre for research and remembrance which will be located on the site of the former Magdalene Laundry on Sean McDermott Street in Dublin".
He said this will become a central repository where the stories of the survivors will be captured in their own words.
However, Dr O'Rourke says the Donnybrook documents show how vulnerable the Magdalene records are to destruction and loss.
She says similar legislation in Northern Ireland which was enacted last year and carries a penalty on conviction of up to six months in prison could be replicated here.
Minister for Children Roderic O'Gorman, who has responsibility for the Mother and Baby Homes, said the preservation of records about Ireland's institutional past is "essential".
He said the Birth Information and Tracing Act already covers some of this area, it has a "key provision providing for criminal offences if people destroy relevant information. So, a first step has been taken already by this Oireachtas".
He added that the next key step is the records and memorial centre on Sean McDermott Street which will become "a site of conscience".