Commercial vegetable growers are calling for the re-introduction of a Government support scheme to help pay for their energy bills.
It comes amid fruit and vegetable supply shortages in Europe, and as some growers here shorten their season to save on bills.
For cucumber grower Shane Halpin, from Welgro Produce, this should be one of the busiest times of the year.
We meet in one of his 1.5 acres glasshouses in north county Dublin.
"This should all be green. You shouldn't be able to see between the houses, but as you can see it's not planted," Mr Halpin said.
The issue is the cost of heating these vast glass houses.
In a typical year the bill would be around €150,000, but this time around the figure could have been treble that.
As a result they have decided to shorten the season by two months.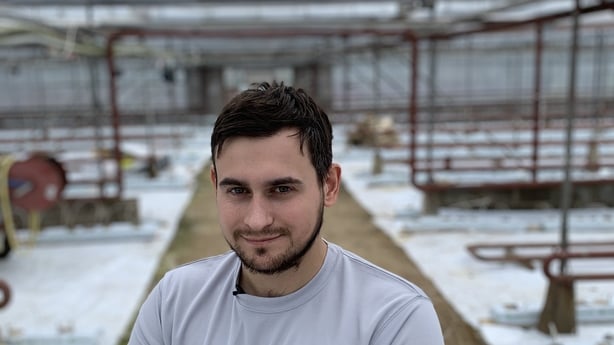 Instead of planting in early January, they will start that process next week.
They are saving on bills, but that too comes at a cost.
"Normally we should have 10 people on staff at the minute, harvesting, wrapping, packing, twisting, training the plants. But we only have two people here now, so we're reducing jobs and we're reducing Irish product on the market. So, there's a whole knock-on effect by us reducing our season."
In total, the glasshouses at Welgro cover around 4 acres of land and in a typical year, produces around 1.8 million cucumbers.
The shortened season means the yield will be cut by around 25%.
The knock-on effect for the consumer will be a noticeable delay in Irish cucumbers on the supermarket shelves.
Normally they would be in shops around now, but the delay in planting means it will be April before these crops are in situ, according to Mr Halpin.
This week there has been a renewed focus on where we get our fruit and vegetables from.
The supermarkets here have reported 'supply issues' with the likes of tomatoes, peppers and other salad vegetables as cold weather in Spain - where most of the produce comes from - meant a shortfall in the amount of produce available.
The issue, it seems, was more acute in the UK as pictures of empty supermarket shelves flooded social media.
The Irish Farmers Association has called on the Government to re-introduce the Horticultural Exceptional Payment Scheme (HEPs), which was brought in last year to help alleviate financial pressures in the sector.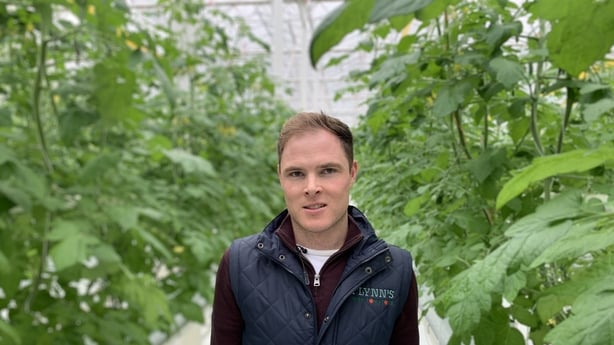 Near Swords in Dublin, in one of his large glasshouses, Martin Flynn from Flynn's Irish Tomatoes is inspecting his crops.
He planted on time this year and did not delay his season. He says the last couple of years have been a challenge for his sector as input costs have all gone up, with energy bills trebling.
He says the European supply issues this week has put a renewed focus on the homegrown produce.
"It shows how vulnerable the food chain is as soon as there's a little blip elsewhere in the world.
"If you go back (in years), there was a lot more growers in Ireland when it comes to these crops and they've been squeezed out of market due to having to work on tighter margins," he said.
"They've had to work on a lot tighter margins and unless they scaled up and got bigger, they weren't able to survive.
"We're seeing the impact of that now. There's fewer growers now and we're seeing empty shelves and that's a direct impact that," Mr Flynn added
He too is calling for the HEPs to be put back in place this year.
In a statement, the Department of Agriculture did not say whether it would be brought back.
It said: "HEPs was made possible by EU funds allocated to Ireland through the Exceptional State Aid Framework. The Department is engaging with the sector in relation to current challenges and will keep the situation regarding supports under review."