Ongoing research into an invasive species of spider has found it preying on a pygmy shrew.
It is the latest discovery that scientists at the University of Galway have made about the noble false widow spider.
Last year, the species was found feeding on a bat pup in an attic in England. The prey had been completely immobilised in a web before being eaten.
This time, a lady in West Sussex contacted researchers in Galway after she saw a small mammal entangled in a web outside a bedroom window.
Dawn Sturgess filmed the spider as it moved in on what was subsequently confirmed to be a pygmy shrew. While it was still alive, the mammal was becoming increasingly incapacitated, as the toxic venom administered to it took hold.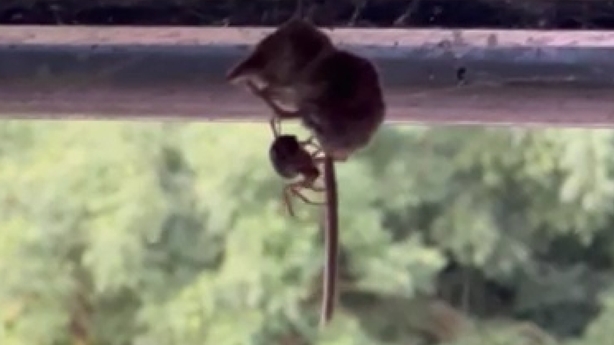 Ms Sturgess observed the spider hoisting the shrew up into rafters, where it fed on it for three days.
The pygmy shrew is a protected species.
The noble false widow spider originated in the Canary Islands and Madeira but has been spreading worldwide in the last two decades.
They are thought to have made their way to Ireland in freight containers and have spread to all parts of the country, since first being detected here in the late 1990s.
The spider does not have workable jaws to chew on their prey. Instead, they rely on their venom to paralyse and kill before they inject the prey with digestive juices from their stomach.
They wait for those juices to dissolve the muscles and organs of the prey, and they then suck everything up, in much the same way as humans consume soup.
The noble false widow has also evolved very specific behaviour to use hoisting, to lift and leverage large prey above the ground. This allows it to bring it to a safe place, where other predators cannot access them.
The shrew eating spider is the latest in a series of findings related to the invasive eight-legged predators.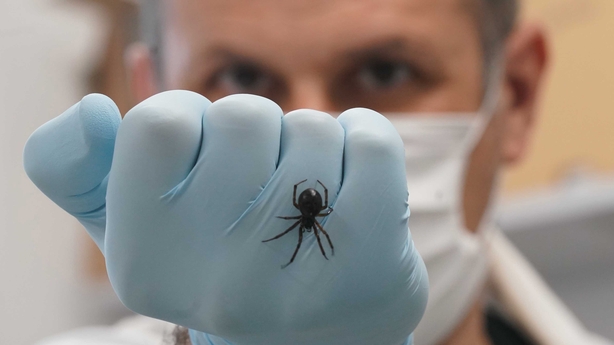 Previously, the researchers found they could deliver bites that could require hospital treatment.
Before that, it was discovered that over 100 toxins found in the spiders' venom were common to those found in black widows.
It is thought a genetic mutation within the species may have made the false widow more adaptable to new environments.
Details of the latest discovery are published in the Ecosphere journal.
Dr Michel Dugon, who leads the research, has again appealed to anyone with sightings of the spiders at work to contact the team at the University of Galway.
We need your consent to load this rte-player contentWe use rte-player to manage extra content that can set cookies on your device and collect data about your activity. Please review their details and accept them to load the content.Manage Preferences