Turkey has said rescue efforts following last week's devastating earthquake had ended in all but two provinces, as visiting US Secretary of State Antony Blinken announced $100 million in fresh humanitarian aid.
The 7.8-magnitude tremor that struck south-eastern Turkey and northern Syria on 6 February has killed more than 44,000 people, with the likelihood of finding survivors two weeks on extremely remote.
The head of Turkey's disaster agency Yunus Sezer said search and rescue efforts had been completed in all provinces apart from Hatay and Kahramanmaras, the earthquake's epicentre.
They were continuing at around 40 buildings in the provinces on the 14th day, said Mr Sezer, but he expected the number to fall by late Sunday.
The agency head also said Turkey's death toll had risen to 40,689. The total toll including Syria is now 44,377.
Mr Blinken also met members of the White Helmets rescue group, which operates in rebel-held areas of Syria, and discussed the relief effort there.
'A massive effort'
Mr Blinken said the US would continue to help despite the winding down of rescue efforts. President Joe Biden intends to authorise $50m (€46.8) in Emergency Refugee and Migration Assistance Funds (ERMA) in response to earthquake in Turkey and Syria.
"When you see the extent of the damage, the number of buildings, the number of apartments, the number of homes that have been destroyed, it is going to take a massive effort to rebuild but we are committed to supporting Turkey in that effort.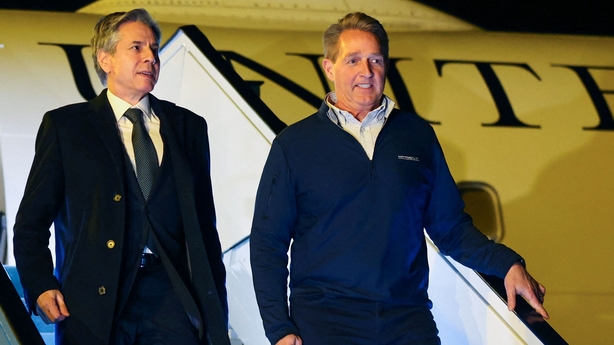 "The most important thing right now is getting assistance to people.. Simply put, the United States is here."
With the additional $50m, the total US humanitarian assistance to support the earthquake response in Turkey and Syria reached $185m (€173.1), the U.S. State Department said.
Mr Blinken will hold further bilateral talks in Ankara tomorrow and he is also expected to meet Turkish President Tayyip Erdogan, sources familiar with the planning said.
Turkish Vice President Fuat Oktay said Saturday that some 105,000 buildings either collapsed, needed to be demolished or were severely damaged in the quake.
There had been breathless coverage since the quake of rescue teams finding survivors.
That has since slowed down with no survivors found in at least 24 hours.
On Saturday, rescuers found a man and a woman alive in the 296th hour in the southern Turkish city of Antakya but their three children did not survive, local media said.
The toll is expected to soar, with some 345,000 apartments in Turkey now known to have been destroyed, and many still missing.
Neither Turkey nor Syria have said how many people are still missing following the quake.
"Would you pray to find a dead body? We do ... to deliver the body to the family," said bulldozer operator Akin Bozkurt as his machine clawed at the rubble of a destroyed building in the town of Kahramanmaras.
"You recover a body from under tonnes of rubble. Families are waiting with hope," Mr Bozkurt said. "They want to have a burial ceremony. They want a grave."
According to Islamic tradition, the dead should be buried as quickly as possible.
In one of the last efforts to pull people out of the rubble, 12 days after the earthquake, emergency teams began clearing debris with their hands at a rescue site in Antakya on Saturday night.
Search dogs and thermal cameras had detected signs of life from two people, rescuers said, but just after midnight, eight hours into the operation, the teams called off the rescue.
"No one is alive," said Mujdat Erdogan, a member of AFAD, his uniform and face covered in dust. "I don't think we can rescue people anymore."
Workers from Kyrgyzstan tried to save a Syrian family of five from the rubble of a building in Antakya in southern Turkey.
Three people, including a child, were rescued alive. The mother and father survived, but the child died later of dehydration, the rescue team said. An older sister and a twin did not make it.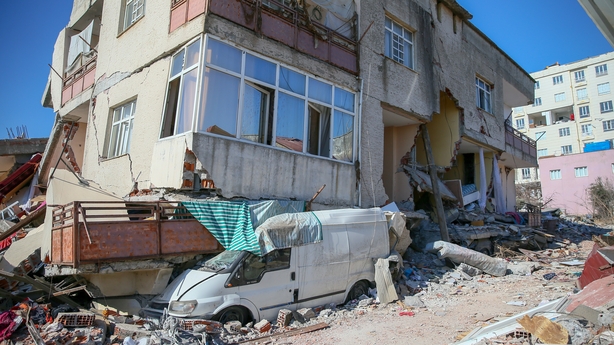 "We heard shouts when we were digging today an hour ago. When we find people who are alive we are always happy," Atay Osmanov, a member of the rescue team, told Reuters.
Ten ambulances waited on a nearby street that was blocked to traffic to allow the rescue work.
Workers asked for complete silence and for everyone to crouch or sit as the teams climbed to the top of the rubble of the building where the family was found to listen for any more sounds using an electronic detector.
As rescue efforts continued one worker yelled into the rubble: "Take a deep breath if you can hear my voice."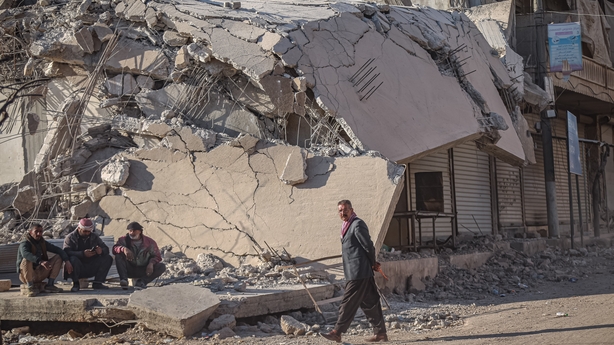 Millions need aid
The World Health Organization estimates that some 26 million people across both Turkey and Syria need humanitarian aid.
In Syria, which has reported more than 5,800 deaths, the World Food Programme (WFP) said authorities in the northwest of the country were blocking access to the area.
"That is bottlenecking our operations. That has to get fixed straight away," WFP Director David Beasley told Reuters on the sidelines of the Munich Security Conference.
The bulk of fatalities in Syria are in the northwest, an area controlled by insurgents at war with forces loyal to President Bashar al-Assad.
"Time is running out and we are running out of money. Our operation is about $50 million a month for our earthquake response alone, so unless Europe wants a new wave of refugees, we need get the support we need," Mr Beasley added.
Thousands of Syrians who had sought refuge in Turkey from the civil war have returned to their homes in the war zone - at least for now.