"Nothing is off the table" when it comes to the question of providing fighter jets to Ukraine, Britain's Prime Minister has said.
Rishi Sunak, speaking during a joint press conference with Ukrainian President Volodymyr Zelensky, said sending warplanes was "part of the conversation" between the pair.
His comment comes after Downing Street confirmed that Mr Sunak had asked Defence Secretary Ben Wallace to investigate what jets the UK could potentially give to Ukraine in its struggle against invading Russian forces.
No 10, to mark Mr Zelensky's surprise visit, announced in the morning that Britain would start training Ukrainian air force pilots as part of a long-term strategy to safeguard Kyiv's future.
During a press briefing at a military base in Dorset, Mr Sunak and Mr Zelensky appeared to suggest, however, that it was not only the training of pilots that would hold up any handover of planes.
Mr Zelensky told reporters that, when it came to being supplied with Royal Air Force Typhoon fighter planes, "not everything depends just on the decision of Great Britain".
His comment came after Mr Sunak had hinted that allies involved in producing the planes would need to have a say.
The Prime Minister, asked about the prospect of giving British planes to Kyiv, said: "When it comes to fighter combat aircraft, of course they are part of the conversation - indeed, we have been discussing that today and have been previously.
"That's why we have announced today that we will be training Ukrainian air force on Nato-standard platforms, because the first step in being able to provide advanced aircrafts is to have soldiers or aviators who are capable of using them.
"That is a process that takes some time. We've started that process today, that's because we are keen to support the president and his country in delivering a victory.
"And nothing is off the table and our leadership on this issue is something we all collectively should be very proud of."
---
Read more: Zelensky aims to shore up support during visit
---
Mr Sunak said part of his talks with Mr Zelensky involved looking at the "supply chain" involved with the UK's fighter jets, suggesting other countries might have to sign off on a British decision to supply them to Kyiv.
During the debate over sending Leopard 2 tanks to Ukraine, countries willing to provide them had to wait for Berlin's approval as they are supplied under a German licence.
Mr Sunak said some UK aircraft had been "done through joint treaty with multiple other countries", adding: "We have other allies involved in the provision of those bits of equipment."
Mr Zelensky said he would be travelling to other European capitals to hold further talks about supplying his air force.
Without jets, there was a risk of "stagnation" in the conflict with Russia, he warned.
The president, speaking through a translator at the press conference, said: "When it comes to Typhoons, not everything depends just on the decision of Great Britain.
"I will be working in that direction because this is how we have been able to change many things.
"We are intensifying our diplomacy and I do believe within a day we will be able to meet with a dozen EU leaders."
The press briefing brought a close to a day in which Mr Zelensky addressed UK parliament with an emotive speech, pleading for fighter planes.
Ukrainian President Volodymyr Zelensky said a victory for Ukraine against Russia would change the world and deter future aggressors, as he addressed British MPs in Westminster | Read more: https://t.co/Gvf4ASaQve pic.twitter.com/UdRdKlyCXJ

— RTÉ News (@rtenews) February 8, 2023
The Ukrainian leader told MPs and peers in Westminster Hall: "I appeal to you and the world with simple and yet most important words: combat aircraft for Ukraine, wings for freedom."
As he presented a Ukrainian fighter ace's helmet to Commons Speaker Sir Lindsay Hoyle, he said more planes were needed to defeat Vladimir Putin's forces.
During his impromptu trip, Mr Zelensky held talks with Mr Sunak in Downing Street and met Britain's King Charles at Buckingham Palace.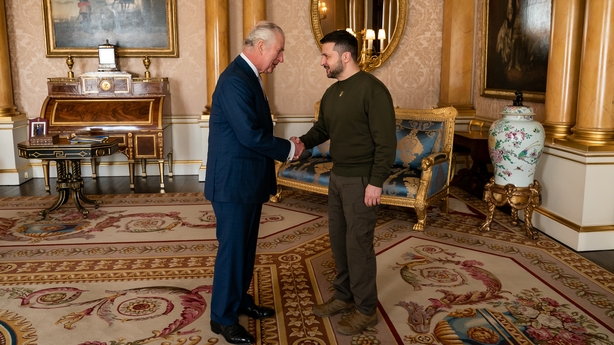 Earlier, to the audience gathered in Westminster, Mr Zelensky said a victory for Ukraine against Russia would change the world and deter future aggressors.
"The victory will change the world and this will be a change that the world has long needed," he said.
"The United Kingdom is marching with us towards the most important victory of our lifetime, it will be a victory over the very idea of the war."
He told MPs: "We know freedom will win. We know Russia will lose."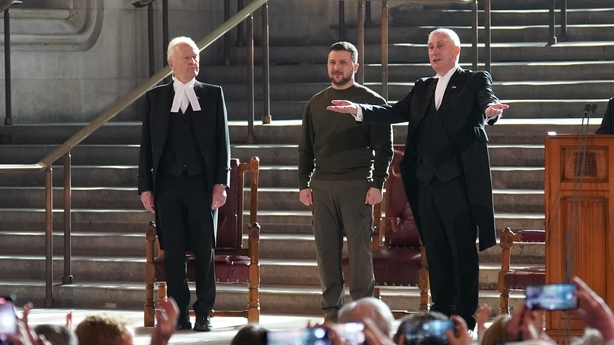 Today's trip was only Mr Zelensky's second time travelling overseas since the Russian invasion, having held talks in the United States and Poland during a trip in December.
To mark it, Mr Sunak announced the UK's intention to train Ukrainian fighter pilots.
It is part of a two-pronged strategy, offering military kit now to fend off a Russian spring offensive while also preparing Ukraine's forces for the longer term.
The current training is expected to allow Challenger 2 tanks to make a "difference on the battlefields" of Ukraine next month, according to the Prime Minister.
Mr Sunak has also offered longer-range firepower to help counter Russia's ability to strike at Ukraine's towns and energy facilities.