An ancient London church founded in honour of St Brigid of Kildare has held its first ever service for its patron saint.
Now called St Brides, the church in Fleet Street is currently better known in Britain as the journalists' church.
However, it is believed that the original church was founded around the 6th Century by Irish missionaries and is the only such one in the east of Britain.
After Fleet Street became a centre for printing in the 15th Century it was known as the printers' cathedral as it is a short distance from St Paul's Cathedral.
It then became the spiritual home for journalism after newspapers started basing themselves on the street in the 18th Century.
The building contains memorials to deceased media workers, particularly those killed in conflict, and Irish citizens Lyra McKee and Pierre Zakrzewski.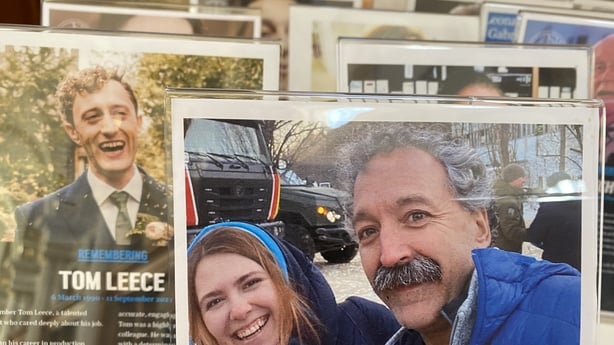 The Revd Canon Dr Alison Joyce says the church upholds what is best in journalism and is now rediscovering its Celtic heritage.
"We find ways of weaving these themes together."
The church has its own guild dating back to the 14th Century which was reformed after the Second World War and whose royal patron is currently Camilla the Queen Consort.
Master of the Guild of St Bride's, Guy Black, said the original purpose of the guild was to keep a candle burning in front of St Brigid.
Now it helps maintain the church and runs a bursary for student journalists.
David Mongey of the tourism body Into Kildare organised the first ever service in the church on St Brigid's Day.
It was celebrated in conjunction with the Irish Chaplaincy charity and Into Kildare presented specially sculpted candle holder to the church.
Mr Mongey said his organisation is trying to extend the festival of St Brigid around the world starting with London this year.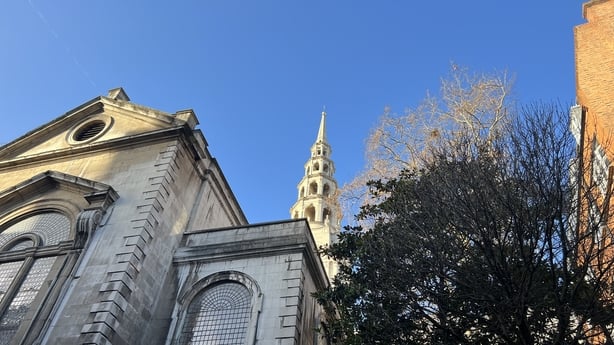 The tiered spire of St Bride's is known in Britain as the inspiration for a tiered design of wedding cakes and was supposedly invented by a local baker in the early 18th Century, but there is no proof of this.
The church has kept its journalism tradition even though there are no newspapers left on Fleet Street.
Excavations underneath the church have revealed 2,000 years of history going back to Roman times.
The earliest church wall dates back to the Saxon period.