The President of the European Parliament Roberta Metsola has said she is cautiously optimistic about the outcome of talks on the NI Protocol.
Speaking following a meeting with Taoiseach Leo Varadkar at Government Buildings she said there is a need for predictability and legal certainty for the people of Northern Ireland.
She said the EU wants to "protect Northern Ireland's place in the UK internal market and also protect the integrity of the single market".
Ms Metsola said there has been several delegational visits to the North and the focus needs to be on "finding joint solutions".
The Taoiseach and Ms Metsola, a Maltese MEP, have known each other since their teenage years, when involved in European youth politics.
Ms Metsola also addressed a joint sitting of the Oireachtas this afternoon, to mark 50 years of Ireland's membership of the European Union and emphasised the importance of European unity at a time when war continues in Ukraine.
She told the Dáil that the EU will stand with Ukraine for as long as it takes.
"We will keep standing with Ukraine in 2023 and for as long as it takes," she said.
"We can learn from Ireland's macro-economic recovery", and how the country handled Brexit, Ms Metsola said, adding that Ireland will continue to have a central role to play, especially because the UK has left the bloc.
"We will not leave your side", she vowed.
Despite many differences Europeans share common values, and "the beauty of unity in diversity", she said.
She quoted John Hume, saying that "difference is the essence of humanity".
"Progress and justice cannot be taken for granted. Democracy cannot be taken for granted", Ms Metsola said, and thanked Ireland for its solidarity with the people of Ukraine.
She quoted Barack Obama, saying that the story of Ireland is of "beating the odds", and that the country has learned lessons "that Europe will need to draw on to face the years ahead" as it grapples with "poly-crises".
"Health care must be accessible to all", Ms Metsola insisted, adding that the EU must "create a real health union".
She acknowledged that the European Parliament has had a difficult time in recent weeks, her only reference to a graft scandal which has rocked the institution.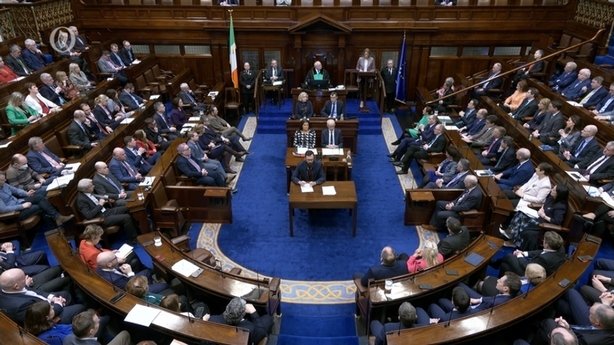 Sinn Féin leader Mary Lou McDonald called on the EU to "act forcefully for peace in the Middle East".
She urged Ms Metsola to push for an "end to the Israeli apartheid regime", prompting applause from her party colleagues.
Ms McDonald said that the EU must lead a global movement to end the abuse of Palestinians by Israel with the same determination that brought an end to apartheid in South Africa.
Social Democrats co-leader Catherine Murphy said that the Good Friday Agreement must be "defended and respected" under any deal with the UK on the Northern Ireland Protocol.
Labour Party leader Ivana Bacik called for an EU cohesion and integration fund to support those who are taking in people who are fleeing war.
Solidarity-People Before Profit TD Richard Boyd Barrett, said that "it is long past time" that the EU accept its role in creating the housing crisis through its support for "swingeing, cruel and brutal" austerity measures after the economic collapse.
Ms Metsola arrived in Ireland this morning for the start of a two-day visit.
Later today she will meet the Tánaiste and tomorrow she will visit President Higgins at Áras an Uachtaráin.
Her visit comes as the European Parliament responds to corruption investigations involving current and former MEPs.
Last month Ms Metsola unveiled her proposals to the parliament to enhance transparency and standards in office.
We need your consent to load this rte-player contentWe use rte-player to manage extra content that can set cookies on your device and collect data about your activity. Please review their details and accept them to load the content.Manage Preferences
Additional reporting Sinead Spain, Tommy Meskill