One in ten expected cancers were not diagnosed in 2020, the first year of the Covid-19 pandemic, according to the Irish Cancer Society, equivalent to 2,600 people.
In a submission to the Oireachtas Health Committee, Irish Cancer Society Chief Executive Averil Power said the figures "reflect just one year of the pandemic".
"These are real people with loved ones, for whom a delayed cancer diagnosis is not a statistic, it's a whole world collapsing," she said.
"Patients are not being given the best chance of surviving cancer due to long wait times and overcrowding in the health system.
"The earlier cancer is caught, the easier it is to treat, and the greater the person's chances are of surviving the disease. The five-year survival for breast cancer for example is 94% at stage one and only 19% at stage four."
Ms Power said that people with diagnoses that may have been picked up at a later stage due to the pandemic "are having to run the gauntlet of packed hospitals to receive care and treatment".
"There is also concern that others may be put off seeking medical assistance due to the chaos," she added.
"People might try and manage their symptoms at home. The message has to go out that people should go and seek medical advice"
She said the Irish Cancer Society is worried that "progress made on cancer care has stalled and, in some areas, Ireland is going backwards."
14% of cancers 'now diagnosed in emergency department'
Irish Cancer Society Director of Advocacy Rachel Morrough said the crisis in the health service has meant people are delaying seeking treatment, and that there is now a situation where "14% of cancers are now diagnosed in the Emergency Department".
"Research from ICC shows three in ten people have put off a hospital appointment or GP appointment because they are hearing they shouldn't attend unless it's urgent," she said.
"It is having a chill effect on behaviour. People might try and manage their symptoms at home. The message has to go out that people should go and seek medical advice. The blame should not be on patients for trying to access medical care."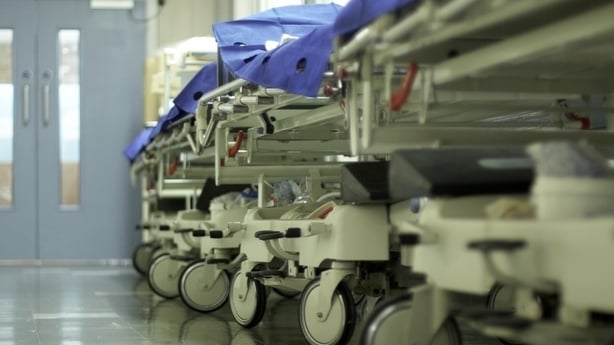 She said there needs to be an "unwavering focus on getting people into cancer care early".
Ms Power said a system of electronic patient records was "vital so that the data is captured and the relevant statics are available to everyone.
"This would help us make proper decisions and hold people to account."
She said there also need to be protected surgical time and theatre time for cancer care.
"We can't keep competing for beds with Covid, flu, road traffic accidents etc. There also needs to be protected time for research – so doctors have time on top of a heavy clinical load," she said.
Despite the challenges the system faces, she paid tribute to the healthcare staff working in the area of cancer care.
"They continue to offer compassion, kindness, professional knowledge, understanding and empathy to the thousands of patients who are currently using Ireland's cancer services. They also deserve better than the conditions in which they are currently being made to work."
She called for a renewed focus on the Cancer Strategy with "investment in bricks and mortar, beds and equipment, as well as empowering the National Cancer Control Programme and resourcing and retaining our incredible cancer workforce."
---
Read more:
Blood cancer clinical trial to begin at St James's Hospital
---