A whistleblower who raised concerns about Covid-19 at a Health Service Executive-run nursing home in 2020 has spoken publicly for the first time at an event calling for a public inquiry into the handling of the virus in Irish nursing homes.
Margo Hannon addressed a conference in Dublin City University - hosted by Care Champions - the representative group for people whose family members died in nursing homes during the pandemic.
Ms Hannon told today's meeting: "I strongly and confidently believe a national and human rights led public inquiry is warranted and grieving families deserve no less."
She said accountability about systematic failures was needed and that "human rights do not grow old".
She said it was almost 1,000 days since she had become a whistleblower over what happened in the nursing home where she worked during the first wave of the pandemic.
She said she had been a healthcare assistant for 16 years and that she "witnessed breaches of the HSE Infection, Prevention and Control policies, non-adherence to clear HSE and HPSC Covid-19 risk assessment guidelines and HIQA national standards".
"These directly impacted the health of more than 60 per cent of our entire resident population... sadly many of the residents died," Ms Hannon said.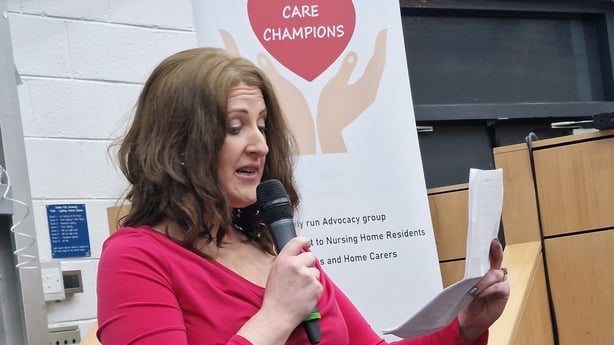 Over 20 Covid-related deaths occurred at St Mary's Hospital in Dublin's Phoenix Park in during the first wave of the pandemic.
She said there had been confusion over whose role it was to isolate residents with typical Covid symptoms and only residents with fever, rather than coughs or shortness of breath were initially isolated.
She said in those early days of the pandemic, that some staff did not have enough access to PPE and were advised to "take a step back" if a patient had a cough, which was not thought to be a "Covid-cough".
She said isolation areas were only assigned after transmission was generalised and added: "Residents who were sick with typical symptoms in shared rooms were transferred into single rooms in other wards with healthy residents and not properly isolated."
She said she hoped that her disclosure would help the voiceless be heard but she said neither families nor staff felt this had been the case to date.
During the meeting a letter was read out from a current nursing home resident in Dublin, Jim Foley
The 79-year-old said he had missed his wife Mary-Rose so much during the pandemic and that he never wanted there to be a time again where anyone in charge could tell him that he could not see her.
He said he had felt when her visits ended, like he did not own his own life.
In the handwritten letter he said: "I went from having a visit every single day from one of my daughters and my wife most days, to having no face to face visits at all."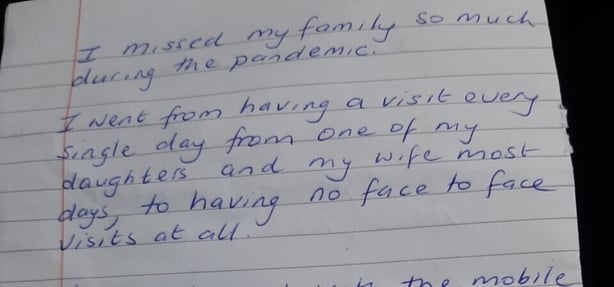 He said he was not good with a mobile phone, suffered with hearing problems and had lost touch with what was going on in people's lives, leaving him feeling "very lonely but also lost".
He said he never wanted this to happen again adding: "I felt like I did not own my own life, that I was not a person who had any value, like I counted for nothing."
He said this was wrong and should not happen again.
He now has a visit everyday from one of his three daughters who visit in rotation and Mary-Rose visits five days a week. He tries to get home for a visit every second week.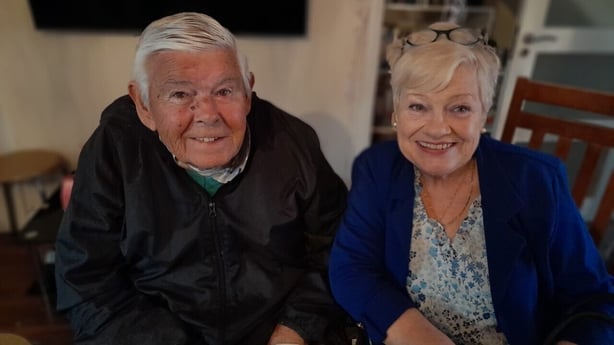 Following a protected disclosure by Margo Hannon, a two-year investigation by Acrux Consultancy was commissioned by the HSE to investigate her claims.
The Acrux team met Ms Hannon, the family of residents who died, and staff of the hospital as part of the investigation, which focused on what occurred over a three-week period during the first wave of Covid-19.
The report is believed to be more than 500 pages long and broken up into 12 themes.
It is understood that it does not contain clinical reviews.
We need your consent to load this rte-player contentWe use rte-player to manage extra content that can set cookies on your device and collect data about your activity. Please review their details and accept them to load the content.Manage Preferences
Ms Hannon's solicitor, Caoimhe Haughey, has contacted the HSE's Commissioner of the Investigation Office, Yvonne O'Neill, to express concern over the delay in furnishing her client with the final report.
In response to a Parliamentary Question from People Before Profit TD Paul Murphy last September, the HSE said the report of the investigation into the protected disclosure is currently under consideration by the commissioner.
It added that the commissioner "is mindful of allowing sufficient time to consider all relative matters at this time to ensure learning and improvement where required".
Regarding calls for a public inquiry, the Department of Health said that the Taoiseach has indicated that a comprehensive evaluation of how the country managed Covid-19 will be established in 2023.
In a statement, the department said the evaluation will provide an opportunity to learn lessons from our experiences in dealing with a pandemic and it will help ensure that we are in a better, stronger position if another pandemic or another similar type of emergency arrives.
It also pointed out that Minister for Health Stephen Donnelly has already said he believes that a review of the management and impact of Covid-19 in nursing homes is warranted and that he has requested that the Department of Health consider the options available for undertaking such a review, taking account of the experience of, and lessons, from other review processes undertaken in recent years.
"Given the recent commitments to establish a process in 2023, it is believed that any review of the experience in nursing homes should be considered in the first instance as part of this proposed process," the department said.
"The model for this process is under consideration."
Additional reporting Eleanor Burnhill