Tánaiste and Minister for Defence Micheál Martin travels to Lebanon today, his first time to do so since taking up the role in December.
He will meet Irish troops serving with the 121st Infantry Battalion UNIFIL in the south of the country, one of whom, Private Seán Rooney, was killed in Lebanon on 14 December.
Mr Martin will lay a wreath at a memorial in Tibnine which honours all those Irish peacekeepers who lost their lives serving on missions in Lebanon.
For the first time the memorial will bear the name of Private Rooney who was killed in an attack near the village of Al-Aqbiya in southern Lebanon.
Trooper Shane Kearney was also injured in the same incident.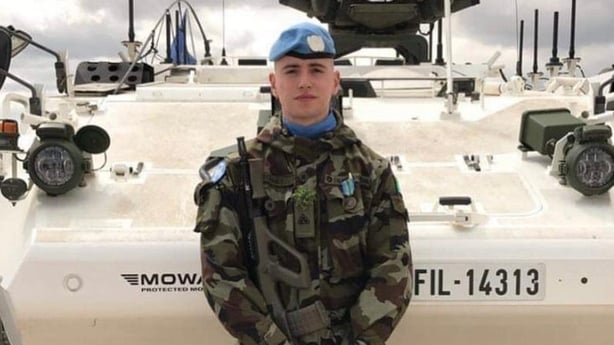 Mr Martin said that the trip will be an opportunity for him to convey his sympathies to Private Rooney's colleagues and to "express our heartfelt appreciation as they continue to fulfill their duties with the professionalism and dedication that one associates with the Defence Forces".
The Tánaiste will also meet the Lebanese Ministers for Foreign Affairs, and Emigrants and Defence.
Those meetings will, Mr Martin said, allow him to reiterate the determination of the Irish Government to establish all the facts and circumstances of the incident in which Private Rooney was killed, and to ensure those responsible are brought to justice.
Private Rooney and Trooper Kearney were in a vehicle being driven by troops from the United Nations Interim Force in Lebanon (UNIFIL) when the attack happened.
It was the first fatal attack on UN peacekeepers in Lebanon since 2015.
UNIFIL has operated in Lebanon since 1978 to maintain peace along the border with Israel.
Three investigations into how December's attack happened are ongoing.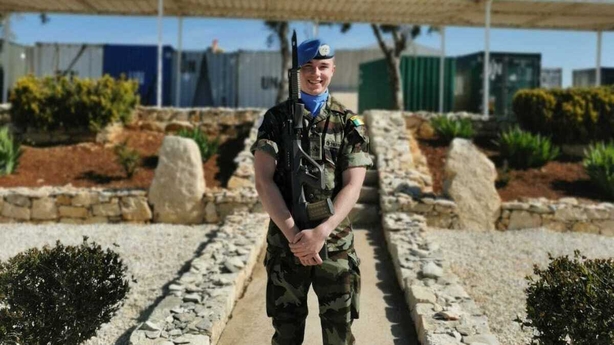 Earlier this month, Lebanon's military tribunal charged seven people in relation to the incident.
They face a range of charges from murder and attempted murder to damaging a vehicle.
Included among those seven is a man detained in December in a move coordinated with the powerful armed group Hezbollah.
Hezbollah says the man was a supporter of the group, but not a member.
The Iranian-backed military and political group denied any involvement in the shooting, calling it an "unintentional incident" that took place between the town's residents and UNIFIL.
It is understood the cases of all seven have now been transferred from a military to a civilian court.
None of those concerned has been named and none are currently in custody.