Food security in Africa, the impact of climate change and the importance of empowering women and young people in society were the among the topics discussed during a meeting between President Michael D Higgins and President of Senegal Macky Sall.
President Higgins has begun an official visit to Senegal, where he has been invited to deliver an opening address at the Dakar 2 Summit on food sovereignty and resilience in Africa.
The pair also discussed what Mr Higgins described as the "tragedy of climate change" and the high price paid by the people of Africa for the emissions of others.
He said Africa accounts for less than 5% of global emissions, but continues to pay "an incredible price for emissions it did not create."
Speaking after the meeting, Mr Higgins said it was a very productive gathering which explored post-Covid challenges. He also said he was excited by prospects in Africa "for a new possibility of connection between ecology, economics, social justice and inclusion."
The meeting also discussed the possible connections that can be forged between Ireland and Senegal, including the role Ireland could play in Senegal's efforts to expand its dairy industry.
Mr Higgins, who received a ceremonial guard of honour on his arrival at the palace, has visited Africa as President on two previous occasions.
He attended Nelson Mandela's funeral in 2013 and then undertook an extended visit the following year when he travelled to Ethiopia, Malawi and South Africa.
President Higgins this morning met with the President of Senegal & current Chairperson of the African Union, Macky Sall, at the Palais Présidentiel in Dakar, discussing food security, the impact of climate change and the importance of empowering women and young people in society pic.twitter.com/yQUrD3gSfc

— President of Ireland (@PresidentIRL) January 24, 2023
The three-day Dakar 2 Summit on food sovereignty and resilience in Africa will bring together 25 African heads of state and government, government ministers, governors of central banks, as well as multilateral organisations, NGOs, private sector stakeholders, academics and scientists.
It is seen as a key gathering in efforts to engage government resources, development agencies and the private sector to harness Africa's food and agriculture potential.
President Higgins will deliver an opening address entitled 'To Make a New Journey of Sufficiency - From Our Origin, Africa', and he will also give a closing speech at the summit.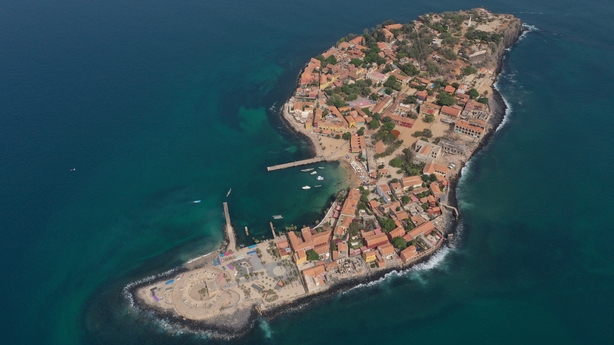 Mr Higgins will also take part in a series of bilateral meetings with fellow heads of state, as well as with the President of the African Development Bank and the President of the International Fund for Agricultural Development.
President Higgins is being accompanied by his wife Sabina.
His delegation also includes Minister of State with special responsibility for International Development and Diaspora Seán Fleming and Ireland's Ambassador to Senegal Derek Hannon.
President Higgins' visit to Senegal coincides with the opening of the Irish Embassy in Dakar - the first mission in a Francophile African country.
'Slavery still exists in the world'
President Higgins paid a visit to the site of Africa's largest slave-trading centre, Gorée Island off the coast of Senegal, 3.5km from Dakar.
It was a slave holding place from the 15th to 19th century.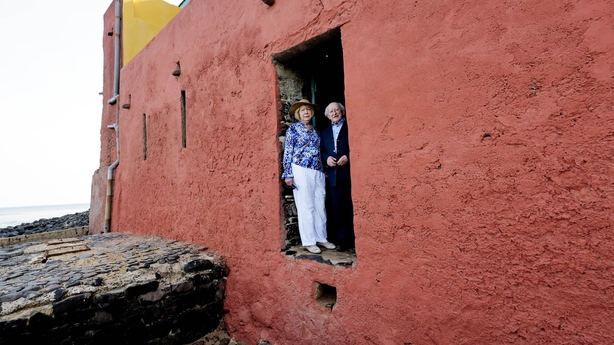 Mr Higgins was guided through La Maison des Esclaves where the plight of the victims of the trans-Atlantic slave trade is remembered in a museum and memorial.
President Higgins entered the detention cells and stood at the 'door of no return,' the point at which the slaves stepped from the detention centre on to ships which would take them across the Atlantic.
Speaking within the walls of the UNESCO world heritage site, Mr Higgins said the prison was a reminder that slavery still exists in the world in many different forms.
"Gorée Island's importance is not only of the period, a period where you had incredible indignities and incredible abuses done on the human body - men women and children - but also for us to realise that slavery still exists.
"The degradation of the human body and the commodification and commercialisation of the human body, the complete stripping away of dignity from an inbuilt belief that some people are lesser than others.
"It is a very moving experience, and particularly to be standing in the spot where people had their last glance of the place of their origins," he added.
Previous visitors to the notorious island include Barack Obama, Nelson Mandela and Pope John Paul II.
'Ireland has a duty to open its doors'
Responding to a question about the recent increase in anti-refugee protests in Ireland, President Higgins said Ireland has duty to open its doors to the displaced.
"I think it is very good that Ireland has opened its doors to those who are fleeing from their countries and I think we should realise that we have to do so without distinction too. Displacement is now a global phenomenon.
"Politicians will differ in their views in relation to it, but of one thing I am certain: it is that if you believe in the universal declaration, if you believe in the full principles of international law, if you believe in the rights of the person, we'll then this places serious obligations on you in to how you deal with the stranger at your door."