Low levels of uptake for the second Covid-19 booster means the national vaccination programme is running far behind the level it should be at to stave off the spread of the virus.
31% of people across all age groups have received their second booster but health authorities say 75% of vaccine coverage is needed to give wider public health protection. Among healthcare workers, the uptake is just 25%.
These statistics have prompted the HSE to urge more people to get their second booster because of growing concern over the potential impact of newer strains of Covid-19.
The HSE's National Lead for the Covid-19 Vaccine Programme Eileen Whelan urged people to get their second booster vaccine before the more transmissible "Kraken" Covid variant hits Ireland.
Speaking to RTÉ's Morning Ireland, Ms Whelan said the roll out of the second booster vaccine is running far behind the level it should be at.
She added the levels of the second booster uptake raises concerns about the potential impact of the Kraken variant XBB.1.5.
Kraken, a more transmissible derivative of the omicron strain, has taken hold in the United States and is expected to become the dominant variant in Ireland in the coming weeks.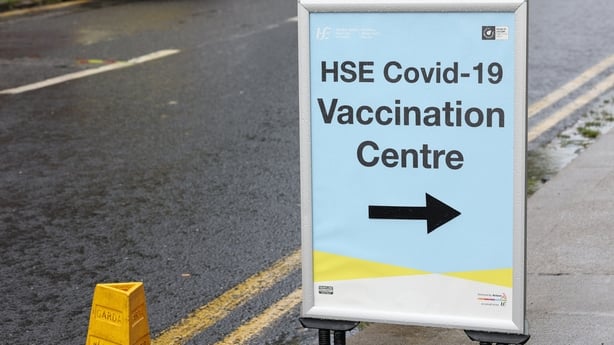 New HSE figures show 31% of people have received their second booster.
By age, 6% of 18 to 49-year-olds have had their second booster, 42% of the 50 to 64-year-olds and 78% of people aged over 65 have had theirs.
In real terms that means that with 4.96 million people eligible for vaccines in Ireland, approximately 1.54 million have got the second booster but the number needed to have wider public health protection is 3.72 million.
Figures also show, the roll out of the second booster programme for 18 to 49-year-olds, which started at the end of December, is lagging behind where it should be with a shortfall of approximately 130,000-second booster vaccines.
In the three-week period since the second booster vaccine roll out started on 29 December, some 76,000 jabs were administered. This falls behind targets of 210,000 set for the same three-week period.
"At the minute only 76,000 people in the 18 to 49-year age group have come forward for their vaccine. We're in its third week. We'd really need to see, at minimum, 60,000 to 70,000 people coming forward per week, and that would be over a 12-week program at minimum to reach a minimum," Eileen Whelan told Morning Ireland.
Ms Whelan added: "People quickly need to decide to come forward and get their vaccine in this age group. They played a huge role in protecting the more vulnerable people in society during the early stages of Covid, and that's critically important, and people are still vulnerable.
"There's a lot of transmission of the virus. Young people socialize and mix a lot, so we do need that age group to play their part now and to come forward and take their vaccine.
"The pressure on the hospitals hasn't stopped. It's still there. So people really need to do this within this age category.
"We know that there are new variants. Public health have announced that XBB.1.5 is the prevalent variant in the United States at the minute. We know that it's a highly transmissible variant. It would take some weeks or some months for that variant to hit Europe and then to hit Ireland. So we have a couple of weeks now to prepare and to get ahead."
She added: "Of the new variant that's coming what we know from the pandemic is the countries that got ahead in relation to transmission did very. I'd be encouraging people to come forward now to get their second booster.
"I have concerns about that because we are hearing about, you know, new variants all the time. The most recent variant that has been confirmed as the XBB.1.5 in the US and there is concerns that that will hit Europe and hit Ireland, so we do need the 18 to 49-year old. Age group having a much higher uptake of their booster two vaccine."
Ms Whelan also called on older age groups to ensure they have their second booster.
She said: "In the 50 to 64 age group there's only 42% of that age group that have got their vaccine. So actually people in that age group also need to continue to come forward to ensure they've got their second booster.
"The group that I'd really like to give a strong message to is to healthcare workers. Healthcare workers are very important and have a hugely important role in protecting our healthcare system and looking after others. At the minute, the uptake of the vaccine by the healthcare workers is too low, and so it's 25%, and that is a concern."
Asked whether second booster jabs administered last summer would protect people from new variants of Covid-19 the HSE said in a statement its advice is that getting a booster is the best way to avoid becoming very unwell with Covid-19.
It added the European Centre for Disease Prevention and Control has stated there is currently no vaccine effectiveness estimated for XBB.1.5 and the available vaccines still remain effective against severe disease due to previous and current Omicron variants dominant in the EU".
At present the third booster is being rolled out to people aged 65 and older and people aged 12 and older with a weak immune system. 45% (316,500) of over 65s have taken the third booster and 1% of healthcare workers.
Some people have been delayed in getting booster vaccines because of previous Covid infection.
Third booster vaccines are given to people four months after their last vaccine or Covid infection, while there is a six-month wait post-Covid infection for 18-49-year-old seeking the second booster.