Award-winning Cork-born photographer Rhiannon Adam has been chosen to be one of eight crew members on board the first civilian quest into space to orbit the Moon for seven days.
Japanese billionaire Yusaku Maezawa, also known as MZ, introduced the dearMoon concept of sending a group of artists to space in 2018.
Since then, he teamed up with Elon Musk's SpaceX company to create the $50m rocket titled Starship, a fully reusable rocket developed by Space Exploration Technologies Corp.
SpaceX awaits approval from the US Federal Aviation Administration and so a launch date has not been finalised, but the plan is that MZ and the crew will come within 200 metres of the moon's lunar surface.
Depending on when the launch date is announced, Ms Adam may become the first Irish person in space.
Feeling lucky to have been chosen out of nearly one million applicants globally, 37-year-old Rhiannon said that she thrives off the idea of going 384,400km from Earth, and stepping into the unknown.
Although there is not a set task for artists during the trip, they will each complete a final project in their art form when they return.
"I hope each and every crew member will recognise the responsibility that comes with leaving the Earth, travelling around the Moon and back within a week," MZ said.
Following a medical check, the selected crew members expect to begin training together in 2023.
Ms Adam will be joined by South Korean K-Pop star T.O.P., US music producer Steve Aoki and Indian actor Dev Joshi as part of the crew.
Despite the enormity of the task, Ms Adam said she is not nervous about going to space as throughout her life she has become quite at home in remote places.
At the age of seven her parents Nick and Mel took a leap of faith and packed up everything leaving the small village of Ballinadee to go exploring on their sailing boat, Jannes.
Leaving her classmates in Bandon Bridge National School behind, Ms Adam went to places like South America and the Carribean islands, not returning to live on land full time until her mid-teens.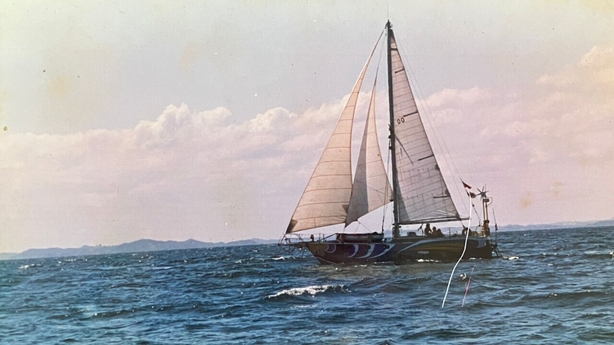 As an only child, Ms Adam learned to enjoy her own company and was briefly engrossed in new communities when the family stopped off at various ports.
But while out in the vast ocean, she would gaze at the black dark night sky admiring the stars and moon, wondering what more was out there.
As a photographer and author on Polaroid photography, Ms Adam's work has ranged from spending months on end in isolated communities across the world, to looking at issues like the environment, specifically fracking, and politics, specifically Brexit.
In 2015, she spent three months alone on Pitcairn Island, located between Chile and New Zealand, and home to less than 50 people.
As a child, looking to the sky above gave Ms Adam a sense of connection to the rest of the world.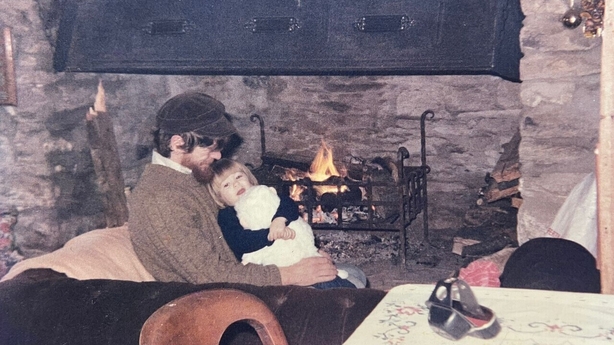 "Sailing was a transient nomadic lifestyle, almost like being part of a Traveller community," she said.
"I had an immense sense of freedom, but you reject structure as you're on the fringes, outside the community you visit, not a tourist or a local.
"But going to space is something you read in stories or see on TV, so it feels like an immense privilege to be given this opportunity to go.
"This trip isn't about me, it's about what I can represent for people as it just shows that even people from tiny small towns can do crazy things".
Now based in Hackney in London, Ms Adam said that it was a culture shock to adjust back, starting school again at the age of 15.
"Photography became a way of me being able to fill in the blanks of my past"
But it was in tracing her unique past that Ms Adam found her passion for photography.
"I didn't have any pictures of me growing up on the boat," she said.
"When we left Ireland, we had this tiny little yellow 35mm waterproof camera and a couple of rolls of film.
"In the 1990s it was really difficult to find a lab that would develop in the timeframe we were visiting somewhere.
"Photography became a way of me being able to fill in the blanks of my past. I got into Polaroid because it's a thing born in the moment."
She added that orbiting the moon will transform how she thinks about image making, as the photographs she takes will absorb the rocket's environment.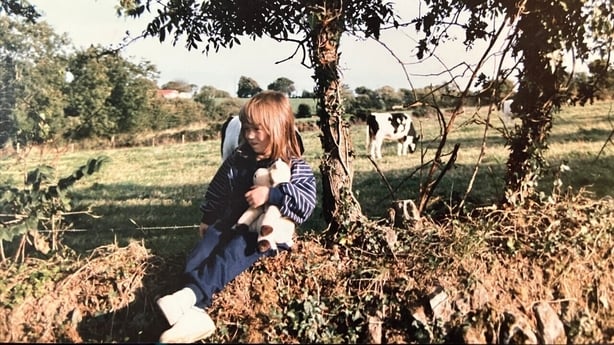 'Ultimate artists residency'
Ms Adam came across the dearMoon project on social media during the first Covid-19 lockdown, during a time when exhibitions and projects were on hold.
"I saw it and thought this sounds like the ultimate artists residency, throwing together these creative people and seeing what happens, like a great social and artistic experiment to the otherworld," she said.
"I'm sure there'll be clashes when we get there, but it's groundbreaking that artists are being given this opportunity.
"Art and science are driven by people that wish to see the world differently and are not necessarily satisfied with accepting the status quo.
"We have different trainings but both are trying to transform the way people think.
"Polaroid film was developed largely by a group that were not trained scientists. They came from the art school, but wanted to push this idea of what the image could be."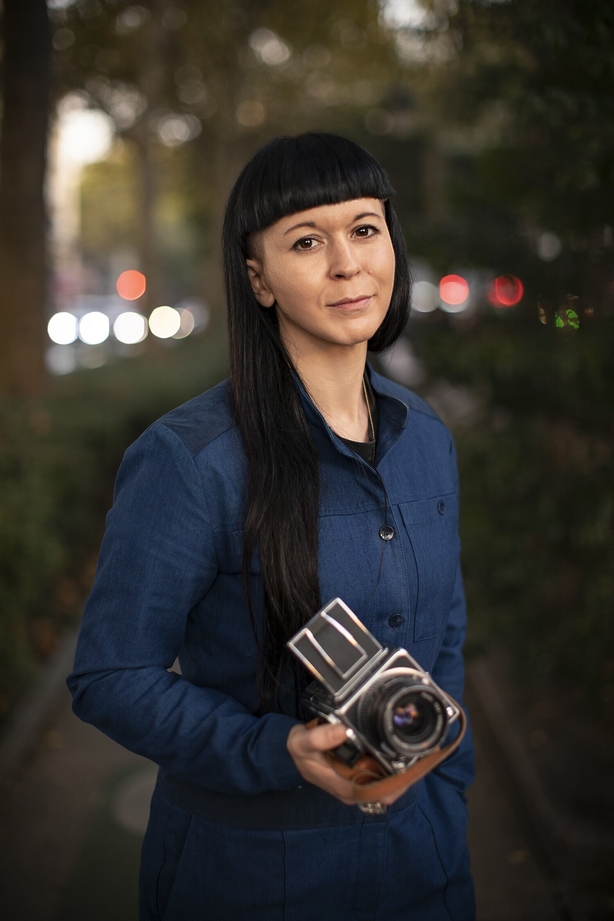 Looking ahead to the preparation before take-off, despite having faith in the SpaceX team, Ms Adam said she is concerned about how the experience may change her life going forward.
"It's going to change the way that I think about everything and I'm worried that nothing will ever seem impressive or exciting again, or that I will be so overwhelmed by our smallness and insignificance," she said.
"I don't know which way it's going to go for me, but I'm happy to be the guinea pig.
"Part of me wishes some trailblazing scientist was before me, because they really worked for it, but I just hope that I do a really good job and make Ireland proud, it's an incredible honour.
"I've had messages from Irish people around the world saying how proud they are of me to be flying the tricolour."
"Ireland is a country of great adventurers; I see it as a bit of a national trait to go beyond the small confines of the little island."
As a member of LGBT+ community, Ms Adam also hopes to be the first non-binary person in space.
"Growing up, you felt that that you were going to be an outcast if you came out or that there was something to be ashamed of," she said.
"With going to space, I want kids that come from rural communities like me to know that being LGBT+ doesn't have to get in the way of you finding happiness, joy and opportunity.
"I'm not someone that could have ever afforded to have made this trip alone, I missed huge quantities of my education and I worked myself really to the bone to get into university and where I am now.
"Sometimes it's just about being in the right place at the right time and putting yourself forward for opportunities that you never thought you would qualify for.
"Ireland is a country of great adventurers; I see it as a bit of a national trait to go beyond the small confines of the little island."
Ireland also has a long history of being involved with space travel, dating back to the 19th century right up to new images coming today from the James Webb Space Telescope.
Revolutionising access to space
Professor Peter Gallagher, former NASA scientist and head of astrophysics at the Dublin Institute for Advanced Studies (DIAS) welcomed the latest development, saying that exploring is what makes us human.
"Scientists are fascinated with the way the universe works, but artists capture that in a way that a scientist doesn't," Professor Gallagher said.
"Artists have another perspective and might give people a deeper understanding or a better appreciation for the beauty and wonder of it which will allow other people to think about space in a different way."
He added that SpaceX and private investments are revolutionising access to space, making it cheaper and more frequent.
"As an astronomer, there are downsides to that because this leads to additional pieces of satellites and space junk that leave trails across the sky, but certainly in time we will see more people get to the edge of our atmosphere," Professor Gallagher said.
"Many astronauts come back to Earth struck by how thin and fragile our atmosphere is, so no doubt the artists will come back changed people thinking, and maybe thinking that we need to look after our planet better."