Nigel Farage is of the view that Britain is broken. "Nothing seems to work in this country anymore," he lamented in a recent Tweet.
Then, in an apparent bid to get the ball rolling again, he tweeted days before Christmas the simple phrase "Britain Is Broken" provoking a furious backlash.
Mr Farage wouldn't for one moment blame Brexit of course. But he is voicing a common feeling of malaise in Britain that goes right across the political spectrum. Unite general secretary Sharon Graham also recently described the British economy as "broken".
The strikes by rail workers, nurses, the border force and postal workers are only adding to a sense of disarray. This led prominent Labour MP Chris Byrant to tell the House of Commons "everything in this country at the moment is broken and bust".
Having now spent over six months living in Britain I would have to agree that something seems amiss.
Moving here I expected that Britain as a G7 country, and London in particular regarded as one of the world's top capital cities, would be more efficient in how it functions than Ireland. However, my experience has been quite different.
For instance, getting my National Insurance number took two months, partly because of an official letter going missing in the post and when it came to getting a bank account, NHS number, mobile phone account and home broadband, nothing was straightforward.
One Irish person, who has been working here for a long time, told me that my experience was not unique and described Britain as "very bureaucratic".
They warned me not to apply for a UK driving licence. "Don't do it to yourself," they said, "use your Irish one."
There was a certain irony in having to come to work early to try and sort these things out with various customer service departments and then listen to Boris Johnson, Liz Truss and Jacob Rees Mogg proclaiming that Brexit has freed Britain from the shackles of Brussels red tape.
Britain also seems more scarred by Covid-19 than Ireland, people refer to it more and the effects, at least anecdotally, seem to be longer-lasting.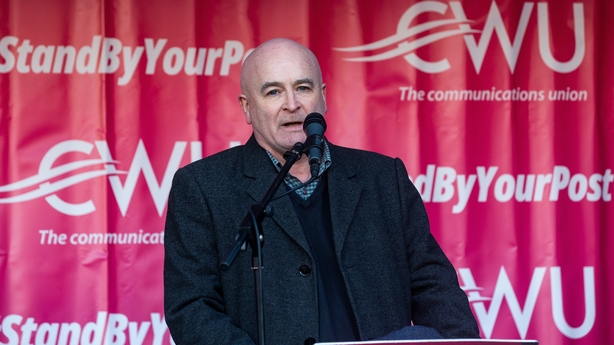 Most of the pubs in London also seem quieter than I remember and the vast majority close at 11pm - even at weekends. There are very few late bars anymore. It's said that people have become used to drinking at home, while the difficulty of hiring bar staff is most likely a factor as well.
Then we see statistics showing that life expectancy is better in Ireland. Disposable income is also better for all social classes in Ireland, with the poorest 5% in Ireland being 63% better off than those in Britain.
While Britain is dealing with a massive hole in its public finances, Ireland is recording huge surpluses. And there are more people coming from Britain to Ireland to work than the other way around.
In fact, a recent article in the Financial Times concluded that the UK will fall behind Eastern Europe in terms of standard of living stating: "On present trends, the average Slovenian household will be better off than its British counterpart by 2024, and the average Polish family will move ahead before the end of the decade. A country in desperate need of migrant labour may soon have to ask new arrivals to take a pay cut."
Of course, that is not to say for one moment that there are no good things about Britain right now.
The characteristic good-natured cheerfulness, a traditional part of the English character, is still in plentiful supply. People here are also very helpful.
And let's be clear, no one is suggesting Ireland is perfect either. Not a day goes by without hearing about the lack of housing across the country.
As a result, many British students have even had to defer college places in Dublin because they could not find a place to live, while English tourists are paying €100 per night in a 12-bed dorm in Dublin.
Meanwhile, young Irish people are moving to Britain because they cannot get a place of their own in their home country.
But Britain has its own problems, now, to top off everything else, it is entering a winter of discontent.
The inevitable congestion on the roads during rail strike days has been incredible.
I've also witnessed first-hand evidence of how the postal workers' actions are impacting on life in Britain when I received an urgent letter from a utility company on 16 December dated 19 November.
Against a backdrop of this low morale, no political leader is even claiming that Britain is doing well.
Not even Prime Minister Rishi Sunak, the same person who in his leadership campaign vowed to "fix" the economy.
Who would have thought that six years after winning his dream of Brexit that Nigel Farage would say that Britain is broken?
Most British people have now come to understand that Brexit has not helped. The problem is that there is no real consensus on how to fix it.